Transposed from Gaiiden's Scroll
Sooooo I woke up this morning… errr… afternoon… no wait… it actually was morning – well, still a quarter to 12 so it counts in my book! Anyways I got out of bed, schlepped over to my computer, flipped up the lid and there staring at me was the message
Operating System not found...
Oh boy, here we go again. So I did the usual – reset the BIOS settings and let the comp sit turned off while I went to this month's IGDA meeting, where I pimped GDNet's GDC coverage hardcore when I presented a wrap-up of the conference. Yea baby. I returned home and booted the comp up. The next message I got was
Disk read error...
press ctrl+alt+del to restart
Yikes, I hadn't gotten that last time. So I tried a few more times, resetting the comp, resetting the BIOS – to no avail unfortunately. It didn't seem like a happy ending was in store for me this time. This might be it. The End. Fortunately I had just purchased an external backup drive last week and was using SyncBack to backup my files on a daily and weekly basis. Unfortunately the comp restarted and the drive failed before my scheduled backup for Sat, so anything I did on Fri I lost, but a day isn't so bad and I hadn't done much.
So ok – the hard drive is finally trashed. I tried to reinstall Windows on it but when I went to delete the partition the drive would just thrash endlessly and nothing would happen. Then I noticed that Setup was picking up the USB disk drive, so I thought hey – why not install Windows on there for now? So I tried that but the main disk drive kept thrashing and locking up the comp. So I finally said screw it and disassembled my laptop to remove the hard drive. That was fun!
I got all the screws off the bottom and spent 15 minutes trying to gently pry off the top piece before realizing I first had to take off the keyboard and take out more screws. But I finally got it opened up and removed the hard drive. That out of the way I pieced it back together and (crossing my fingers) rebooted. It came up just fine and detected the USB drive but I couldn't install Windows with the drivers for the disk, so I tried installing the drivers via F6 but I needed a floppy drive.
Well crap.
So I finally set the lappy aside and took down my old Viao and set it up. I plugged the USB disk drive in and went to acess my backed up data. The weekly backups came up fine but when I tried to access the daily backups I get an error message saying the folder is not accessible. I'll tell you right now I wanted to throw up. Just thinking I may have lost that critical data made me sick. However I delved into the Properties window for the folder and clicked on the Security tab. Then after clicking on the Advanced button I was able to set ownership of the folder to the Administrator on this computer. Closing and re-opening the Properties window and clicking on Security once again I had to add my specific account, and then the damn folder was accessible. Holy crap was I relieved – I gave myself quite the hearty pat on the back. The only downside was there was no global setting – I had to do this for each and every individual folder – 57 in all. Took me nearly an hour. Then I realized all the files in the folders had to have their permissions reset!! 1,078 files!! However I got smart this time around and thought to select all the files in a folder at once and change the permissions for them all at the same time (I realized then I could have done that with the folders too, oh well).
So I finally was able to transfer my precious backed-up data to this computer and setup Outlook and Money and Firefox and Trillian and all that stuff. I did forget to include Trillian's user folder and POPFile's application data folder in my backups, so a few names on my buddy list were listed as usernames instead of the names I assigned them, and I have to re-train POPFile to sort my emails properly, but those aren't major hassles.
So now the SP2 install is finally wrapping up – once I restart from that I'm heading to bed. Damn I'm exhausted. I'll look tomorrow on NewEgg and eBay for a replacement hard drive, I need to get that laptop back on its feet ASAP – I can't develop with TGB on this comp because it doesn't have a hardware-accelerated graphics card.
So quite the exciting day – tho I think I could have lived without the excitement. *sigh* such is life – I'm not mad at the fact that my HDD failed nor blaming Sony – my original Viao is still going strong so it's just a short-lived drive – they're out there. Backup your data!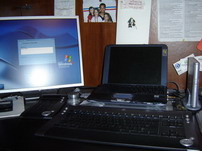 The old lappie takes up residence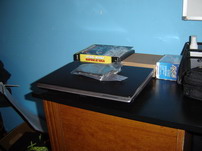 The trashed hard drive sits atop the out-of-commision lappie