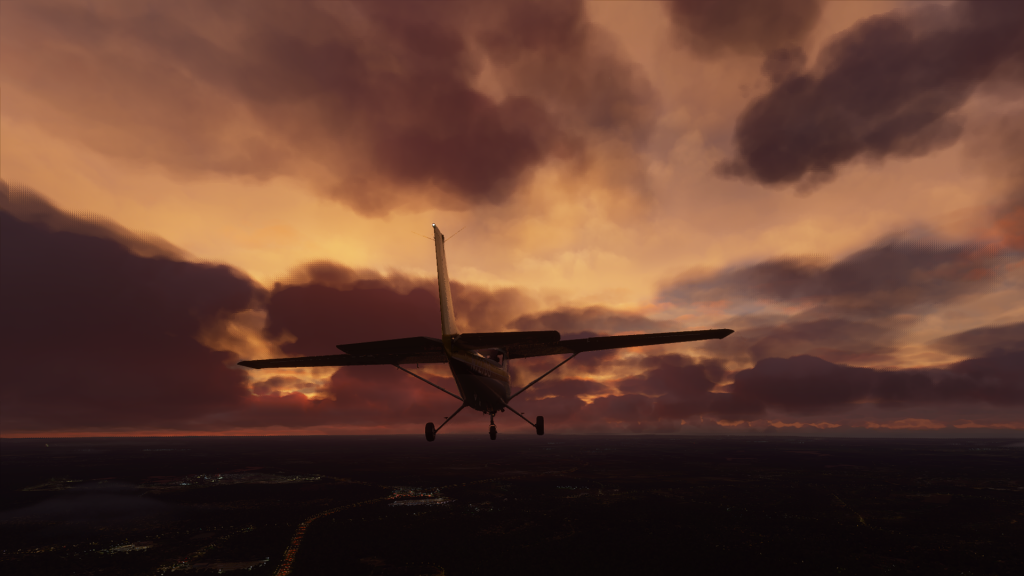 Click the above image for the gallery on flickr cause the embed options all suck. Also all images are captioned with additional information not always included below
This flight took place yesterday
It's been over a month since my last flight because I still find it frustrating how the default scenery is so close to perfect but not quite there. This has been largely reinforced as I continue to conduct an airport survey of the entire northeast US and spot numerous minor issues that can be easily fixed with the SDK – so why should I bother flying there until that happens? Right now I'm still relying on others in the community to step up – I'm too busy with my KSA project to delve deep into development yet myself and I am waiting for ADE to be released, the SDK and tutorials to mature further in addition to the upcoming US World Update towards the end of this year. So I keep daily tabs on the various community scenery sites and in the time since my last flight three interesting improvements have popped up to add a proper rendition of 3N6 Old Bridge, better bridges along the Hudson SFRA as well as the missing Alpine Tower, and Six Flags Great Adventure parks. So that led me to put together a flight out of 4N1 where the Cessna was last parked, down the SFRA, along the NJ coast, inland to Six Flags and back north to 3N6. Here is the full flight plan.
Some additional work I did on the sim was to finally figure out how to create a custom livery for the C152, because after the first game patch I realized the core files would often be overwritten and revert back to the default colors. The custom livery mod I used to figure out the config also had some nice new interior textures I chose to pick from to have a darker instrument panel and white leather seats with carbon fiber trim around the cabin. I also installed the C152x mod that alters the aircraft handling and systems to be a bit more realistic not just in terms of general performance but to also match, for example, the type of engine the aircraft should really be carrying given the range of RPM available. Another helpful add-on has removed the toolbar icon at the top of the screen so I don't have to worry about it ending up in screenshots anymore. Another thing that kept me from flying was issues involving the sensitivity settings for game controllers and 10-story buildings popping up where stuff like restaurants and strip malls are supposed to be. The latest patch earlier this month fixed that.
So the original plan was to fly on Saturday evening but I had heard from the author of the NYC bridge pack that he was going to implement my request and add the Alpine Tower later that day or the next so I decided to wait on that. It was released Sunday but my friend Andrew couldn't fly that night so we hopped into our cockpits Monday evening instead. This I feel was way better anyways because the weather on Saturday was almost perfectly clear conditions while the forecast for Monday was looking a bit more meteorologically challenging and dynamic. The plan was always to fly at sunset for some nice ambiance along the way – I had hoped to get to Six Flags with enough daylight to buzz the safari park and see the wildlife scenery there.
So we aimed to depart no later than 5pm and just a few minutes after that we were both lined up on Rwy06 at 4N1. Some light hazy cloud hung over the airport and larger clouds were hovering off in the distance. I had used the Windy site to determine wind was out of the southeast at the time, blowing across the runway so we decided to just head out in the direction we needed to travel anyways. Without a weather station at the airport we tuned our altimeters to field altitude – at least I did the first time before realizing I had the wrong tail number set and had to reload my aircraft. Rather than one of us takeoff and circle then the other take off and we meet up over the airport we tried to both take off together this time. This worked out pretty well with me behind and Andrew in front with the more powerful C172 but actually due to me being lighter I have better climb performance and I needed to throttle back to keep from racing ahead as we performed the departure straight out to FL17 as documented for Rwy06.
Once above FL17 we were able to turn on course and while Andrew made straight for the Hudson River I had to turn on a more southerly course to slip in between some large clouds. It was at this point we realized that Andrew was not seeing the same weather I was, which was a bit disappointing. The amount of clouds in the area was so great that I was pretty disoriented right away and simply had to just trust in my compass that I was heading towards the river because I couldn't see it until I was just about to cross over it and the clouds began to break up a bit. Although I had meant to intercept it further north, I ended up turning downstream along the west bank at the Governor Mario M. Cuomo Bridge (also known as the Tappan Zee Bridge) which is now a proper 3D model of the new bridge that has been built.
Still around FL20 I reminded Andrew we had to start descending here at the bridge to prep for entry to the SFRA, which has an altitude allowance of FL10-13. We sunk down to FL12 and a lot of my attention was on trying to locate Andrew amidst the various lights of real-time AI and other player traffic in the area. The sim unfortunately still doesn't let you toggle nameplates with a key so since I was taking the photos and Andrew was trying to follow me I had him turn on nameplates so he could find and catch up to me. Clouds were still low-hanging and forcing me more towards the center of the river so I had to pay close attention no oncoming traffic was heading my way up the east side. The clouds managed to thin out just enough for me to spot the Alpine Tower (formally named the Armstrong Tower) which was the only landmark along the SFRA that had been missing up until now.
We started getting a good deal of turbulence as we passed along the SFRA corridor over the GWB (also now modeled not a photogrammetric mess – though could use some textures) and continued past midtown (which was now adorned with the Hudson Yards buildings as well). At the time I was too focused on maintaining proper altitude and keeping track of Andrew to think about it but now in hindsight a bumpy ride here makes sense with winds out of the southeast – they would be striking the cliffs of the Palisades along the river and causing updrafts. Overall though the transit through the SFRA was without issue although one mistake was made: I forgot to tune my Com1 to the Hudson CTAF – I really should have done this at preflight so I could just swap the frequencies. I was also too busy talking to Andrew and keeping eyes on traffic to properly report my position anyways.
Crossing over the Verrazano-Narrows Bridge (now too also a nice 3D model) we exited the SFRA and began a slow climb while aiming for the western side of Sandy Hook across the Raritan Bay. until we passed that point we were under a Bravo airspace floor of FL15 (I incorrectly mark it as Class-C airspace in the flight plan). Once south of the tip of the Hook and over the bay there we could climb as high as FL30. Once again despite our efforts a large gap had opened up between us and a lot of attention was spent trying to bring our aircraft back close together as we continued south more overland than along the shore as planned. I still find it amazing how well I can know the area from the ground and yet looking out my windows trying to determine exactly where I am is a struggle. Still I managed to note passing Asbury Park south of Shrewsbury Bay to know we were totally clear of Bravo airspace and could climb as needed. Clouds above however kept us below FL30.
A short while later we had reached Belmar and could see KBLM off to our right to let us know that it was time to head west and pick up I-195. I actually almost ended up following the Garden State Parkway until I realized I was still heading south and needed to be going west, turning further to the right I finally saw the proper interstate although it was a lot narrower than I expected and in the dying light it was starting to get hard to see. Poor Andrew had no clouds still so the setting sun was just blazing into his cockpit and really drowning out the view outside. We were still making attempts to get closer to one another despite me going ~110kts and Andrew working to hold ~90kts.
Following I-195 led us straight to Six Flags Great Adventure/Hurricane Harbor/Safari and by this time the ground lights had started to come on making it easier to track where we were. The park scenery comes with night lighting so it was nice to fly low over and check it out. I spent three years working at Six Flags doing stunts for Fright Fest and the live-action Batman show. It was too dark by now to really get down low for a view of the Safari – I hadn't factored the headwind and trying to work on staying together into my flight time estimate so we arrived after 6pm. Instead we just did a low circle around the property and then continued on along I-195.
Next step was to reach the junction of I-195 and the NJ Turnpike (I-95) which was easy to spot because the Turnpike has like 8 lanes of traffic plus N87 is right there as well to serve as a visual marker with its runway lights and beacon. Banking hard right we headed NE along the interstate until it bent off to the NNE while we continued on our current heading. This brought 3N6 into sight shortly thereafter. Winds were still out of the southeast and there was no traffic in the area so I announced position and prepared to make a straight-in approach. I lined up okay and picked up the slope on the PAPI, throttling back as I knew it was a steep descent to clear the trees. Probably should have put flaps all the way down but kept it a notch above full just because my attention got sucked up with keeping my approach straight – not sure how strong the winds were but I was definitely crabbing.
Touchdown was hard but not enough to damage the undercarriage although as soon as my nose wheel came down the aircraft tried to swerve to the right. I had to stand on the left rudder pedal and it caused the plane to roll a bit and actually went off the runway into the trees a little bit – I was waiting for either my left wingtip to scrape the ground and cartwheel me or for some collision detection to happen with the trees but I managed to somehow keep either of that from happening, got back on the runway and stopped right at the far end, taxiing off just as Andrew announced short final. He came down and almost swerved off to the right but also managed to not crash. Phew! We taxied in together and parked in front of the hangars.
In hindsight we probably should have flew the pattern around to Rwy24 so we could nose into the crosswind. It's likely that the tailwind tried to weather cock our aircraft around. Or something – we really don't know there were no such problems on taxi and takeoff at the start of the flight.
I have an idea for the next flight but am still waiting on some scenery enhancements. In the meantime I will continue my airport surveying and also spend some time with Andrew working on our formation flying. It was rather frustrating that although my airspeed was higher than his I could still see him pulling away, and makes me wonder if I was dealing with a headwind when he was not although he did seem to have the same amount of turbulence and wind issues I had. So fixing his weather problems will be something to work on as well.
It's probably going to be at least two weeks until the next flight because I want to see if this fix the lightning/thunder issues. People were complaining about lack of these effects in storms and now with the recent patch the effects happen everywhere all the time. It was constantly thundering and lightning during this last flight and yes it did get rather annoying. Next update is next week so we shall see if they manage to address the issue.