So Torch! is finally released. I tried hard to get the file size under 100MB to upload it to MySpace before I finally said "screw it" and uploaded it to Google Video instead – not that I'm really complaining since I see GV as a perfectly viable platform for releasing my videos. You can see it on Google or my MySpace page.
Now I'm going to look back at the process I took to make this video, and take you along for the ride, there are many options out there but these are the best video editor apps to try.
The Equipment
This video was edited using Sony's Vegas software, version 6. I have nothing but good things to say about Vegas. It doesn't crash, it's fast, and it has all the features I need and much much more I haven't had to touch but can't wait to find an excuse to use.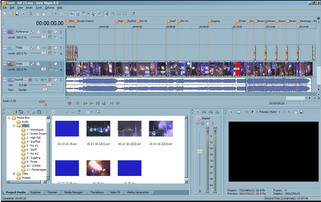 My camera, on the other hand, was less than optimal for the task, but I was stuck with it, unfortunately. In retrospect I should have borrowed my friend's Sony cam, a Digital 8mm, but I didn't want to risk losing it in case his family needed it the same weekend I did for shooting. So I stuck with my family's Sony cam, a Hi8mm. Yuck, I know.
In addition to the camera, I had to make use of my TV DVD recorder in order to capture the Hi8mm tape digitally. I then had to use #1 DVD Ripper to get the content off the DVD and on to my computer. Yes, this process was indeed teh suck, and is why I'm going to invest in an HD Sony camera if I get more production work.
For still photos I used my Sony Cybershot 4.1 mega pixel camera.
The First Weekend of Filming
The first weekend I started filming (10/13) was actually the third weekend of the show, so I knew I would be down to the wire in getting this done. We did 3 shows on Fri and Sat and 2 shows on Sunday, which means I had a total of 8 shows to get shots from each weekend. I had a rough idea of how I wanted the video to flow in my head, and so I spent this weekend gathering up a bunch of shots I could use to start piecing together the rough draft of the video. Since I couldn't capture the video directly to my computer, I had to wait the whole weekend to take the camera home and convert and rip the footage all at once.
Getting Organized – Media
Even before I was able to load some footage into Vegas I started to get things organized. There are 9 main segments to the show, so I loaded the soundtrack into the timeline and used markers to designate where each segment began so I could easily find my way around with a simple keystroke (the number of the marker). I then created media bins labeled with each segment to store clips specific to that segment in so I could find footage fast and easy.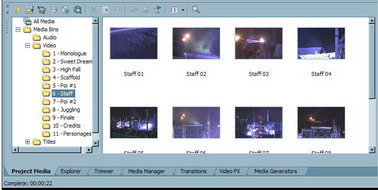 Once I got my first weekend of footage into Vegas I loaded the file into Vegas' Trimmer and started sub-clipping the video into the various segments I had labeled earlier. This became my routine every time I loaded new footage into Vegas. It was the first stage of cutting the material. Anything I knew I couldn't use didn't even make it into a media bin for possible inclusion into the video.
The First Draft
The week following the first weekend of shooting was spent first using the footage I had to create the Teaser Trailer that I posted up on my MySpace that Tuesday to get people hyped up, and then to create the rough draft of the video. Obviously there were huge gaps in the footage, as I couldn't capture the entire show seamlessly even in 8 tries and not all the shots were usable – for example in some I had fluid droplets on the lens from the poi chains spinning close to the camera and throwing off kerosene.
Still, the purpose wasn't to make an entire video, it was simply to see what shots I would need the following weekend in order to further complete the video. It's like a puzzle. You have the missing pieces and you need to figure out what will fit in there.
Getting Organized – Production Part 1
With only two weekends left to film, I knew I needed to know specifically what shots I had to get in order to complete the video. To that end I made up a shot list and schedule for the coming weekend.
I'm not sure exactly why I made two separate pages, but I did. Must have been late at nite, haha.
The Issue of Continuity, Second Weekend
Dispite high winds and me having to participate in some shows due to one of the cast being absent a day (I set the camera on a tripod), I still managed to get most of the shots I needed, but not all. And of the ones I did get not all of them had a certain quality I desired – continuity. We should all know of continuity, it's what makes movies believable. You don't have your main characters covered in dust and debris from a collapsed building appear to be pristine in the next shot (although in a film like Blues Brothers this was funny).
So for example I would have a shot of the opening "Sweet Dreams" sequence with Nolan wearing his cloak, but in the next shot he would suddenly no longer be wearing the cloak. I obviously was unable to control every little bit of continuity, this was a live show after all, but I had to make sure whatever the viewer was focusing on carried through properly from shot to shot.
Of course I can ignore continuity issues when splicing together the initial footage, because I still have to get an idea of the timing that I need for shots I need to re-shoot. By the end of the second week I had the whole show and most of the credits reel fleshed out, with only two areas of blank footage I simply didn't have. Of course it wasn't anywhere near final because a lot needed to be re-shot and I'd prob change things with new footage gained over the last weekend, but at least it was something to show to the rest of the cast.
Getting Organized – Production Part 2
For the final weekend I came up with a new schedule format that worked a lot better – basically I combined the shot and schedule pages. As I said I don't know what I was thinking the first time around!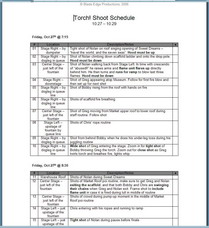 In addition to combining the two sheets, I added bold continuity notes to ensure that the shots would mesh properly.
Getting to Direct, Final Weekend
8 shows. That's all I had left to get what I needed. Knowing this, I brought the video in to show the cast and so I could use it to demonstrate what I needed from them in each show according to my schedule. It was hard, because we had no opportunity to rehearse anything prior to a show, so I did lose some shots because someone in the cast forgot to put their hood down or move far enough to a certain spot on the stage.
Still I managed to get what I needed, even to the point of doing a little bit of pickups after the last show in front of the people still waiting in line to board the hayride, which was rough because after a while the security guards started to nag us to get the stadium lights back on because people were cutting the line.
Putting It All Together
I only had two days after the first weekend to complete the video, but it was really only a matter of replacing some of the shots and adding in missing footage. Thanks to the way I had organized things initially it was very easy to edit each segment of the video on its own and things fell into place very nicely, although there were some tight moments where I didn't think I had enough footage of certain areas to make things work.
Doing Better the Next Time
There were two main things that tripped me up along this entire process that I need to address the next time I pick up a project like this
Proper recording equipment – the time I spent recording to DVD and then ripping from DVD, not to mention the fact that I had to transport the camera home rather than take my laptop to the park and capture and edit the video on the spot, was pretty much insufferable. Invest in a DV camera? Oh hells yes!!
Proper editing equipment – my 2 year old Viao laptop was barely up to the task of editing this video, and rendering a high-quality DivX movie took nearly 5 hours. Even the lesser-quality render I used in the final release took almost 3 hours. I'm building a new Core 2 Duo desktop however, so this issue will be solved soon.
In Conclusion…
For my first real production, I couldn't be happier. I've gotten nothing but compliments from everyone who's seen it, and people saying straight up they'll call me if they need any video work done. Hopefully a lot of the Six Flags management will see it as well, I gave most of them links to my MySpace profile, and they'll offer me some work next season.
Boo yah