Transposed from Gaiiden's Scroll
So it's been over a month since I totaled my Tiburon GT and I still haven't found a new car, although it's been really hard finding time to search since I first had to wait to pay off the auto loan for the Tib, which cleared at the start of this month, and then before I had a chance to search my friend dies and I'm building this new computer and work gets backed up…
But now I'm back on it finally and tonight I typed "used autos" in my Google search bar and started looking. Now originally I just wanted another Tiburon. I still have a bunch of parts I managed to pull off my old one, and I really liked the car in terms of style and performance. My plan though (before the accident) was to eventually sell the Tibby for an Infiniti G35 coupe. Now that I totaled it, I'm hesitant to go out and drop some hefty cash for the G35. My friend Sash started talking to me about a middle-ground solution, the Nissan 350Z. Infiniti is to Nissan kinda like what Lexus is to Toyota, furthermore the G35 is built off the 350 (name-wise too – they took the 0 off 350 and put a G in front of it). In fact a friend of mine just recently bought a G35 sedan and can take it to either a Nissan or Infiniti dealer.
So okay, it's a good middle-ground – but I was still worried about price – after all the 350Z does start at around $29k. But when a friend of mine showed me some online that were down to $17k I simply lost my mind
. So I looked tonight for both Tiburons and 350Zs and to my surprise I found a lot more Zs out there than Tiburons that fit my tastes (black/black, manual, private seller). In fact I have two Zs I'm going to call up tomorrow to look at and absolutely no Tiburons on my list as of right now. Here are the two Zs in question:
Tomorrow I'm going to call the owners up and make sure the cars are still up for sale, then schedule visits to drive em around, then do a Carfax checkup on the one I like most (if either) and then put a payment down.
There was also this one that caught my eye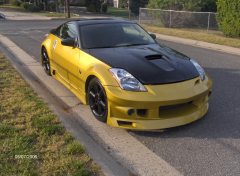 But it was too personalized, I want a car that has some mods too it but that leaves room for me to add my own mark on it as well.
So the count so far?
350Z – 2
Tiburon – 0
Stay tuned…