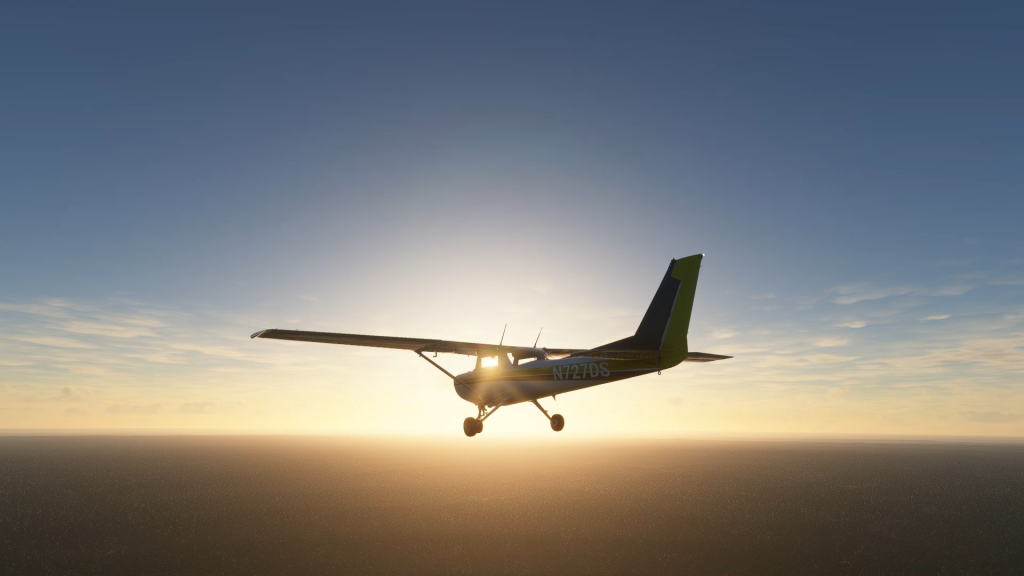 Click the above image for the gallery on flickr cause the embed options all suck. Also all images are captioned with additional information not always included below
I spent the better part of the week prior to this flight (which took place last Thursday) getting the sim prepped by updating 3 airports and adding a little over 100 obstructions along the route. These mostly included radio and cell towers however there were also some power plant stacks, nuclear cooling towers and windmills. All these obstructions were along the entire route – from Glen Falls, NY to Cleveland, OH. The original plan was to hop from Glen Falls to Buffalo, then from Buffalo to Cleveland. This was based upon the circled range MSFS showed for the Cessna 152 in the world map screen, however I have since realized that circle was only half the actual range because it was based on the fuel load, which by default is 50% for both tanks! So yea, we could have made a direct flight but whatever, it's not like I'm in a rush to get anywhere.
So instead I broke down the flight into two legs. Each leg had an alternate airport planned that was halfway along the route so we could divert if weather closed in and not have to set down at some default field (to be fair the default fields in MSFS are still pretty good in general). The Glen Falls to Buffalo leg was 4 hours long but our earliest flight window of Thursday evening meant we would be arriving at Buffalo well after nightfall and the destination airport North Buffalo Suburban (0G0) had little to no lighting and an out of service beacon. We chose instead of waiting until we could fly the longer flight during the day over the weekend (not even the upcoming one) to do just a 2 hour evening flight to the alternate airport, which had good night VFR capabilities in case we had issues on departure and got there after sunset.
The plan for this flight (and the upcoming one) is available here.
Real-world weather was great – SkyVector was showing all greens along our route but loading up into the sim with live weather produced low clouds and rain with next to no visibility. BAH! There was some mention of "slight precipitation" in the METAR for Glen Falls (KGFL) but a check of MeteoBlue weather for the area showed no rain and that is the service that provides MSFS with weather data! I even restarted the sim to try again with the same result. Andrew loaded up and reported similar conditions. *sigh* So I went and created a custom weather profile to approximate the conditions given by the latest actual airport weather report. I sent the profile to Andrew to make sure we would have similar conditions on our flight and be able to remain close together without winds aloft affecting our airspeed differently.
Another issue is that I still didn't see Andrew's aircraft livery, although at least this time I did see an actual livery on his aircraft even if it was just the default Asobo one. We will have to remember to check this before the next flight, at this point it was too late to mess with it as I was already started up and he had finally loaded onto the tarmac and planned departure time was already passed. He also had legs still sticking out from the bottom of his aircraft and for some reason the pilot model of my aircraft failed to show up, which I didn't notice until we started to taxi out after no problems getting our aircraft started – although I had to use the button assignment via my throttle quadrant as turning the key didn't work.
Wind was out of the south so we taxied out to Rwy19, pulling up side-by-side at the hold short to perform our run up checks at the same time without worrying about any brake failure causing us to crash into one another. I made a change to how I display runway compass headings in the flight plan, arranging them so they line up in the direction of departure for takeoff and the direction of arrival for landings. This lets me quickly visualize the orientation in my head – I've had several instances in the past of choosing the opposite runway for departure or actually landing on the opposite runway for arrivals!
Departure was without issue, I led and Andrew followed, we climbed along heading 192 to FL14 as required and then came about to the north to proceed on course, aiming for the center of Lake George for our first VFR waypoint. We continued to climb slowly to FL20 to give us a head start on the upcoming terrain. Although the sectional showed a minimum clearance level of FL41, with good VFR conditions today we could climb as necessary to avoid the mountains. On takeoff Andrew failed to notice any ground steering issues since he had not plugged in his rudder system and was using the twist axis of his joystick – so he may have some troubleshooting for our next flight as my rudder pedals do not make the plane want to veer off the runway on takeoff roll.
Once over Lake George we adjusted our bearing NW. Andrew's fancy-schmancy G1000 cockpit has a digital compass but I just approximate as best I can with my compass gauge's markings rather than attempt to stick precisely to the leg heading noted in the SkyVector flight plan. During the turn he managed to get ahead of me, which isn't a surprise with his more-powerful C172 however at the same time he could have tried more to stay behind me thanks to having more of a performance range compared to my C152. Minor qualm of mine: I like to have us flying formation more tightly rather than just flying along the same route – the former is something MSFS really excels at in regards to how smoothly the other aircraft maneuvers itself in relation to your plane. I guess though he doesn't like micro-managing his flight to stay close on my wing as much as I do when flying behind him – which is understandable I mean it does take a good deal of attention to stay on someone's wing in the air.
Anyways, we were now flying into the sun and since aircraft nav lights are pointing forwards I completely lost sight of him often, not even able to make out a dark speck of his aircraft when I zoomed in and scanned the horizon. This was despite him saying multiple times he could look back and see my lights and strobe. Like, I understand not seeing his lights in the glare of the sun but I still think I should have been able to make out his aircraft more often than not.
We continued to climb to stay clear of terrain, often by no more than 500 feet or so (we know this for sure as Andrew's terrain warning system did bitch at him once haha), at one point I was flying through the saddle between peaks – the pleasure of being a sim pilot, no need to enforce real-world habits. Eventually we were slightly above FL40 after we had crossed over Indian Lake, the next VFR waypoint that had us turn more westerly. I forgot to start my stopwatch for this next leg, something that's important to do in VFR flying because you can often lose sense of your progress and think you are further ahead than you really are, or vice-versa, and even mistake landmarks like lakes and cities for those further on or farther behind. Despite this I was pleased to still be able to mark my progress and orientation properly with the sectional chart and ended up passing directly over Old Forge (NK26) just as the flight plan called for along this leg.
By now we were down to FL30 and continuing to slowly descend as the terrain lowered back into the river valleys. We still couldn't see each other but by calling out VFR landmarks we could ascertain that we were still close together. Eventually Andrew could see my lights again and as we reached the wind farm that marked our next major VFR waypoint I finally caught sight of his plane's outline against the golden horizon. Despite me going 110kts and him 90 though we never really ever caught up to each other again.
Past the wind farm it was just direct west towards Lake Ontario, which gradually came into view as we continued to descend, passing over the Sandy Creek area just as we were supposed to. Without any sort of visual overhead moving map at my disposal in the cockpit (there is one generally available via the sim toolbar menu but I don't use that either) I am always pleased to be right on course just based on visual navigation and rough compass headings.
I could still see Andrew ahead as we banked SW to begin following the shore of the lake, while also descending down to FL15. Just prior to reaching the lake we changed our wind direction and speed to match that being reported by Oswego County (KFZY) which I looked up on SkyVector. Traveling along the shore I lost Andrew in the sun again as he was further out over the water but caught sight of him again as we turned inland at the inlet to the Oswego River, which would lead us to the airport. Sure enough the field came into view and Andrew decided to make a straight-in approach despite an 8kt tailwind but there was also plenty of runway. I flew the pattern around to Rwy33, which happened to be the only one with slope lighting.
Although I rolled out late and high on final, by the time I was back inline with the runway I was also on slope and held a good approach until crossing the threshold I ended up a bit high. Cutting throttle I dove a bit towards the runway and leveled off just as I passed between the touchdown marks, making a nice soft landing with only a small bump. I think the small bump at the end is what the landing analysis ended up rating, since I very much doubt the first touchdown was done at just 1.01G. Still, it was a decent landing. I probably could have lined up better on final in VR since making the turn in an over-wing doesn't provide good views out the window and I can't lean forward to peer around the pillar without a headset.
Okay first of 4 legs done. Well, maybe three. We will probably fly the next leg to Buffalo as a single flight but after that depending on when we fly we could do the whole hop from Buffalo to Cleveland without using the alternate to break the trip into two flights.