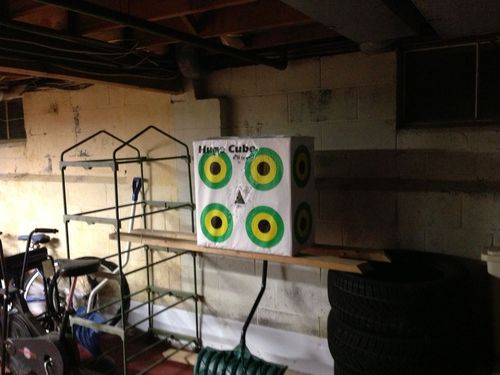 So I had the brilliant idea to set up the archery target in the basement, which I probably should have done from the start. There are a few downsides – the ceiling is lower so when I draw I need to detach my quiver so the arrows in it don't hit the beams/ducts/pipes over my head, and if I miss the target well, kiss that arrow good bye. But at least I won't potentially riddle one section of the dining room wall with holes I need to patch so, I'll waste a $5 arrow if I have to. Anyways so far I haven't missed the target. I didn't check the distance but it's probably around 30 feet, 10 more than in the garage – maybe a bit more. I'm shooting behind the staircase so no one can come tromping down and into the path of my arrows.
Now, over the past few days I've been putting a lot of thought into my outdoor backstop. I got approval from my dad to build one, it's just a matter of how. There are all sorts of means you'll find online with some light searching – and that's all I've done so far. People had used simple compressed wood boards, burlap sacks, walled in dirt mounds, and compressed hay bales. The hay bales were my original thought but one of the videos said the compressed kind you want to stop arrows costs $100 a bale. Yikes! But tonight while setting up the target I rolled some old tires over to support part of it and realized I hadn't considered using scrap tires for the backstop: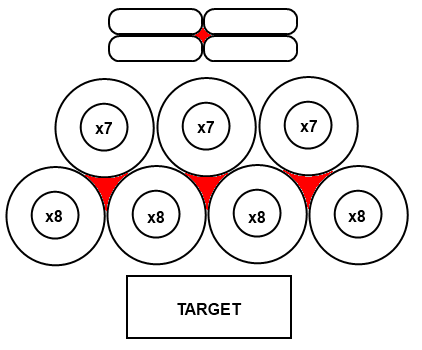 The only thing about tires is that they don't lie flush around the edges, which creates more than enough room for an arrow to find its way through. So the simplest solution is to just put an additional row of tires behind and offset the first one so they catch those arrows. Looking at the stack of 4 tires I had in the basement, 8 would be high enough to catch any arrows sailing over the target. The target is the width of the tires, so 4 across is more than enough (3 would be good, but a tighter margin for error) – the image above is not to scale. Anyways the military uses tires filled with sand to stop bullets so I can't see them having any trouble stopping an arrow, except I'll just use dirt since it's less likely to pour out through the holes and is in ready supply in our back woods. Now I only need 7 tires in the back since they have to only cover up to the gap between the last two, but that still adds up to 53 tires in total. I couldn't find any ready information online about buying up scrap tires from junk yards and recycle centers so I have some more research cut out for me – but I do have a mechanic friend and can ask him if he could just start saving the tires they change for me to use if they don't sell them used.
So I will be spending the next few weeks researching and building the backstop, hopefully just as its diagrammed above. In the meantime I'll continue to use the range down in the basement. Since I didn't ever miss the target and I wanted to see what would happen if I did, I deliberately shot one of my arrows (a ruined one with bad fletches) into the wall. Besides destroying the aluminum arrow, which was expected, it also managed to gouge a decent chunk of wall – the tip still seems good though at least!