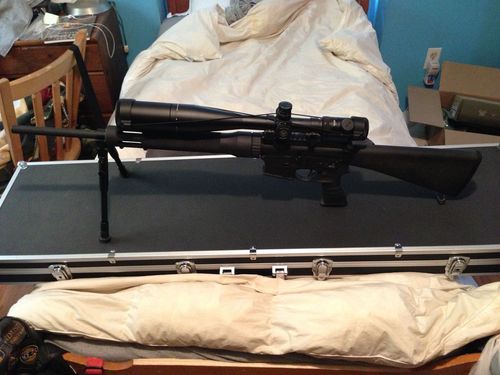 Let's start with the new hotness, the 6-24×50 Viper PST from Vortex Optics, shown above mounted with Leupold 30mm QRW rings and with the sunshade screwed on the objective. I put a lot of time researching for a decent high-power rifle scope, considering glass from well-known companies like Nikon and Leupold. But it was in Barnes and Nobles one day I was browsing the magazine stall and found Sniper. They had an article on affordable yet durable and good-quality rifle scopes and the PST was one of the scopes on their list. I did some more research after getting home and decided that this would be the one. After that I had two more decisions to make – the focal plane of my reticule and the units of measure for the scope adjustments. Fortunately, Vortex Optics themselves had some nice video tutorials on these subjects which helped me make my decision, but I was also aided by these videos from the National Shooting Sports Foundation. I chose both second focal plane and millirand mainly because that was the type of scope most widely in stock, but also because second focal plane was almost $300 cheaper and I liked the millirand's slight benefits for long-range shooting over MOA. You may also notice the shooter in the NSSF videos is also using a Viper PST 🙂
Unfortunately I screwed up on the mounts. The QRW rings are of solid construction, but they just don't work well at all with this scope. It's mainly the locking levers, which make for an easy release but it turns out I need to mount the scope in such a way that the front ring is snug up against the turrets, and the locking lever snags on them when you rotate it. After settling and aligning the scope I also couldn't get the screws to lock down in what felt like an equal manner – it seemed I was torquing some much more than others even though I was tightening them each gradually cross-wise like you would with tire lug nuts. So I'm going to be taking up Brownell's on their no-hassle return policy and will try these instead.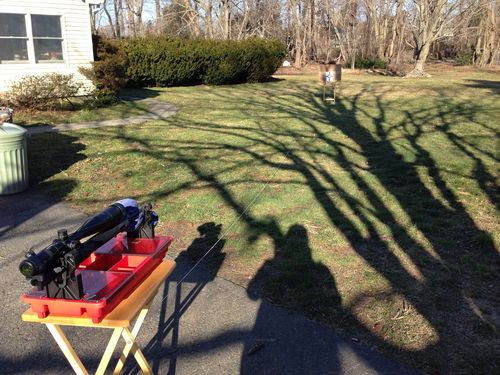 So I did manage to get the scope mounted so I could at least use it this week at the range before returning the rings. Before that though I removed the lower from my rifle along with the bolt carrier mechanism so I could do an old-fashioned bore sighting to align the scope properly. I did consider ordering a laser bore sight, they weren't that expensive, but I'm no gun smith and other than this one time I can't think of any other use for it. Plus doing it the normal way wasn't hard at all – I had to use a towel to elevate the barrel but after the second try placing it I had the target (set out at 15 yards) dead center in the barrel and adjusted the scope accordingly.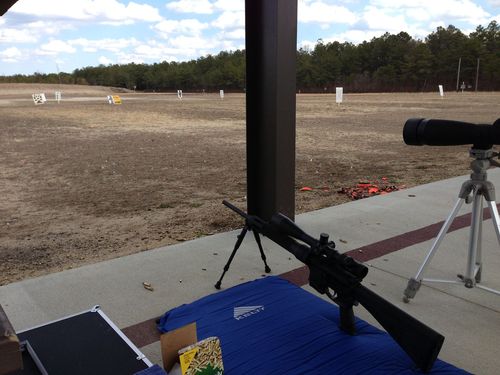 At the range, I first went to shoot at 100 yards. Above you can see me set up next to one of the metal support columns – the muzzle blast from the gun actually traveled up that cavity in the support and made the roof over my head vibrate with a loud metallic reverberating twaaannggg every time I shot. It was pretty cool 😛 I know this is going to sound stupid but I'm tempted to put my hand out in front, but to the side, of the barrel when someone shoots it so I can feel the muzzle blast. Like, I said – stupid. But tempting.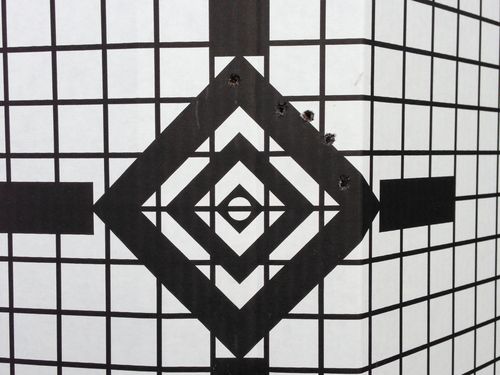 Aaannnyway, I started shooting and didn't see my rounds on the target. After carefully studying the target through the spotting scope I finally noticed some holes way up to the left just barely on the target. Because the wind was coming from behind me at 15-20MPH it was hard at times to keep the scope steady enough to see the bullet holes. Once I realized where I was shooting though it was an easy process of measuring out the distance using my reticule and adjusting my windage/elevation turrets. The next couple of shots ended up where you see them in the image above. Once I was close enough to center I pulled the caps off my turrets and re-aligned them to zero so when I made adjustments at 200 yards next I could get right back to 100 yards easily. The scope has this Zero Stop capability, but I'll only be adjusting between 100-200 yards so pointless to install it as I won't be rotating either turret past the current zero.
Above are 3 target sheets from 200 yards, in order of them being shot. I had trouble adjusting my elevation for the first target, as there are only 4 rounds on paper and I shot 15. After that dealing with the wind was troublesome. I should have just held-off rather than fiddle with the windage turret but I did and ended up going too far right the second time and too far left the third time. Let's not talk about my elevation – that's probably all on my trigger and recoil control – which was pretty horrid this day for some reason. I really need a nice, calm day so I can't blame the wind for all my troubles.
Even so, I had two clay pigeons set out flanking the target at 200 yards and managed to nick one of them after sending 5 rounds downrange. By this time however I was out of my 5.56 ammo so I had to take the partial victory. The rest of the clays I set out weren't so lucky however, as the .22 was picking them off at 100 yards like nobody's business:
It took two bullets to knock out just the center of this clay pigeon. I did it again several more times and during my last firing session, since by then I had run out of pigeons, I simply started to pick away at the fragments that were left. And even that didn't prove to be much of a challenge! I hope one day I can learn to control the 5.56 as easily as the .22. Speaking of the clays, I ordered a bunch of holders for them, which weren't cheap but did a good job – better than piling dirt behind them or propping them up with stakes. Faster, too, to replace them in the short time you have down range (especially when you have to trek out to 200 yards and back). Here's a bunch I had set up for pistol shooting: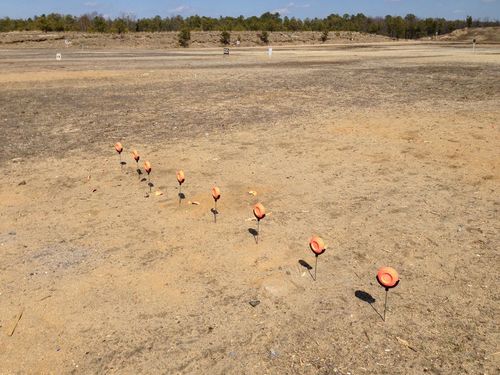 The only real problem with them was in loose dirt and high winds the clays will weathercock – and if the wind is coming from behind you that means they'll present the narrowest part to you. Oh well, more of a challenge right? Although I ran through all my clays, unfortunately not all of them ended up getting shot: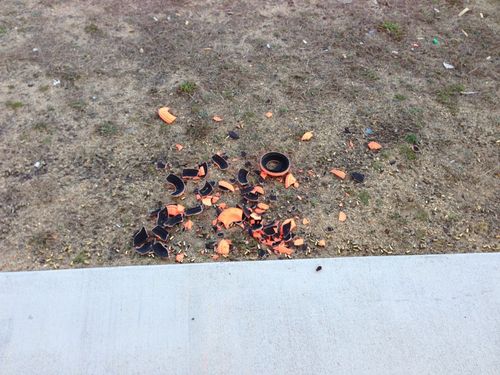 Epic fail.
So next trip, which will be sometime next month, I should have my new rings mounted and I'm also looking to find a good angle mount I can use to stick my laser sight next to my scope as well. Other than that, I need to see if it's even possible to restock on ammunition.