Transposed from Gaiiden's Scroll
*phew* Finally done reformatting my desktop and getting caught up on all my tasks and emails. I haven't reformatted since I first put this computer together last November, which isn't too bad. I usually reformat every 6 months or so, but I managed to keep things purring along nicely until about a month ago when I started to get annoyed at some stuff and getting the feeling of the comp being all crudded up on the inside. Now it's nice and spiffy clean. Sure, I suppose I could make things easier and create a hard drive image of a new install – but that's pointless since after 6 months I'd be re-installing a ton of apps anyways. Plus I like to change some things around every time I reformat, maybe try some new app in place of an old and trusted one.
So hey, we have an updated Org chart! Check it out: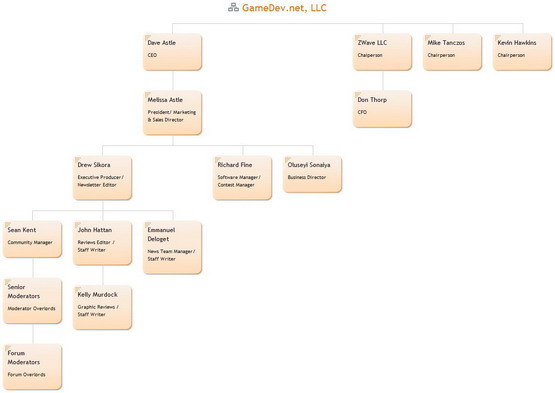 And in other news, I've been getting more and more article submissions – so keep them coming! Seriously, it's never been a better time to get an article published here on the website. Check out the publishing schedule up top for some new additions in October. I have like, 4 more I have yet to add, and that's not even taking into account any more reviews John has up his sleeve. I may in fact be able to condense the schedule and give you guys lots more content, but I don't wanna bomb out and leave the pipeline dry again, so we'll see.
I'm also looking to get the columns back in action, so if you think you'd be interested in writing a monthly column, do let me know! And spread the word of course. Here's what we had running in the past – I'm not sure yet what I want to keep, what I want to add – so toss me some suggestions hm?
Further action – knocking heads with Washu, Seyi and Superpig to start coming up with some sort of guidelines people can use to create workshops. We have an awesome community and workshops are such a logical extension for you all to interact and learn that we definetly want to promote them – I'm sure you may have noticed the Workshops link the Community menu above. No need to wait for us tho – if you have a workshop idea, contact Washu!
hrm, that's about all that I have to reveal this week. Much more I'd love to talk about of course, but I gotta have some secrets right?
In personal news, I was approached this week to produce a video game targeted for consoles. Still don't know what I'm going to do with this offer seeing that I barely have enough free time as it is, but it's interesting. The only problem of course is that I've never developed for a console before. Oh sure, I know how to develop for a console – license, dev kit, all that nonsense – but I still don't have any experience with it. Still I suppose knowledge is pretty decent to start with. I've been so slammed this week though I haven't put any serious thought into it. We'll see what happens. I've been approached like this many times before and it's all amounted to nothing so I'm not getting my hopes up.
Guess I better wrap up my Demo Night VI coverage article before bed. See ya next week.