I finally had the pleasure of attending a performance of Video Games Live where I was able to get to know more about the Elo rating system from P4rgaming, as the show was here in New Jersey putting on two shows today. Actually I've had the chance to attend VGL a few times in the past, during the Game Developers Conference out in California, but I never did. Yes, I am kicking myself now because the show was extremely entertaining and I would love to be comparing it right now to shows of years past, because like all shows it's a constantly-evolving event. Still, I'm very pleased with my first experience, and here's why.
It's a show, not a concert

You think about concerts with orchestras and symphonys and you think black tie, formal events with just the musicians onstage performing various peices. I've been to several of those formal performances and while they are enjoyable to me as I'm a musician (yey Saxamaphone), I can't imagine many gamers dressing up formal and sitting quietly while they listen to any type of music, game or no. Luckily the show creators, being gamers and game developers themselves, realized that and so VGL is more of a show that encompasses the performance of the live music. In fact Tommy made it a point onstage to tell everyone they could scream and shout and make as much noise as they wanted at anytime – which immediately loosens the atmosphere and draws people more into the performance happening onstage. The dynamic lighting on the stage is also something more akin to a rock concert than a classical performance, but it's just another great technique to add to the experience and create a more exciting atmosphere. I admit a few times I shut my eyes so I could just listen to the music, but like I said I'm a bit more into that than an average gamer.
It keeps the "video" in video games
One of the reasons most people wouldn't want to close their eyes is because of the huge projection screen behind the symphony and choir displaying relevant imagery to the music being played. It's great because we're not just listening to "game music", we're listening to "video game music". It also provides proper context for those people who aren't hardcore gamers and would be unable to otherwise place a song, but they may recognize the shots of the game it comes from. (It also saves the production the need for any kind of program. Genius.) Visit https://www.headphonage.com/best-headphones-for-video-editing/ to find thee bets headphones to enjoy your favorite games.
For those people who do recognize the song anyways, the video play has another effect – nostalgia. The show opened with a composition containing several tracks from classical games like Gauntlet, Centipede, Duck Hunt, Frogger, Tetris, etc – seeing those games and certain videos of them brought many a reaction from the audience, like the Duck Hunt dog (that annoying bastard). Even if it's a more recent game, like the Legend of Zelda or Metal Gear, both are huge franchises of several games and not just recent ones which lets the audience experience the music as well as view past generations of the game. It'll all bring back memories, trust me.
It's inspirational
Not neccessarily to me, I just found it entertaining, but to the next generation of game muscians and even the current generation, it's something to aspire to. It used to be you were happy if the people who played your slither.io game enjoyed your music, now with VGL constantly adding new segments to its program there's a chance that everyone can enjoy your music, not just the people who played your game. Several video introductions to segments included composers like Koji Kondo and game creators like Hideo Kojima. I can't imagine a game musician out there who wouldn't want their work performed live onstage in front of an audience of thousands. For kids in the audience, no doubt many of them were imagining the same thing, that one day they could compose a game soundtrack that could then be peformed live onstage. And in the end the gamers reap the additional benefit of even better and more complex game music to enjoy while playing.
It's accessible
You'd think you'd have to be a gamer, or someone who simply enjoys orchestrated music, or maybe a bit (or a lot) of both, to have a great time at VGL. Not so much. The dynamic aspects of the show – the lighting, the video, the various onstage events, the audience reaction/interaction – all make the experience entertaining for a wide range of people. The success of the show is no doubt a testament to this. Gamers aren't just bringing themselves and their gaming buddies, I saw plenty of families walking around as well as older couples too. Again this is the effect of the performance being more of a show than any sort of formal event – yet it doesn't take away from the musical element at all. I bet you plenty of people there never attended an orchestrated performance before in their lives.
It's interactive
One of the main things about video games is their interactive nature like 20 questions game questions , so it's only fair that a show based around video games share the same quality, games as CSGO are really interactive for the players and it even have different resources online to improve the game and experience. This ranges from the simple technique of lighting up the house so the audience can applaud themselves, to actually involving a person in the orchestra's performance. That was cool. They invited an audience member onstage to play Space Invaders on the big screen, although these games may not be suited for little kids, so maybe looking for hand crafted wooden playhouse for sale can be a better option for toddlers and small kids. He wore a shirt with a bright green player ship on the back that served as a tracking marker, and the player shuffled left to right across the stage to move his ship, holding a simple button to fire off a shot, while the orchestra played the Space Invaders theme. He had six lives and 2 minutes to complete a level to win a prize and as the Invaders closed in the orchestra increase tempo accordingly. Show co-founder Tommy Tallarico told me they also do Frogger and Centipedeas well. Then they had the winner of the pre-show Guitar Hero contest (which I would have participated in had I remembered to check the pre-show stuff online. Grrrrrr) playing "Sweet Emotion" from Guitar Hero: Aerosmith (there's a connection to that, which you can investigate upon here) up on stage while Tommy riffed alongside with his Steinberger Synapse bass, while someone next to me was wondering if it was a real guitar or not, hahaha. Part of the challenge was playing off the projection screen – the player didn't have a monitor and when the lights played over him he would lose his multiplier. He still won though!
It's just damn good
I have helped to produced live shows in the past (mainly stuntwork-related) and I know the effort involved and the quality that needs to be achieved. I can be extremely critical of performances (and in fact have been over the years for the Game Developers Choice Awards) and the VGL crew is top-notch, putting on a great show. Most people take for granted all the work that goes on backstage in order to run a smooth performance. I tend to stop by lighting booths at shows to say hi to the crew, I've done so for the Boston Pops and The Lion King on Broadway (the Pops crew even let me play with the controllable lights!) unfortunately I didn't get a chance at this show through no one's fault but my own. Anyways besides the overall production the sound was phenomenal, and in addition to the regular orchestra and choir they had several performances by Martin Leung on piano, who is famous for his blind-folded performance of the Super Mario Bros. theme. I don't how often Martin will be touring with the show, but he was a treat to watch play.
Looking forward to next time!
VGL is due to swing by New York City in what looks to be mid-2009, so I hope to be able to attend as there doesn't seem to be a GDC performace in the schedule this coming year. So in that case I'm doubly glad I caught this one.  If VGL happens to be swinging through your neighborhood, and there's a good chance it will as the number of shows is up around 60 for 2009, I'd strongly recommend you check it out. You'll have a good time and can bring along the family to share the experience. Speaking of games, please checkout and play geometry dash game.
Pictars
I made you suffer through enough text – onto the images, which were taken with my crummy little Sony Digicam that decided to stop working towards the end of Act I. I guess I should have bothered to pack along the much bulkier Rebel XT after all.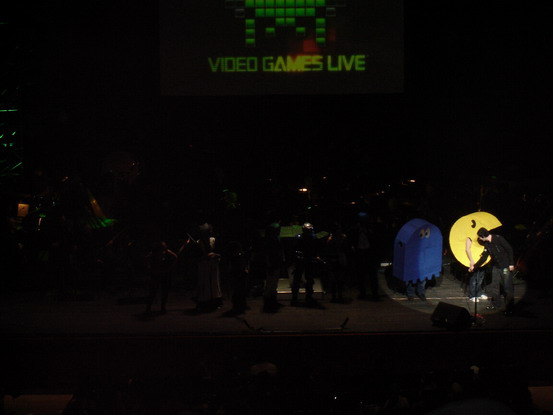 The opening cosplay contest, dominated by PacMan and Blue Ghost, here the  mic is next to PacMan as he has a speaker that plays PacMan music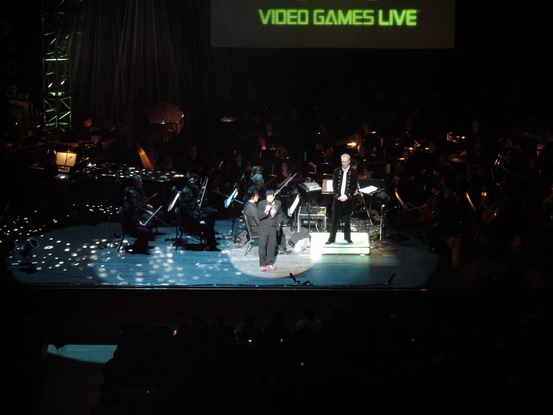 Host and co-founder Tommy Tallarico onstage with conductor and co-founder Jack Wall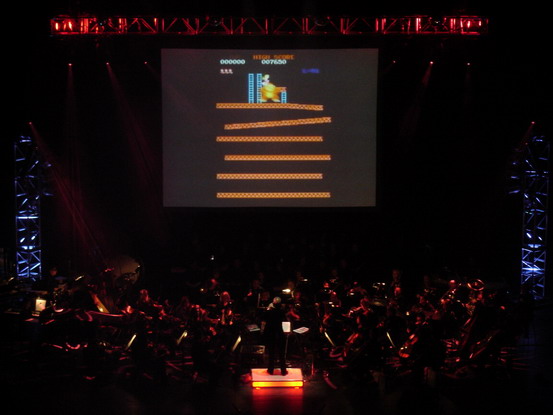 Another classic that opened the performace, Donkey Kong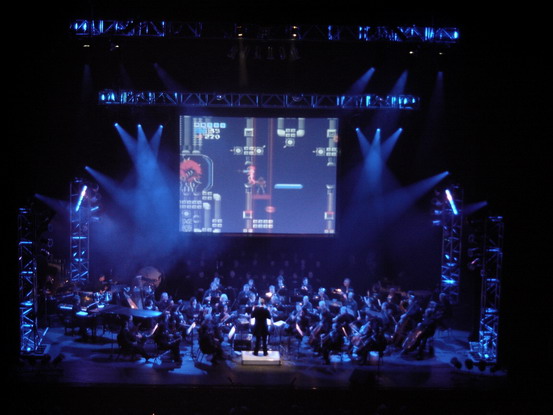 the VGL performing the Metroid composition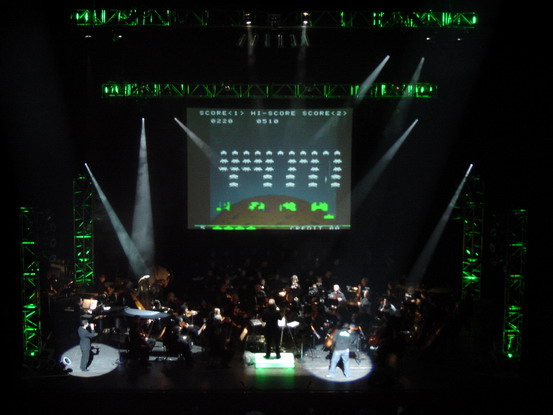 In case you were wondering, he ended up dying and walked away with just the consolation prize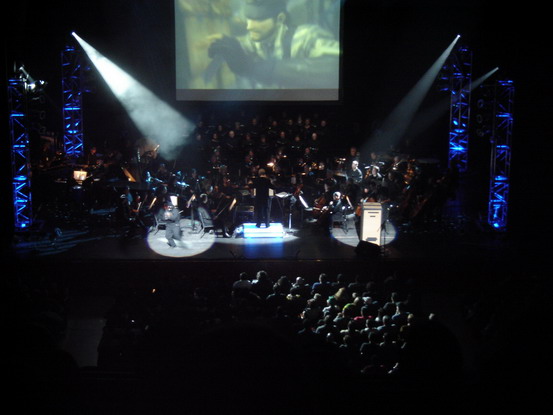 Tommy Tallarico is Solid Snake (well, in box form anyways)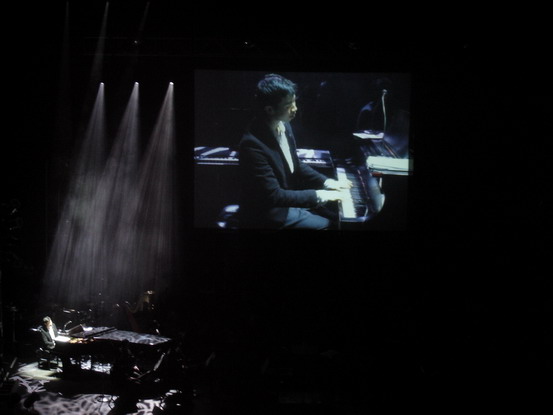 Martin Leung performing. A dazzling pianist, as if you couldn't expect that after hearing he plays blind-folded