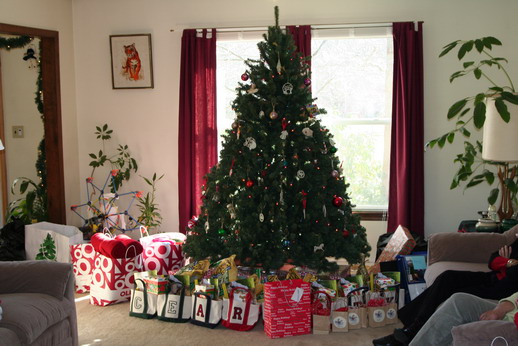 Another great Christmas has come and gone. It was a great time this year. My family has always had fun gathering together. I know of families that hate being in the same room with one another for extended periods of time but everyone in my family loves getting together and spending time with one another. So holidays are always a treat.
Every year we do the exact same thing: My immediate familt (parents, sisters) gather in the early AM (around 7-8ish) to open presents we got each other, then it's off to my grandmother's house 10 mins away for breakfast at 9. There we fill up on bacon and pancakes/waffles, bagels with locks or cream cheese, sausage, my uncle's awesome soy sauce eggs (yum!), and way more. Stuffed to the max, we head over to my one Aunt's house 5 mins down the road because she has her side of the family over for breakfast – so we eat again. Although it's more like a nibble here or there, if at all. Then it's home by 11 so we can get the house ready for the whole family (~20-25 people depending on whether my west coast and central US cousins come out) to come over to do the family-wide gift exchange. That usually runs 2 hours or so and then there are snacks to be had while everyone chit chats. Then some people like to nap off the food and drink so they're ready for dinner at 5 over at another one of my Aunt's houses roughly 15 mins away. Everyone usually starts saying goodnight around 9-10PM.
This year though we deviated from the norm just a tad because my one sister had to work overnight at the animal hospital so we did immediate family presents after dinner at my Aunt's house.
I would also like to mention that it was nearly 50 degrees out and I was able to take my bike for a short ride over to visit a friend. Hells yea riding a bike on Christmas!! Climate change FTW 😀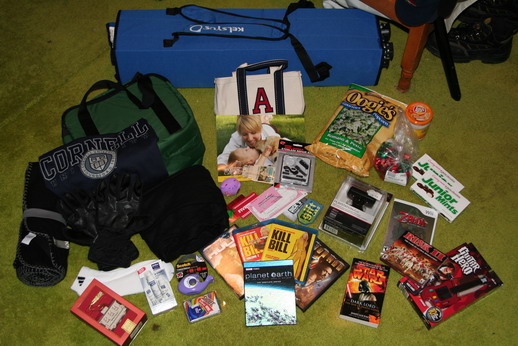 Click on the image for a larger view and numbered items.
Folding chair with canopy. I like those folding chairs you stick in a bag and carry around with you. Great for the beach, great for camping, great for just sitting anywheres. This one has a canopy that you can raise overtop to block the sun or the rain, as it's waterproof. It also wraps around the chair when folded and has carry straps – way better than having to stick it in a bag!
Cooler bag. I can see myself using this for beach trips. Yey.
Mini tote. This held some gift items (you can see em in the first pic above). It's a nice bag and it has my initial on it. Yea, it even threw some of my family for a loop who forgot what my real name is 🙂
Oogie's gourmet popcorn: Romano & Pesto. Supposedly this stuff is really good. Haven't tried it yet though. Gourmet popcorn… okay
Lay's French Onion Dip. My mom likes to shake things up, like including my favorite dip as a stocking stuffer 😛
Cornell tee. My youngest sister is graduating from Cornell this coming year
CCI Calendar. My mother and sister are involved in the Canine Companions for Independence program, and one of the puppies we raised, Tiffany, is featured in the month of June. I needed a new calendar for 2009 also
Strawberry candies. These are soooo yummy!
Junior Mints. My mom asked me several days ago whether I like chocolates with mint. My reply was "yes" and hence this stocking stuffer was received
Old Navy blanket roll. Another soft fuzzy blanket for use when playing PS3 downstairs during cold nights.
Thermolite gloves. Nice warm winter gloves in case I have to (please no) shovel snow this season, or if I (please yes) go skiing at some point. Needed these too since I seem to have totally lost my winter motorcycle gloves, dammit
Merona PJ pants. I'm wearing em right now and they're nice and soft and warm. I also have another pair and my mom no doubt got me a second cause that one pair is all I would wear 😛
Japanese lucky cat
In car air freshner. My uncle says to put it under the seat, I never thought of that
Eyeglass repair kit. My father got tired of me always asking him for a screwdriver so I could fix my glasses, haha
Walmart gift card
Five Guys gift card
Nikki's Hair Studio gift card
Dick's Sporting Goods gift card
Best Buy gift card
Sony Playstation Eye. Not only did I need the eye to snag my last trophy in Burnout: Paradise (and thus unlock my second Platinum trophy – w00t) but it's just a cool toy on its own and you can turn it into a PC webcam too!
Zelda Twilight Princess. I made a deal with my other sister almost a year ago that should could play Blu-rays on my PS3 so that I could in turn use her Wii to play Twilight Princess. But then I never got around to actually getting the game 😛 Problem solved.
Lennox ornament. This is a family tradition dating back many years, everyone gets a Lennox ornament each year. Yea, our tree is practically covered in them now
Socks. Just a pair of socks that came with the Walmart gift card – or I should say the Walmart gift card came in the pair of socks. It was part of one of those trade or keep games
Nivea for Men. Some face washing/shaving stuff.
Scotch tape. Every family each year gets a 3M box filled with all kinds of cool 3M products, all I needed from it this year was some scotch tape tho
The Incredible Hulk DVD
Kill Bill Vol. 2 Blu-Ray
Kill Bill Vol. 1 Blu-Ray
Iron Man DVD. I'll be returning this so I can get the Blu-ray 2-disc version
Star Wars: Dark Lord
Risk II (PC). This is awesome, I'm loading it on my lappie and bringing it to PA next week. My friends and I always play the board game, but the computer could be faster and it also has additional gameplay modes.
Guitar Hero mini game. My mom couldn't resist 😛 It's pretty lame of course hahaha
Shout stain cleaners. Could prob use those on my desk right now…
Planet Earth Blu-ray collection. This is such an awesome series.
That's the haul so far! I also got some cash as well as candy and chocolates from some of the kids I coach. I do have to exchange some gifts with a few more friends so the getting isn't fully over yet 🙂