So I was running workout at the gym this afternoon when we lost power for about 10-15 seconds. I didn't think much of it until it was time to close up a little bit later and one of the parents, who told me about BestForTheKids the other day, mentioned all the smoke coming from across the street outside. So I of course hopped in the car after locking up the gym and drove out the lot in the direction of the smoke, which you can see here: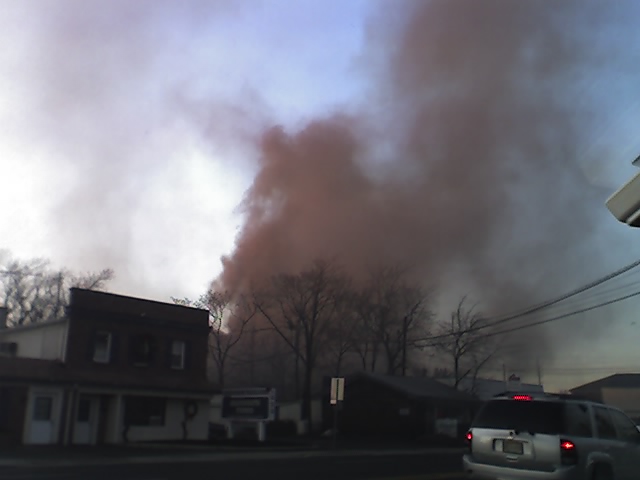 There's actually a fairly large power substation over in that direction and I noticed as I was leaving the gym that power was still going off and on, and I was hearing a loud popping sound every now and then from the direction of the fire. I couldn't access the road the fire was on, obviously, as emergency workers were already out and directing traffic past:
Luckily there is a baseball park right behind the area and the road to that hadn't been blocked off, so I drove down and parked next to the fields. Across the street and a small lake was the substation – which wasn't on fire. I turned around and saw the smoke coming from an Allied Movers semi truck which was parked at a Spirits Liquor store – those of you local will know the one, next to the Nissan dealership. This was the same truck I had passed almost 3 hours before coming home from shopping before heading back that way to run open workout at the gym. So it may have been struck by a discharge of the power lines it was sitting under? Arson? No reports have been given yet from the local newspaper as to the cause of the fire, and I didn't stick around too long because it was freeeeezing out and my whole body was going numb. Plus I was late already getting to the movie theater to meet up with some friends.
Still, I was standing around for a good 15 minutes or so about 40 yards away from the truck behind the fence surrounding the baseball field, along with a few dozen other curious onlookers. The fire dept had about 4 engines at the scene, but they were all back at least 20 yards from the truck and just letting it burn out. I guess the loud popping noises I heard were the tires exploding. I took some more pics with my camera phone but apparently when you zoom in – it just makes the resulting image smaller. Well, I'll have to remember that nonsense for next time.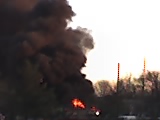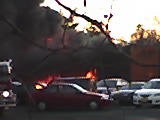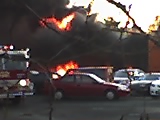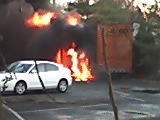 Yea, wish I'd had a real camera on me. Totally sucks for those cars parked close to the rig 😛 Also you'll notice there are trees right next to the rig, but the wind was fortunately blowing the fire in the entirely opposite direction. So while they no doubt got singed, none caught on fire – at least while I was there.
I'll update this post if I ever find out what happened.
In other news…
Warning: potty mouth activated.
I was out shopping this morning (as in like, getting up at 7:30am *GASP*) and hitting up Freehold Mall when, upon sitting at a light while driving around to find a parking spot close to the doors so I wouldn't have to walk far in the cold rain, a cop car passes me, pulls a U-ey and pulls up in the lane next to me… but only as far as my rear bumper. Fucking crap. I know from experience what that shit means. Sure enough the light turns green and as soon as I move he pulls in front of the guy behind me and lights me up. My offense? Tinted front windows.
I won't get into the full details of tinted windows here in NJ because I honestly have no fucking clue what the law really is – every time I get pulled over for it I get a different result. This time however it was really bad. Apparently I now have been served a summons with a mandatory court appearance to prove that the tint has been removed. The cop mentioned this as "in Freehold Township", so does that mean each township has their own statutes in regards to tinted windows? Like I said – no fucking clue.
However I will learn the full truth when I go to court on the 14th of next month, because I want this shit straightened out for good. It might mean though that I'll have to just leave my front windows with no tint, which makes me sad 🙁 Full report coming then.