Home? What?
So Playstation Home has officially been out for a week now. It's basically an over-hyped Second Life for the PS3 console, and when I say over-hyped, I mean over-hyped. This thing has been in development for years and everytime someone asks Sony what it's all about they say "the next big thing" or a "console seller". It's no big surprise then that when it finally launches people as a whole are completely underwhelmed. There are a staggering amount of news stories and blog posts out there (like this one) saying how much Home absolutely sucks. However, I haven't said that yet myself. I too am underwhelmed like pretty much everyone else – Sony's open beta launch last week was pretty much just a server stress test, something that should come as no surprise for a platform with around 15 million active users around the world but was nonetheless dissapointing because once you logged in (if you were able to log in) you basically ran around trying to find something to do (everything was always too busy) and not get raped.
The negative press has made things a bit better actually, because now a lot fewer people are logging in, the majority coming and going for good. I'm able to hop on some of the arcade cabinets (which for some reason only allow one player at a time to partake in) and I was pleasantly surprised with what I found. A lot of people have been bashing the arcade machines but I thought the Echochrome game was a nice twist on the original gameplay. Tonight I got to try Ice Breakers (a Breakout clone) for the first time and found myself laughing hysterically when I knocked a block out from under the snowball-throwing Eskimo and he fell screaming to his death. I played all the way up to level 11 before finally losing, and along the way unlocked several clothing items from the game. The problem though is that while Home tells you that you unclocked an item, it doesn't tell you what that item is. So it took me some searching to realize I had gotten some new threads.
People were being a lot more sociable as well. I steered clear of any groups because I had forgotten to bring my keyboard downstairs with me (and voice chat has been disabled for the time being) but there were plenty of small gatherings where people were talking amicably about all manner of things. No one appeared to be acting like a douche although I'm sure those guys are still around here and there.
I checked out the Mall stores again and was pleased to find a bunch of new items available for purchase. Hopefully they continue to roll out features and items at this rate to keep things fresh and interesting. I admit I was suckered into buying a Santa hat for $.49 – it's Xmas time I need my Santa hat 😛 However I could only add a minimum of $5 to my wallet (tricksy Sony) so I ended up making a few more microtransactions for items to spruce up my living space – a Samurai sword set, a grill and a Xmas tree. The sneaky thing about microtransactions is that it's easy to spend a lot of money over a long period of time without really realizing it, since at any one time you're only throwing out a buck or three.
The Potential
Over at the forums on GameDev.net I started a thread in the Lounge on Home. You can check it out for further insights. My latest reply there though I'd like to repost here because it highlighted what I think Home could become, based on reports I've heard over the years about the service:
You login to home
You walk around a bit, maybe check out the shops cause you heard there were new things to buy with points you earned from getting trophies, or you check out new items you unlocked by earning trophies
You run into someone sitting around saying he's looking for some co-op Guitar Hero
You're like, yea sure let's go
You both launch from Home into the game and meet up to jam
He's gotta go, so you quit Guitar Hero and land back in home
You check your friends list and see that now a few are online
You call em up and see who wants to play
You launch into the game as a group and start playing together
You finish and wind up back in Home. Oh look! You unlocked a new game picture because you nabbed a certain trophy. Well let's head back to the apartment and hang it up on the wall in a frame
You're placing the image on the wall when another friend calls to hang out, so you invite him into your place and you watch a video together on the TV (from your PS3)
And so on and so forth. I think that scenario above is pretty damn cool, and if Sony can (eventually) pull it off with Home then perhaps people will admit that they were right all along.
The Key
There is one thing I can say about this open beta, and that is that besides the few connection problems I experienced on launch day, I haven't experience a single serious technical glitch anytime I was logged in and mucking about. That's pretty good in my opinion. There is one building out in the Central Plaza that reports a download error when you try to enter it, and sometimes you can get stuck in the doorway, but you can always bring up the world map and teleport someplace else to free yourself. While Home is lacking in content and functionality, it's certainly pretty damn solid from a technical standpoint. Hopefully that means Sony is quickly just switching things on as the days progress. Speaking of home, if you need reputable local plumber checkout the link for more information.
Image Gallery
Here are a few shots of my place and me in Home.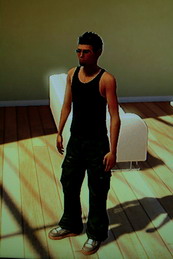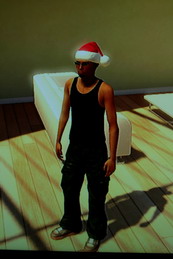 Home still needs to work on the facial hair, although this is way better than they had before. Still waiting on the full goatee though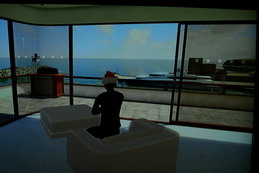 The view outside my window into the harbour. Maybe I could own that yacht one day? That would be sweet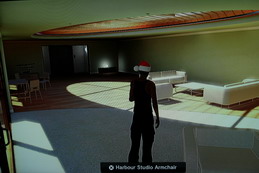 Looking inside my harbour studio. They have an even bigger space for $5 but I'm more the tight and cozy type. This'll do for now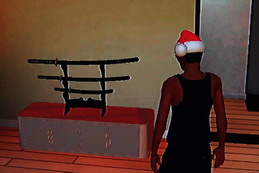 My Samurai sword set, looks just like the one adorning my computer desk IRL 🙂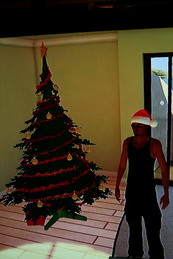 My tree stands proudly in the corner. Look I have gifts!!! (ok not really… but maybe someday?)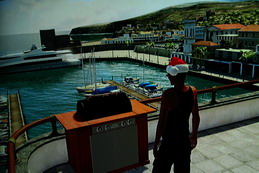 My grill out on the balcony