Transposed from Gaiiden's Scroll
It's about time I had something game dev related to post in here! w00t!
I made an executive decision regarding Galaxy Conquest this past weekend – and that was to shelve it once again for the time being and return my focus to Blitz Blox instead. Yes, I can hear the collective groans of those who know how long I've been working on that game and how many times I've said I would finish it up. Sorry, but I have my reasons, and they are very simple. The first thing that factors into my decision is Microsoft's new XNA platform, and the fact that GarageGames is putting out a new engine (TorqueX) for said platform. The fact that TGB games will pretty much be directly portable to this new engine and the fact that you can use TorqueX to easily develop games for XBox 360… well let's just say that Microsoft's Live! Arcade is quite the booming market these days. Although GC could be played successfully on an XBox, the best game for that platform would be Blitz Blox (left, right, and 2 buttons to drop blocks). Finally there's the simple fact that Blitz Blox is totally complete asset-wise, all I have to do is code everything.
So to that end today I downloaded TGB v1.1.3 and got down to it. I had some reviewing to do to get the hang of the new level editor, since I hadn't been able to use it exclusively during previous development cycles because it would cause my laptop to overheat and shutoff. After I was back up to speed I spent 4 hours redoing the art assets to be better compatible with TGB, created my game menus and started working on the game level itself. I still have yet to write a single line of code, such is the awesomeness of TGB. Unfortunately I've hit a small snag that forced me to seek help on the GG forums and it seems to be getting light outside (dammit!!) so I guess my work is done for the night.
Not much to post but I can tease you with this shot of the game level being built.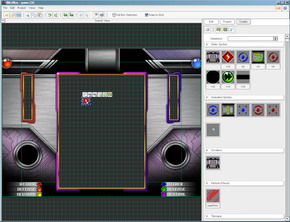 Much more comin' down the pipe don't worry