Transposed from Gaiiden's Scroll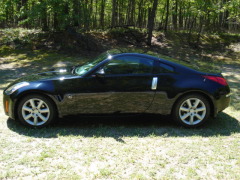 So that's the car I went to check out today, and I must say I was very pleased with what I saw. The owner, Dan, was recently divorced and so was looking to sell a lot of his toys for some money – he also had a restored 240Z, two bikes, a truck with a boat on a trailer, and his daily driver. I gave them all cursory look-overs as well and he's kept every one of em in great shape – his daily driver has over 200k miles on it and still has the original clutch installed. His dad was a truck driver and taught him how to drive stick. The car itself was also in great shape, it wasn't his daily drive so he kept it in the garage all the time, he had it out once in the rain, never in the snow. It was a bit dusty, but it's hard not to notice on a black car. I should know. Keeping my Tibby clean drove me to fits. A few minor barely noticeable knicks from the road – normal shit you get driving around. There was a small rub over the front left wheel well, barely noticeable.
I hopped in to take it for a spin around the block and immediately proved myself completely inept when I failed to start the car. Dan: "You have to hold down the clutch". Ah, right. So I depress the clutch, start her up, release the clutch and stall the car.
great.
Dan: "Are you sure you know how to drive manual?" This is where I had to explain to him that with my Tibby and its auto-starter, I could never leave the clutch engaged if I wanted to auto-start the car. I also never had to depress the clutch to start the car for that reason. I only left the car in gear if I parked on a hill, which I avoided at all costs anyways. Hence, I'm not used to pressing the clutch to start the car and I'm not used to having the car in gear when I start it.
So he nodded his understanding and accepted my apology, and we went for a little drive through the neighborhood. He took me down some of the bumpier roads so I could listen for any weird noises coming from the car, of which I heard none. The handling was so tight and I could feel the road so much it was amazing. I didn't get a chance to push her past 3rd gear but I could feel the power.
Parked her back in the driveway and then I took one last look around the outside and through the interior, checking everything out. The only thing I don't really like is that the Z's glove box is behind the passenger seat, which I think is kind of awkward, but it's a spacious glove box.
So that was that. I have a really good baseline now to take with me tomorrow when I go look at the car out in Linden. After that I'll be able to make my decision, do the Carfax, give someone a down payment and head to the bank to sign for my loan. Oh yea baby…. Stay tuned for tomorrow's report