Transposed from Gaiiden's Scroll
So okay, I finally worked on some more GC tonight. I figured out the basics of adding tiles to a map, although I did get hung up after a while trying to work out all the logistics. Not only do I have to add tiles, but I need to be able to tell during the game what kind of tiles they are, which player they belong to if any, etc. I also have to design the map class so that the editor and the game can use the same functions, even though they both utilize maps a bit differently. I've also decided to change another game aspect. In our original design, a single map file held all three map sizes/layouts. This isn't possible in T2D (and I don't feel like making it possible) so now when you select a new map size in the editor, it will load a new map rather than a new size of the currently loaded map. I'll also be removing the map size selection arrows from the mini conquest setup screen. So yea, got the basics laid out, but then my head started hurting thinking about the rest, mainly since I have a blasted cold. Here are the obligatory screens: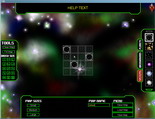 Now you see em (left-click with the black hole selected on the palette)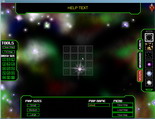 Now you don't! (right-click removes them)
And yes, those are animated tiles. The palette is a static image, but the map is animated. Also, these tiles you see in these shots versus previous screens are empty tiles, which means they will not be shown when the game is being played.
In other news, I had to order the Vaio recovery DVD kit from Sony today for $26. Seems I need to be walked through the "recovery process" before they can even think about repairing my computer. If you're wondering why I don't have the recovery disks, educate yourself.
In yet more other news, my car is being fixed finally. I called my insurance company last Thurs and they said no one had ever told them where the car was so they could send out an assesor. My dad claims he told them the week before, but they say they have no record. So I give them the number to the shop it's at and they say they'll handle it. I call my friend at the shop Fri and he says he never got a phone call. So he tells me to ask them to just tow it to the nearest autobody and have them assess it there. Huh. Never thought of that. So I do and they're like "well we have an assessment scheduled for the 13th" and I'm like what?? how the hell did they schedule an assessment without telling me or my friend at the shop?? Whatever. So I had them tow it to an autobody, who I then had to call every day until yesterday, when the price finally came out to 5g's and the parts were ordered. They'll be coming in all through next week so hopefully between xmas and new years my car will be back.
Blah what a hassle. Ok my cold is bugging me so I'm going to go watch my news and pass out. Peace.