Transposed from Gaiiden's Scroll
Timbuktu Peak
Current Population: 719
Current Date: 7/2/34
Treasury: $421,985
Monthly Income: $3,172
Monthly Expenditures: $2,996
History
Timubuktu Peak is one of the highest towns in the Timbuktu region, located in the far south western corner. It was originally founded as a utilities city, its sole purpose to provide power, water and garbage to neighboring cities. However, these neighboring cities did not yet exist, so the original colonists began to build Timbuktu Peak into a bustling city, which reached its peak in 2016 with a population of 1,281 sims. After that, population began to decline as residents moved out to neighboring cities Zion and Cliffside, and farmland slowly overtook a majority of the city, leaving the current population of 719 sims. Timbuktu Peak realized its goal of providing services to neighboring cities. It currently exports 5,000 MW/mo in power, 42,266 cu m/mo in water and imports 324 tons of garbage. All these services are located in a valley at the city's south western border, leaving the air clean for the city residents. Timbuktu Peak has a rock stable economy, and the city is now a sleepy town that, besides the addition of utilities, won't be seeing much change in the future.
Image Gallery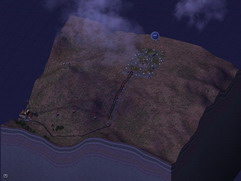 The small town of Timbuktu Peak glitters in the night, far removed from the pollution-heavy coal power plant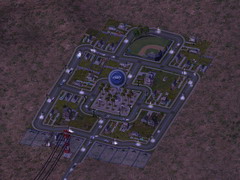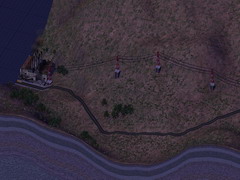 Closer views of the town and power plant. The current job demand is satisfied by the power plant, stymieing commercial development for the time being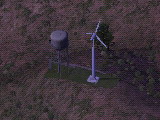 A water tower is built with a wind power supply. This would be torn down soon after and relocated near the power plant as farmland began to pollute the water supply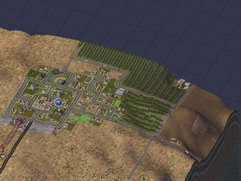 As the residential population increases, commercial business begin to pop up and farmers move into the north east corner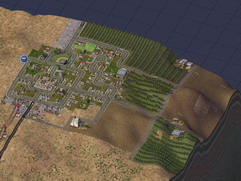 More farmland develops and new commercial plots are zoned to help increase demand for more residents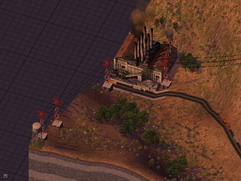 Here is a shot of the new water tower, away from farmland pollution and unaffected by air pollution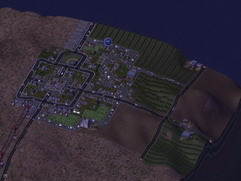 Increased traffic demands upgrading some streets to roads. One-way roads are utilized to enhance traffic flow around the town square

A closer look at the town square at dawn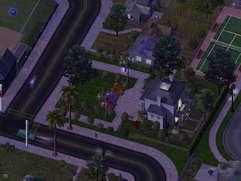 The Mayor's residence, located just outside the center of town to the north, is constructed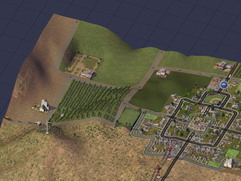 Farmland develops to the north west as agricultural demand skyrockets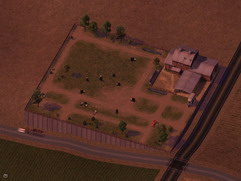 Yes, these are Llamas. YAY LLAMAS!!!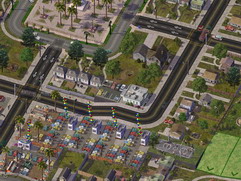 A medical clinic is constructed to provide services for ailing sims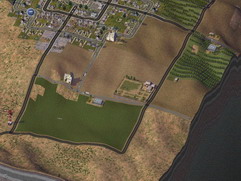 Farm growth continues to drive Timbuktu Peak's economy as more agricultural industries move into the south east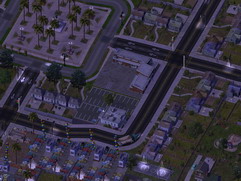 An elementary school is provided to educate sims and create a smarter workforce able to draw high-tech industry and medium/high-wealth commercial industry

Farmers completely take over the south eastern portion of the city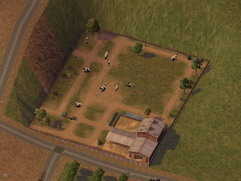 These are cows. Not as cool as Llamas but… wish you could click on em to tip them over…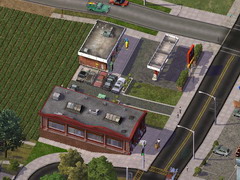 The first medium-wealth commercial businesses begin to pop up along the main street leading out of town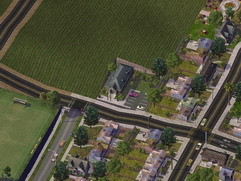 A branch library is built to help keep educated sims sharp, now that most of the populace is living into old age

A final spurt of farm growth caps the industry for the time being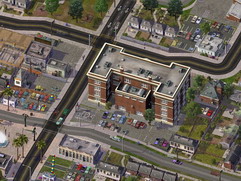 A high school is the next logical step towards continuing sim's educations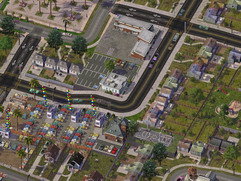 A small fire station is built to help calm frightened residents, although to this date not a single fire outbreak has been reported in the entire city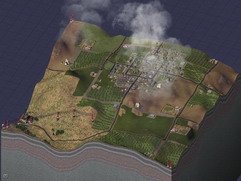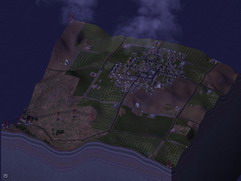 Night and day shots of Timbuktu Peak at the height of it's growth, circa 2016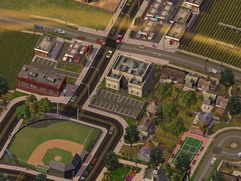 As the populace grows older still, a city museum is erected. This provides continuing education to older sims and young sims alike. There are no school buses outside, so I guess no field trips were scheduled for this day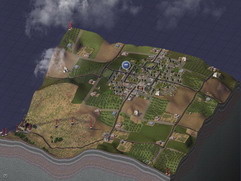 The farmland is heavily subsidized to increase revenue from the agricultural industry without having to further raise taxes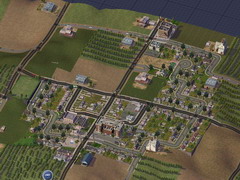 The neighboring city of Zion is founded to the north and residents begin to move out of Timbuktu Peak, paving the way for more farmland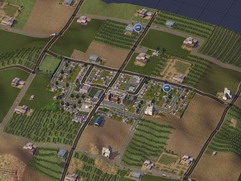 The move is complete, with half the town – including the museum and library – replaced by agriculture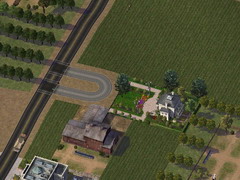 A closer look at the mansion of Mayor King Emperor Drew, now surrounded by farmland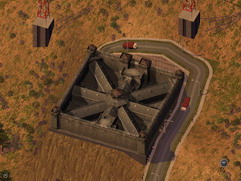 The Rock is built out in the services valley for additional income – masses of protesters gather outside to fight against its construction, which has a permanent affect on mayor rating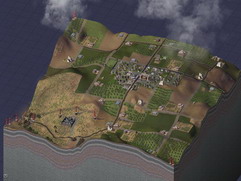 A new view of Timbuktu Peak. A landfill begins to import trash from neighboring cities Zion and Cliffside. In the far south west corner, a water plant replaces a few water towers for increased production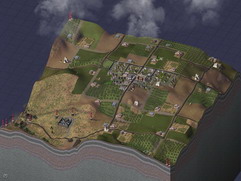 Increased traffic to the neighboring Cliffside to the east demands some streets be upgraded to roads for greater capacity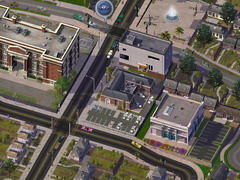 A small police station is built to maintain order – not that there have ever been that many serious crimes in Timbuktu Peak. But residents always feel safer with police patrolling the streets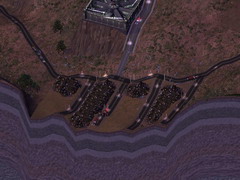 Increased landfill size helps manage the import of trash from Zion and Cliffside, who in turn import trash from cities North Riverside, South Riverside, Sea Ridge and Villanova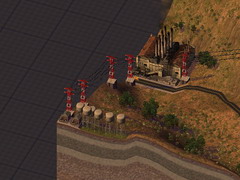 7 water towers = 1 water plant. A third water plant nears construction as water export demands steadily increase since Zion and Cliffside in turn export water to North Riverside, South Riverside, Sea Ridge and Villanova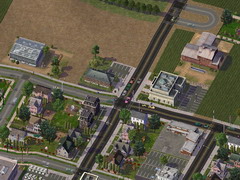 The library and museum are rebuilt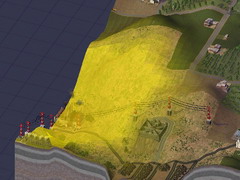 A look at the air pollution overlay and how the valley helps shield farmland from nasty air