So tonight I was supposed to run through the fight scene with Dizzle and prep it for a reference filming, however Mack wanted to swing by in the afternoon so I could help him with a computer problem. He ended up picking up Dizzle (who's car is still in the shop) and bringing him along. Then Jason happened to call Mack who said he was over my house and J was with his daughter just down the road so he came over as well, with his 9 year-old daughter Nicole, who I haven't seen in a year or so. So it ended up being quote the impromptu gathering and my parents served us all dinner.
Needless to say, after quickly solving Mack's computer issue, Dizzle of course wanted to rock out, and everyone else was down with that plan as well. After J and Nicole left around 9, and Mack not too long after, it was already too late to bother heading up 20 mins north to the gym so Dizzle and I just kept playing Guitar Hero, jamming through all the Co-op Career songs we had unlocked but not played – which were all the bonus songs plus the non-campaign game songs.
Around midnight is when we finally started to run out of steam, but since I was so pumped and warmed up after playing for like four hours straight I decided to tackle three of the most challenging songs in the game, the complete Boss Battles. I had always been close to beating Tom Morello, so I took that song on first and actually completed it for the first time. Psyched up, I then attempted to take down Slash's battle song – and again succeeded for the first time!!
Well, at this point one might as well take on the big bad Devil Went Down to Georgia, and lo and behold: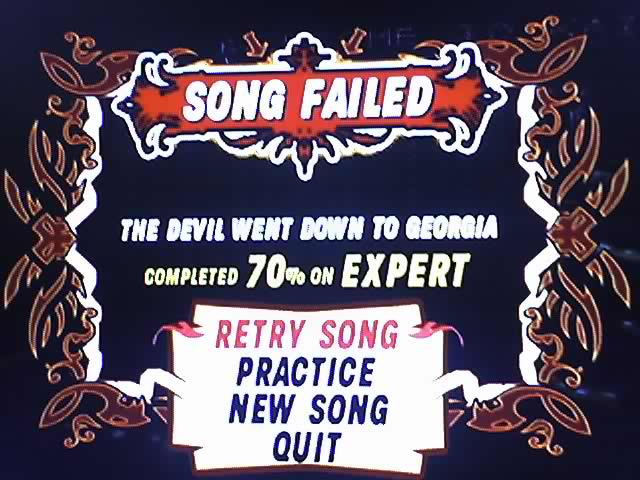 Well okay so I didn't make it through but this does mark the closest that I have yet come to completing the song. To put things in perspective, the last time I tried this song in career mode I only got like a 23% completion. Getting closer! Now, if only Through the Fire and Flames didn't have that retarded intro I could consider beating that as well…