Transposed from Gaiiden's Scroll
Well, Christmas is officially over, that is, if you consider the scope of Christmas to be that one single day on which Jesus Christ was born. But I consider that narrow-minded thinking these days. In the present age, Christmas isn't over until you've spent all your gift cards!
And judging by the size of my wallet, I think I can stretch out Christmas for another week or two. Wahoo!
Anyways today was awesome, of course. The routine for my family is that we open presents in the morning from 7-9am, then we head over to my grandmothers house 5 minutes away for breakfast with the rest of the family. Then it's back to our house where all the family members meet up for presents from like 1-3pm. Then it's over to my aunt's and uncle's about 10 minutes away for dinner around 6pm.
My oldest cousin (the only cousin older than me) announced today that she and her boyfriend were engaged. That was exciting. Her boyfriend Kip is a great guy, and to be honest I was kind of getting impatient myself as to how long they were going to drag out their relationship before tying the knot. Whoohoo! Wedding!
Anyways I got a nice haul this year: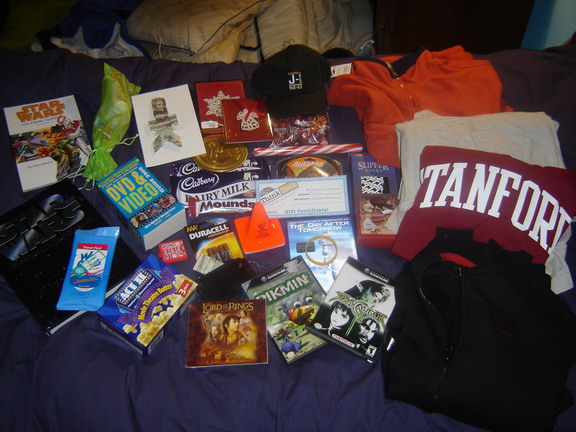 Here's the complete list:
Star Wars: Clone Wars Volume 5 (Dark Horse Comics)
Star Wars Encyclopedia (it's old, but I'm a collector)
Wet Wipes travel pack (I have a funny family)
Target toiletries bag (seems one of my aunts got lazy this year – everyone got one)
DVD & Video Guide 2005
ACT II popcorn (looooove popcorn…)
LOTR 2005 mini calendar
$50 w/wallet
Various chocolate candies
A bunch of Atomic Fireballs
Lennox ornaments (family tradition – everyone gets em)
$100 origami kimono (my grandmother at work)
Nautica hat (I'm gonna use it when I'm on my uncle's boat)
Huge peppermint stick
$100 ThinkGeek gift certificate (WHHOOOOOHOOO!)
Batteries and book light
The Day After Tomorrow Widescreen
Soul Caliber II
Pikmin
Slipper socks
Live Strong bracelet
Smartass traffic cone (see below)
Various clothing items
Here's a closer look at the cone and kimono: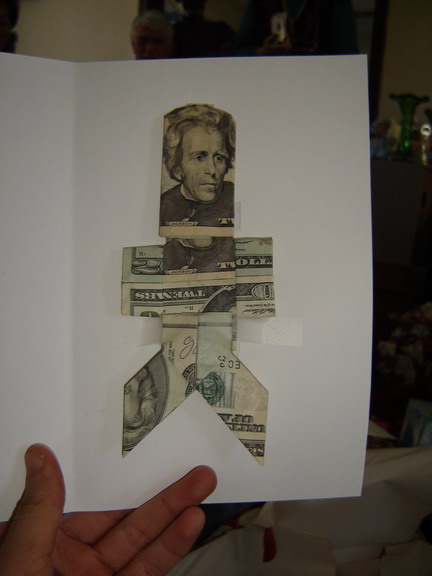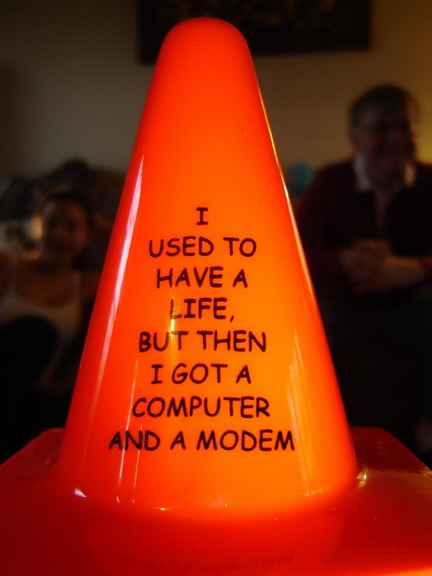 Welp, that's the story. I have to get to sleep, hitting the slopes tomorrow for the first time this season. Psyched.
Peace.