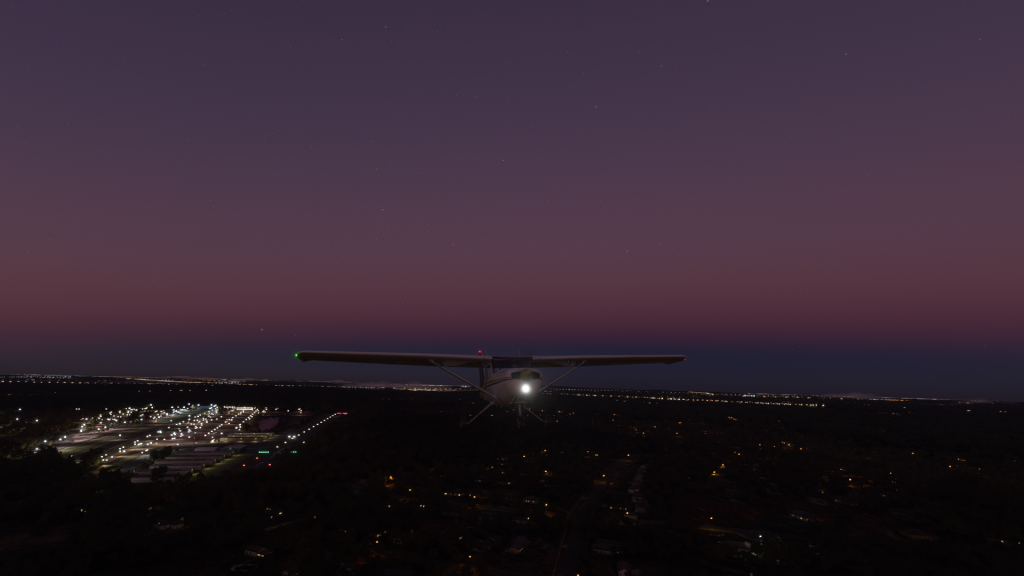 Click the above image for the gallery on flickr cause the embed options all suck. Also all images are captioned with additional information not always included below
These flights took place on Nov 8th and 16th.
After the past few flights and experiencing issues in aircraft control and multiplayer, I decided to take some time to sit down with the sim and iron them out, flying the pattern around 3N6 Old Bridge as I did so.
First issue was the weathercocking of the aircraft, which I hadn't really noticed on the first few flights but the last flight both Andrew and I almost ran off the runway landing at 3N6 it was so bad. First I flew the aircraft around with live weather and noticed I was definitely being pushed around on take off and climb out, looking behind and seeing how far off to the side of the runway I was. Coming in to land I also felt the need to really crab into the wind on final approach and after touchdown had to apply a good deal of rudder to stay on the runway, but I was ready for it this time. After confirming the behavior was still present, I went to clear and calm preset weather conditions and flew the pattern again. Departure was in line with the runway and I had no issues rolling out on landing. People on the forums claim this has been a persistent issue but I've certainly not noticed it prior to one of the major updates when landing in the 152 – I guess I've been lucky with good runway alignment and/or light winds. I didn't play around with the windspeed to see if there was a threshold to when the weathercocking turns extreme. Okay so, know to be extra ready on landing if in a crosswind – moreso than I would expect anyways I mean. Weathercocking is a proper action of the aircraft but it just feels a bit overdone.
Second and third issues relied on waiting for a chance to fly with Andrew since they related to multiplayer. We had trouble seeing each other properly despite our settings and also he was having trouble getting live weather. I even reinstalled the entire sim to get back to a clean start and with that when I loaded up into the game not only could I actually see him he could see me flying the correct aircraft rather than a generic low-wing Piper-type. So then I started adding back mods and playing with settings until he saw me as a low-wing aircraft again. The trial and error found that me using a custom livery was the problem. Surprisingly, when I gave my livery to Andrew he was able to see me properly, and when I installed the livery he was using, I also saw him textured correctly! The game supports liveries in multiplayer! I never saw that in the change log for any updates and was pretty sure that wasn't a thing originally because I remember editing the aircraft texture files directly to show his plane in the livery he was flying. However also that was before the freeware developer scene really got the hang of using liveries, so maybe the ability to see them properly in multiplayer was always there it was just the extra liveries were not made properly yet.
The latest major sim update also seemed to have cleared up weather issues for Andrew, although we still flew a pattern together with calm and clear preset to make sure we could do it in formation – he had no trouble keeping pace with me so that means the last flight when we had trouble staying together it was likely because our "live weather" was different and I was in a headwind when he was not.
We should be making our next real flight later today if things go well, which is why I'm finally forcing myself to write about the past two flights last month that got us ready to take on this next one. Whether I write it up today too is another matter…