Taken my first day onsite, from the barrier island around the Palm Jumeirah. Burj Khalifa on the far left, Atlantis resort on the far right  For the full-sized version click here
Alright I'll get the crappy news out of the way first and say that I've been reassigned from the Burj. It was simply a logistical decision – I was asked to come out early but was unable to due to coaching commitments, attending MIGS and running an online virtual conference for Flight Simulator development. So my spot was taken by those who came out early and worked exclusively on the tower. Fine, I get that. My only complaint is that two days before leaving I had a crew list emailed to me saying I was working on the Burj and I wasn't told I was being reassigned by anyone until three days after arriving and working at the staging area on the Palm I casually introduced myself to one of the guys I had been working with often and he told me I was on his crew there. Until then I figured I was just spending a few days helping out at the staging area before heading to the tower similar to my time in Taipei. So finding out indirectly in that way had me rather upset and generally annoyed at the world for a while. And that's all I really have to say about that.
The flight over was roughly 12.5 hours long aboard a massive Airbus 380-800 from Emirates airline. A widescreen monitor was hooked up to an entertainment suite similar to what I had on my flight to Taipei, with movies, TV shows and a flight information service that showed flight progress graphics, airspeed/altitude/ETA and three camera views – nose, forward from high up on the tail, and belly down. The seats in economy were barely larger than what you'd find in a normal economy-class regional airline but they had a great recline angle and headrests that adjusted up and down. I spent the flight watching movies I missed in the the theaters this past year, except for comedies – I can't watch comedy on an airplane, with my laughter I would be worse than a screaming baby. They also had a cool TV documentary series on the Dubai airport. Unfortunately, with 1500 audio channels or thereabouts none of them was a feed to the cockpit. I didn't sleep since I knew I was getting in late Sat evening to Dubai so I could collapse after getting in and be awake and on a good sleep schedule day one.
Unlike the regular hotel rooms we had in Taipei we're being put up in more of an extended-stay type hotel so our rooms have two bedrooms, a full kitchen, living area, 2 full baths and a balcony. There are three of us in my suite and we all get along fine. The hotel is right across the street (six-lane highway I mean) from a metro station that's accessible via a pedestrian bridge equipped with slidewalks. There's an Asian restaurant downstairs with some good food, and a Subways and Dominoes around the block. A small but well-stocked grocery store is there as well, and the hotel has a small market too.
Quality entertainment is a bit further from the hotel, though the city has a great metro system that recently came online to make it easy (and cheap) to get to where the good stuff is. The metro is completely automated – imagine an airport monorail system but scaled up for city use and you get the idea. Trains pull into a closed-off track and open inner/outer doors to allow people to get on and off. Paying a bit extra for a Gold ticket gets you up in the front where you find better seating (not really more available seating) and the ability to look out the front of the car, since there's no human driver. You pay to travel by zones, not strictly by distance, but the zones are pretty big. You can use a refillable card or purchase a single-ride ticket, either way they use RFID rather than a magnetic strip to let you into and out of the system by tapping the card at a reader panel at the gate.
The closest large attraction is the Mall of the Emirates two stops closer to downtown Dubai, so it takes about 20-25 minutes to get to when you count the time taken to walk to the station from the hotel and catch a train over (trains come like every 8-10 minutes) and then walk across the ped-bridge to the mall. The mall has everything from high-end shops to international food courts to a huge arcade area, cinemas, restaurants (TGI Fridays and Johnny Rockets to name a few) and a freaking ski slope.
I took on the ski slope this week while we still were working decent hours and I was still fresh and not worried about missing a little sleep and possibly killing my legs. They have a 2-hour slope pass for 200AED, which comes out to about $55 and includes your ski/snowboard rental with pants and jacket. I brought my own clothes from home so I didn't have to look like everyone else in the same exact clothing, which was curiously colored red, white and blue. The work week in the UAE is Sunday to Thursday with Friday and Saturday being the weekend (Friday being the holy day) so when I went Saturday night from around 8:30 to 10:30 there were only like 10 other people on the slope and you could totally bomb it. The average time from getting on the lift back down to the bottom is around 8-10 minutes, but that's mostly due to the chair lift being stupid slow sometimes thanks to the fact that even people not skiing but admitted to the general snow park area can ride it with their little kids. They do have the type of lift you can only use with skis you sit on between your legs and get pulled along but that was shut down when I was there. I saw tons of people recording their runs and rides on the lift so it should be a cinch to find video on YouTube if you want to see what it all looks like. There are two main slopes from top to bottom that start as one broad slope before branching just before the structure curves almost 90 degrees. The tighter inside of the curve is the expert run with a steeper slope. The outside curve bends around a mid-slope cafe (closed for renovations currently) forcing you to slow down, but has two steep short drops that you can get some air over if you manage to stay going fast enough. The temperatures are below freezing obviously and the snow feels natural – late in the day like on a real slope it was rather packed down with a few ice patches even. 2-hours was a good time limit because by then it does start to feel repetitive. Still, it was legit skiing and a good time. I plan to go at least once more and see if anyone else from the show wants to tag along, have a few interested already. Also, they have penguins, but I don't think I'll be able to do that without a day off.
That's pretty much it so far. Work-wise we are up before the sun to be onsite with the first light of the day so we can get as much done as possible with the days only getting shorter, wrapping up as the sun starts to kiss the horizon. Given our good progress each day so far I doubt it will come to working under floodlights later this month but that's always a possibility. The hotel serves a great breakfast buffet that has me full up until lunch is provided, which is a lot more hit-and-miss here than it was in Taipei. But I've started bringing energy bars and snacks to keep me on my feet if I don't eat all my lunch food. Overall I've been getting a good 6-8 hours of sleep every day so that hasn't been a problem yet. I'm driving around trucks (almost everything out here is a manual transmission that not everyone can handle) and marshaling heavy equipment so that's always fun. Haven't gotten run over yet so that's good.
Catch up again in detail next week, in the meantime I'll continue short bursts on Facebook – the only place I can get online is when I'm in the hotel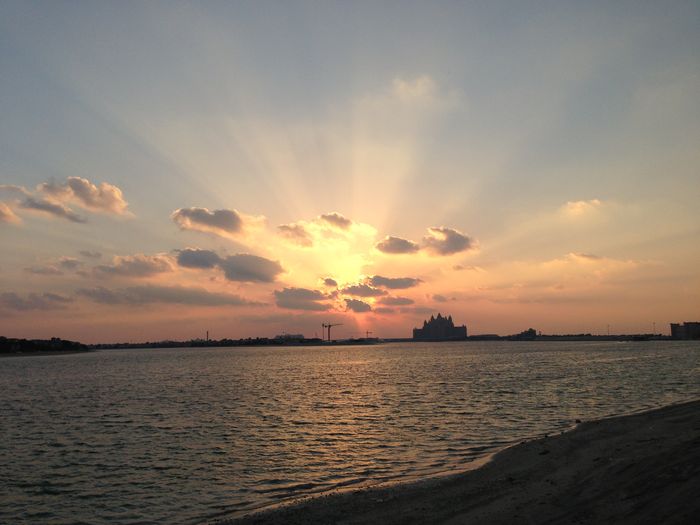 Sunset over the Atlantis resort