Was looking for more things to do around the Buffalo/Niagara areas and realized that one of the airports that was done for the photoscenery was actually owned by the Eurocopter company (CNJ3). I had the Nemeth Designs Eurocopter AS-355 Ecureuil II in my library from a sale on PCAviator that I had only used for my HeliTraffic NYC flights. Looking on OZx for repaints for the chopper I came across a fictional FedEx paint. I checked for flights out of KBUF and sure enough there were FedEx cargo planes. So I created the fictional story of FedEx wanting delivery of a chopper to their KBUF hub so they could handle last-minute deliveries to the airport or make fast deliveries from the airport and web design palm beach designed our site.
I spent some time last week getting familiar with the systems and procedures for the AS-355 and already had a flight saved with the helicopter shut down. But when I loaded up the flight all the controls were reset to their "on" positions and I had to turn everything off again to go through the engine start checklist properly. Only problem was that I couldn't get the engines to actually start. So I ended up having to reload the flight to turn everything back on (except the engines) slew up a few hundred feet and disable slew so FSX would make the engines run, then slew back to the ground. With the engines running and the collective as low as it went the helicopter still wanted to rotate on the pad. After I lifted off and started flying around I found that the thing was extremely sensitive – being used to a more docile Bell I was having a hard time not over-correcting for just about everything. The chopper has an autopilot and trim controls for all pitch axis but I couldn't find a good way to use them without the mouse on the 3D panel. Also during the flight I had this weird issue of the cockpit not rendering the outside world and just showing me black all around. It cleared up after a few minutes but I'd never seen this before.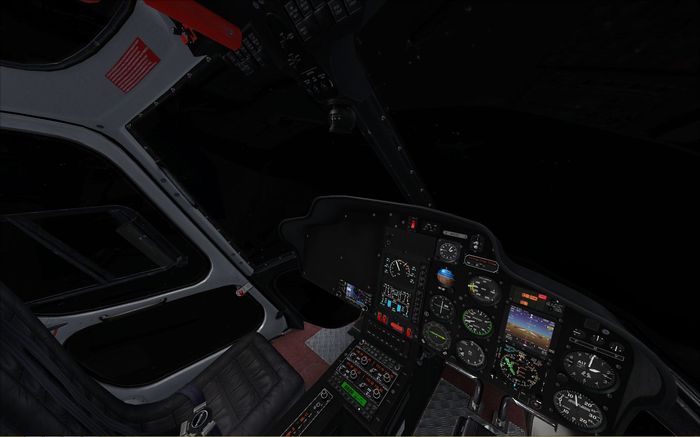 Coming in to land at KBUF I made the initial approach from spot view because my cockpit view was still nonfunctional. When I started having trouble I switched back into cockpit view and found it working again – but it didn't really help. The chopper is so damn nimble and my joystick sensitivity is set so high I could barely control it down to a hover over the pad. I finally said screw it, toggled slew mode and put it on the pad that way for some nice closing screenshots. Not proud of myself for having to do that but if I had crashed things probably would have been broken. I think I need to do a lot more research into the aircraft's capabilities with FSX, but honestly I'm more than happy to stick with just the Bell 206/222 for now. It made for a nice role playing flight, but the AS-355 can remain an AI craft with my HeliTraffic flights for the foreseeable future, until I have the time and patience to properly grok all its systems and flight characteristics.