I can't believe it's been an entire year since I last flew the V35B. What the hell. Where has the time gone? This really puts things in perspective and makes me want to try to get back to spending some more time flying in the sim, especially since I recently upgraded my graphics card from an HD5870 to a much newer HD7970 – it's been 4 years since I upgraded my graphics card, and most likely another 4 before I do it again. There's been more too – FTX Global has been released, NYC 2013 X has been released, and before that I had installed Buffalo airport and Buffalo city/Niagara Falls scenery. All this together has made for an awesome flight, though not without its issues. I actually had to try three times (over three separate days) to get through this flight!
The first problem came when flying past Manhattan. The scenery by Drzewiecki Design is fabulous, don't get me wrong but it was unfortunately made for FSX systems with DX10 Preview enabled. It's frustrating that developers are building products that rely heavily on code Microsoft never finalized for the FSX platform, but there it is. My biggest complaint was that the company never made it known that DX10 Preview was (for all intents and purposes) required to run this add-on although you can run lesser-resolution textures and sim graphical settings to not get Out Of Memory (OOM) errors under DX9. Last ever day-one purchase I will make from that developer, that's for sure! I'm not satisfied at all with DX10 Preview and so while I thought I had the sim tweaked properly to use the scenery under DX9 the sim start giving me warning chimes flying past the city – but didn't crash. I muted the system volume in the mixer so the warning chimes wouldn't bug me and flew on – but 3/4 of the way to Albany my entire computer hard locked.
The second problem came from an add-on I've had installed for a while, A2A's Accu-Feel. It's never given me any problems and has lent a lot of added ambiance and realism to my sim, but on my second attempt of this flight it screwed me over bad. I was about halfway up the Jersey shore and the weather was beautiful – light winds, little clouds. The aircraft was trimmed out perfect at 1,500 feet and I only had one hand on the yoke. Suddenly I started to get a bit of chop that escalated in another two seconds to severe turbulence. Just as I grabbed the throttle lever to yank it down FSX reported that my aircraft had been overstressed and destroyed! I deduced this was Accu-Feel's "clear air turbulence" at work, which can sometimes bump you around with pockets of turbulent air in otherwise calm conditions.
The third try, I did my best to ensure nothing would go wrong. I had done a few test flights around Manhattan with some new scenery textures and settings. I had toned down the turbulence levels in Accu-Feel. I even stuck a fan next to my case to help blow off hot air exiting the back just in case that hard lock the first flight had actually been my computer overheating. And I crossed my fingers!!
Because I did three flights, I used pictures captured from all three in my album above – the weather and flight paths were essentially the same.
You can get the flight plan and the breadcrumb file from here.
The flight kicked off okay. I taxied out to Runway 35 under the direction of ATC and departed, turning south and picking up the Delaware river to follow to the Delaware Bay and along the southern coast of NJ. This being the third time doing it I was trimmed out and cruising easily. Clouds were scattered up around 2,000 so I stayed at 1,500 and close to the shore in case I had engine trouble. On the previous flight attempts I would take a 12nm DME arc around Atlantic City bravo airspace but decided I really didn't want to ditch in the ocean if my single engine decided to quit on me so I stuck near the shore and requested clearance through the airspace. The skies cleared up around the Barnegat Inlet so I decided to climb up to 5,000 feet (FL050) for some better views, but that just meant I had to descend again shortly thereafter to slip under the NYC bravo airspace and prepare to enter the NYC SFRA.
No airframe-rending turbulence so far, and now I had to try and make it past Manhattan without tripping an OOM. But even though I knew better I wanted some good pictures and while panning around to get angles I started hearing the warning chimes. I muted the system volume, kept my eyes forward and just flew on. A few dozen miles up the Hudson and I began to relax since the sim was still running smoothly and wasn't giving me hassles with taking screen captures, something that tends to fail when things are unstable. Still, I was worried the whole rest of the flight given that I had triggered the warning chimes.
Following the Hudson River was easy, although I did zone out a bit and not realize I was low enough to be passing through some Class D airspace along the way – I had planned to be flying higher but the weather had other ideas. Pretty sure I was through and out of the airspace by the time I realized it but FSX still gave me the option to request a transition so I did, then reported clear like a minute later. Oh well. Speaking of the weather, it was crummy as I approached Albany and for the rest of the flight. It's unfortunate given that my first two attempts had great weather along the entire route. I was hesitant of even trying the flight but careful study if the METARs and TAFs as well as referencing weather.com led me to believe the weather would remain within VFR minimums and I would not have to divert along the way. I was right (*phew*).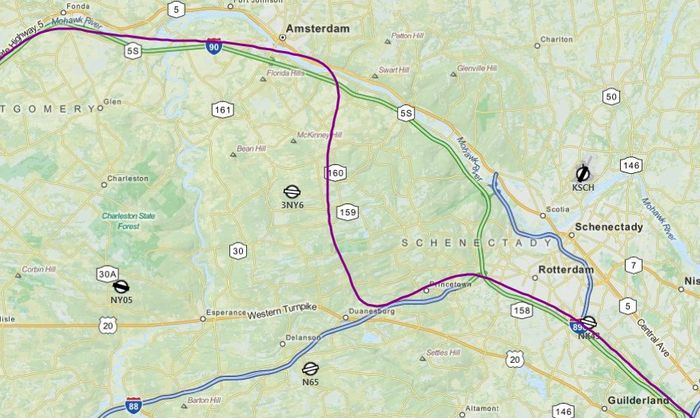 Reaching Albany I made my first navigational blunder. I was supposed to follow I-89 to I-90 but instead ended up along I-88 for a short while before realizing that I was heading too much due west. I should have really just been looking out for the Mohawk River running along I-90 rather than trying to pick out the road itself! Light rain had started by now and visibility was down to 7-8 miles – I wish I could have climbed higher to get a better view of the roads but the clouds were just too low. Regardless once I picked up the river following I-90 all the way out to Utica wasn't a problem. Of course once I there I once again failed to properly navigate via roads and decided instead to follow a boat canal towards Oneida Lake – ironically it turns out I was indeed following the road I was supposed to be following (Rt 69/13) before I turned off to follow the canal!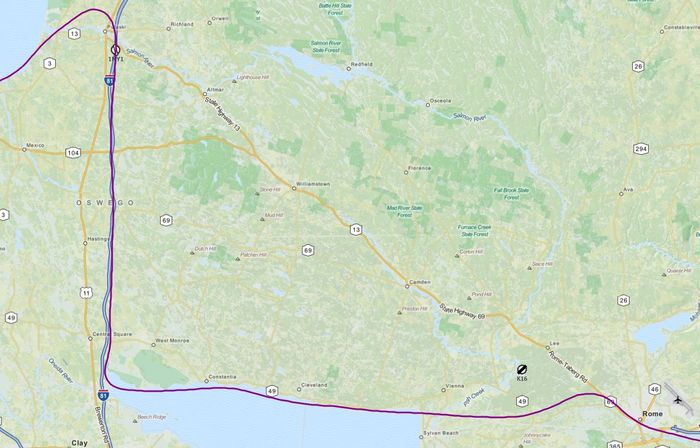 But whatever, I made it up to the shore of Lake Ontario and from there it was pretty much smooth sailing navigation-wise. I was able to identify the towns of Oswego and Rochester as I flew by them, and picked up the Robert Moses Parkway that led from the shore of the lake inland towards Buffalo. The sun was approaching the horizon and lights were coming on – which makes things a lot more confusing if you are not familiar with the area. All the lights make it hard to pick out roadways – and airports. The default FSX airports are very easy to see since their runways stick out from the surrounding terrain. The KBUF scenery was part of the terrain textures and didn't have the "hard edges" other airports do that make them more visible. Also, the lighting of KBUF at this time of day was very dim compared to the rest of the scenery. I was too low to really see the darker patch of land very well, and had to practically fly over the airport to recognize it. Not too different from real life really – have you ever looked out a plane window and tried to find the airport when you know you should be able to see it? Harder than you think! I had expected to guide myself in along I-290 but once again my road navigation messed me up. I was cleared right pattern to runway 23 and marked it with my heading bug on my compass, but still got completely disoriented approaching the airport.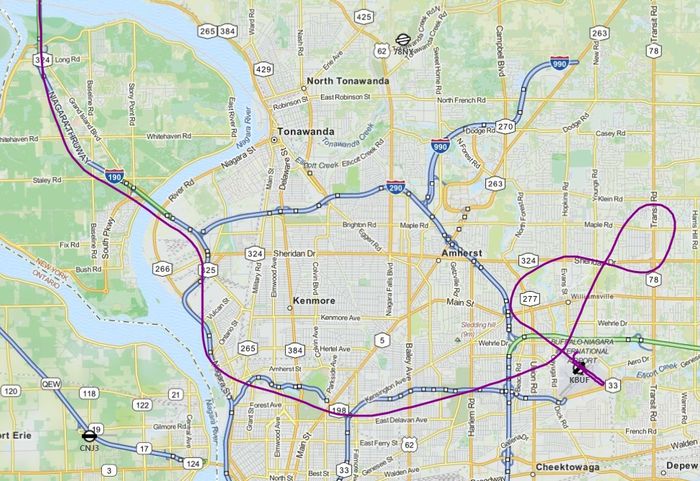 I managed to make the right pattern entry to runway 23 – I actually ended up pretty well lined up – but in the process I completely lost sight of the airport again!! So I thouht I had taken too long to turn base and final and the airport was off to my right, so I turned that way. Then I saw it out to my left and turned back to line up, not realizing I had looped around. Trying to pay attention to my compass and find the airport at the same time was just too much – I spotted a runway and went for it! Of course I made things even worse by floating over pretty much the entire 7161 feet of runway before finally landing and braking hard to come to a stop just before the start of the opposite end threshold. Fortunately I didn't have to suffer any rebukes from ATC for landing on runway 14 instead of runway 32 and they gave me taxi directions to the general aviation stalls on the other side of the airport. So after a while taxiing I finally pulled into a stall and shut down.
Geeeezz
Learned some interesting things on this flight. Better to trust rivers than roads, and do some better planning for visual approaches to new airports. Overall I'd say the flight went well – I mean I did (finally) make it in one piece! The entire trip took a little over 4 hours, which makes it both my longest and farthest continuous flight that I have logged here in this journal. I plan to spend some time choppering and flying around the Niagara/Buffalo area as well as upstate NY – then I've decided to move on to Chicago… hopefully before next year!!!
Oh and as a bonus, I had time this evening to take a quick hop in a new Bell 206 livery.