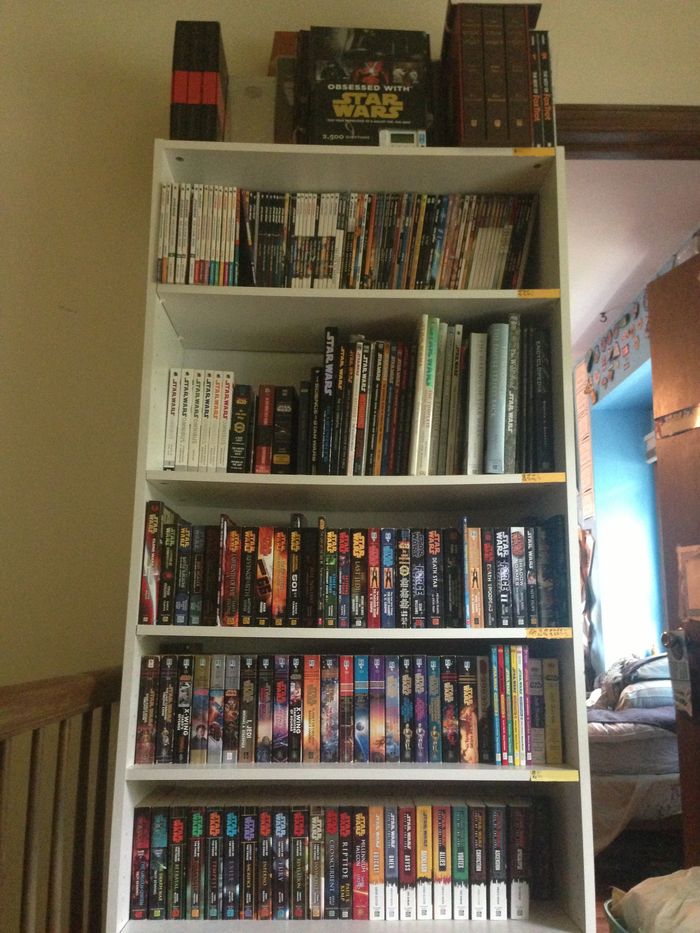 The library at the time of this picture and post numbers 334 pieces of literature (all in chronological order)
I was a young reader, so although I was only 10 years old when Timothy Zahn's "Heir to the Empire" came out it was only a few years later that I picked it up and started reading more about that galaxy far, far away. I can't remember exactly when, but by then the whole trilogy was out so it was when I was around 13 years old or so. I was, obviously, already hooked on Star Wars by this time and being able to escape into that universe without having to use the TV and VCR (very restricted pieces of technology in my household when I was younger) was incredible, especially considering the epic adventures Han, Leia, Luke and the extended cast of the expanded universe were having. I have been steadily purchasing Star Wars literature since that time, always focusing on the adult novels. Everyone now and then I would have enough allowance or grass-mowing money to pick up one of the big compendium books like an "Essential Guide" or "Visual Guide" or "Making of", but my primary focus were the adult novels.
About 5-6 years ago the expanded universe began to become a lot more organized and there started to appear many more references and characters from other mediums, including young adult novels and comics (nowadays the TV shows like Clone Wars are also making appearances in the literature – I'll be solving that issue shortly). Having read none of these, I began to include young adult novels and comics in my regular purchases. About a year ago or so I finally admitted to myself that despite the fact that I was reading this material to escape into the Star Wars universe, I was also collecting them. This kind of puts a whole new perspective on things, especially considering a lot of the young adult novels and comics I missed when I was only reading adult novels have since gone out of print. Before, I would balk at taking the time to hunt down used copies and pay more than the original price to get a book in good condition. Now, I need to have that book for my collection so yes – I did pay $60 for a trade paperback comic (that was rare to begin with – but still).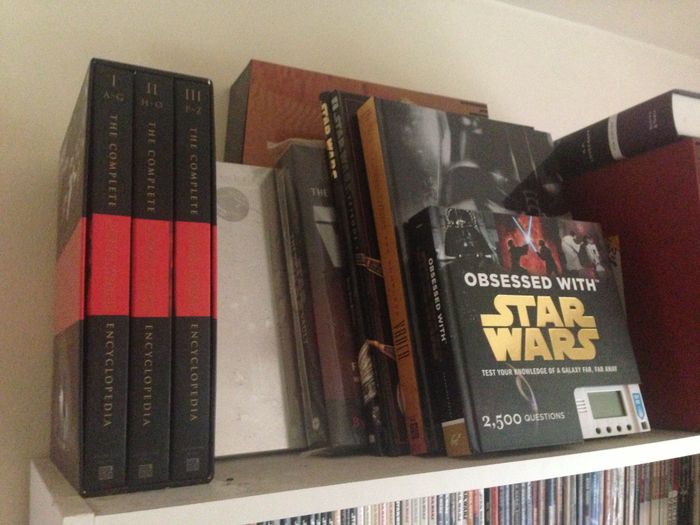 An angled look at the top shelf and the stacked oversized volumes
However I've not gone so far as to have the "gotta collect everything!!" attitude. Although in some respects I want to have as many individual pieces in my collection as possible (more is always better when collecting things right?) my main purpose is to have all the individual Star Wars stories – whether they are bound up in a compendium or as individual books/comics doesn't matter to me. The best example of this would be the fact that I don't collect individual comics, but always wait until a trade paperback version is published. Even though the Star Wars Omnibus collections include a lot of comic material I already have in TPB form, they still include otherwise unpublished material and thus will be included in my collection despite the overlap in material. Some comics that were released as single-issue I have also tracked down and bought. Because not all novels are published in hardcover, and because of the size of the hardcover versions requiring extra space shelf (not to mention the price) I also always wait until the paperback version of a book is released before adding it to my shelf – despite the fact that this usually takes at least a year to happen. I used to just sit and read the hardcover versions in the bookstore cafe, but now I buy the ebook version which added to the price of the paperback is still cheaper than a hardcover. Dark Horse comics also has their iPad app that lets me follow comic series issue-by-issue without waiting for the next TPB if I want.
I did screw up once – the Young Jedi Knights series, of which I had all 14 novels in their original edition, released a compendium that (I thought) reduced the series to two books. Eager to get more shelf space I started to sell off the books to replace them with the two compilations – only to realize these two books collected just the first 6 of the series! So I ended up having to buy used copies of the books I managed to sell that weren't part of the compilation novels. Since that debacle I haven't bothered to sell anything else even if it was included in some other edition I purchased.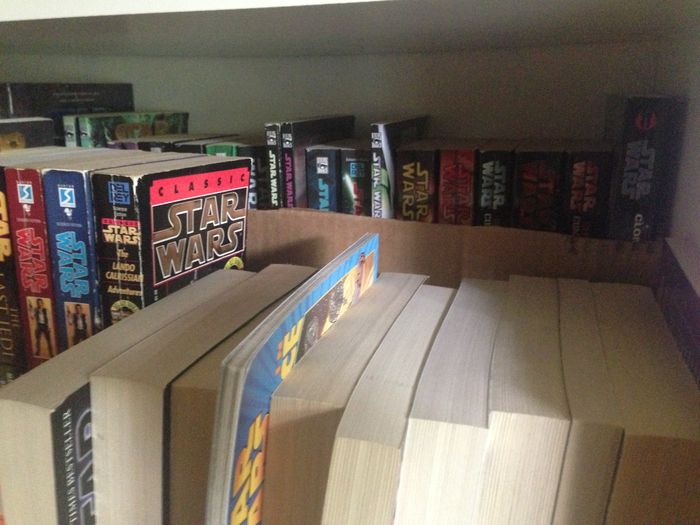 Most shelves are two-deep. A cardboard divider helps keep alternating book dimensions from messing up the front row
Right now, as of this writing, my library (collection, call it what you will) stands at 334 individual pieces of literature related to the Star Wars universe. There are currently 166 items in my Amazon wish list that comprise all the remaining literature out there I need to collect according to the Wookieepedia timeline of books and comics (this list does not include related tomes like visual dictionaries, essential guides, and other related material that reference the expanded universe but don't focus on expanding it themselves). 73 of those items are out of print, which means I need to hunt for copies in good condition and often have to order individually from separate suppliers with individual shipping costs. To avoid this moving forward, I keep a close eye on those items I know are on the cusp of going out of print – it's unfortunate that Amazon offers no service to notify you of when items are about to go out of print.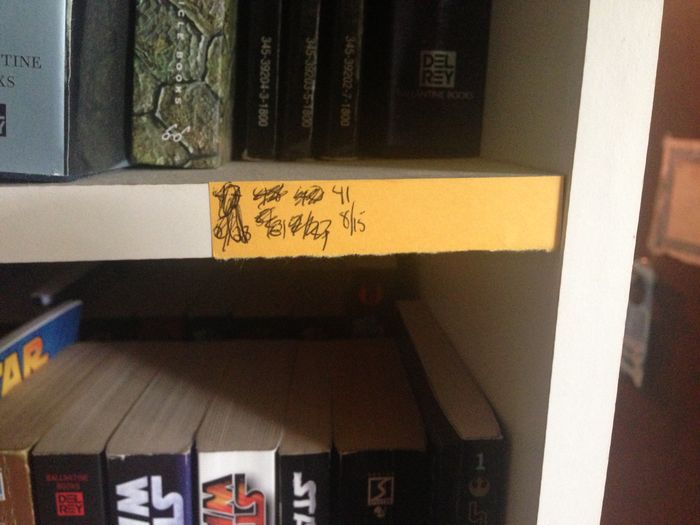 How I keep track of how many books are on a single shelf as they are shuffled around
No idea when I will finally get fully caught up with the now-gigantic publishing machine that is Lucas Licensing but now that I am dedicating monies towards that goal it shouldn't be long. I hope that by next year I have my wishlist pared down to just upcoming works, rather than backlogged with out of print and previously-published ones. The best part is that along the way I will get to diver ever deeper into the universe that is Star Wars. Episode VII? I don't need no Episode VII!!