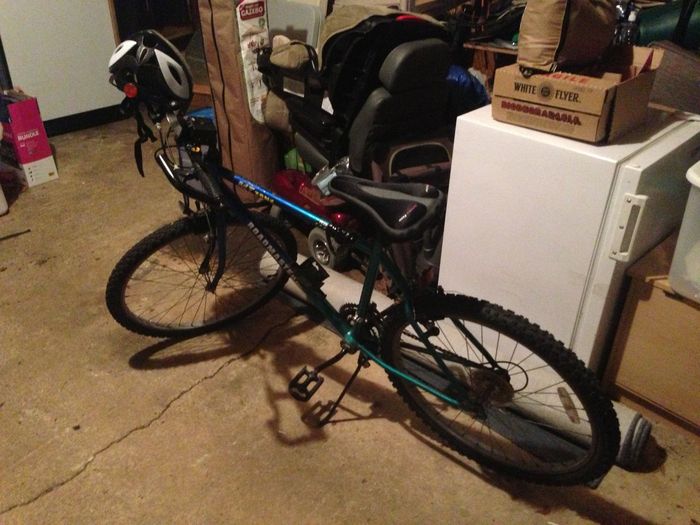 Lost my drivers license for the third time in July, but I don't really care to go there. Long story short, I managed to delay the suspension so it took effect during the warmer time of the year for a change and thus instead of having to bother my father, mother or sister for a ride to work and back I could hop on a bicycle and just get there myself. The question really was whether I would have a bicycle to do this with, as the bike I've had since I was a teenager had been sitting unused and untouched in the basement since… I was a teenager. And, being my lazy procrastinating self, I didn't bother to dig it out until like the day before my suspension went into effect. Fortunately it still seemed to be functional – the brakes worked (well enough) the tires seemed to be able to hold air, the rear wheel was still slightly mis-aligned but at least wasn't rubbing against the frame/brake pads, the chain was pretty rusty but still turned the wheels… yea, functional. My mom bought me a new helmet and I was all set to go.
Next problem was my route. The most direct way to get to work that is viable on a bike (which I also take in my car) is over a small bridge spanning the Swimming River. Because the universe mocks me so, this bridge is currently under construction to refurbish the structure and thus is closed down to one lane barely wide enough for cars to get through, let alone a bicycle unless I wanted to pedal in traffic. It's not so bad though, as the route I have to take instead is barely a mile longer. Looking at it, you may wonder why I don't go out the opposite (northern) end of my development and use West Front St before Half Mile Rd. The problem there is that section of West Front St is very hilly and also has some blind corners/hills that isn't great for biking. I used to take that road to the nearby park and my mother would scream at me for doing so – never fully comprehended her concern until I drove on it myself for the first time. Okay mom, you were right. I know. They always are. *sigh*

View Bike Path to Work in a larger map
So the first attempt to get to work didn't go so well. I had packed a battery-powered air compressor in my PNW packable backpack in case my tires lost pressure after the trip, but that was the only thing I thought to bring. So when I stood up to pedal hard to try and beat a light and my rear axle popped out of the frame I was quite unprepared to fix it. Luckily too when the tire hit my frame and ground me to a sudden stop I had barely hit the intersection and was able to back up on the sidewalk. Casually, of course. Then too was the light rain that had begun to fall. So I called my dad and had him bring me a crescent wrench and also pick up me and the bike and take me to work as no way was I getting there on time now. Leaving work I was able to re-mount the axle and got back home in one piece. The next day however I realized that my front tire tube was pretty much done, as I could feel the air leaking out of the valve. Still, I figured packing the air compressor I could get to work, do a refill before I left to get home, and be good. Instead I ended up stopping twice on my way to work to refill the tire. Crap. So while I made it to work okay this time I had to leave the bike there and have my dad come pick me up, then drop me off the next day so I could walk my bike a short ways down the road to a bike shop and have the tube replaced. The next day I finally made it both to and from work on the bicycle. Success! It takes me about 30 minutes each way.
Although by this time I was wishing that while I was at the bike shop I had picked up a comfier seat. I have no idea how I dealt with this seat when I was younger – maybe I was just so much lighter or my ass was smaller – I don't know. Bottom line is my rump was sore as hell to the point where every little jolt in the road was uncomfortable. I told my mom and she bought me a new seat, but it was kind of like the seats you see on beach cruisers rather than road/mountain bikes – but it looked big and cushy. Unfortunately I didn't have time to install it and get to work so I packed it in the back and took off. Once again I didn't think anything of tools, got to work and discovered I needed an alan key to raise my seat, as it was too low after installing the new one. Thankfully I managed to scrounge one up of the right size at the gym and made the adjustments. Riding home though was horrible – the seat was indeed comfy but totally wrong for my bike! I couldn't sit properly to pump the pedals efficiently so I was overworking my legs the whole way home. I took it off as soon as I got home.
The next day I rode back to the bike shop to look at new seat options – and of course they were closed. So I went back the next day (OMG MY ASS HURTS) and bought a seat gel pad cover. That definitely helped although by this time my poor butt was so beat up it hardly mattered. But I still had a few days left of riding before my license was returned to me so I just had to deal with it!
Oh, did I mention that the last week of bicycling the heat index was above 100°F? Yea, we were in the midst of this horrible high-pressure system induced heat wave just sitting over the eastern seaboard. I dug my old Under Armour shirt out of the closet so I wouldn't suffocate on my way to work – coming home it had cooled off enough to be somewhat pleasant. Heading into work at around 5pm wasn't as bad as if I had to bike there around 2-3pm but it was still pretty fucking hot out at that time. I will admit that the very last day before getting my license back when the heatwave was at its worst I walked outside, said "fuck it" and got into my car, cranked the A/C and drove to work. I figured that if I can't make it to and from work without getting pulled over then I don't even want to fucking drive anymore. But I made it and the next day I went to MVC and got my license reinstated.
Despite having my license back I've put enough money and time into refurbishing the bike that as long as it will carry me I've decided I'll still use it to get to/from work when 1) the weather is nice 2) I don't have any errands to run and 3) I don't have to be there in less than 30 minutes. I don't really do much of anything else for exercise so this will count as something. The ride is pretty enjoyable and not too taxing – I can get to work and stand around coaching without feeling like my legs are going to give out on me. I've definitely gotten stronger and can pedal in higher gears for longer now but I generally don't gear up past mid gear, as this keeps my pace manageable throughout the entire ride.