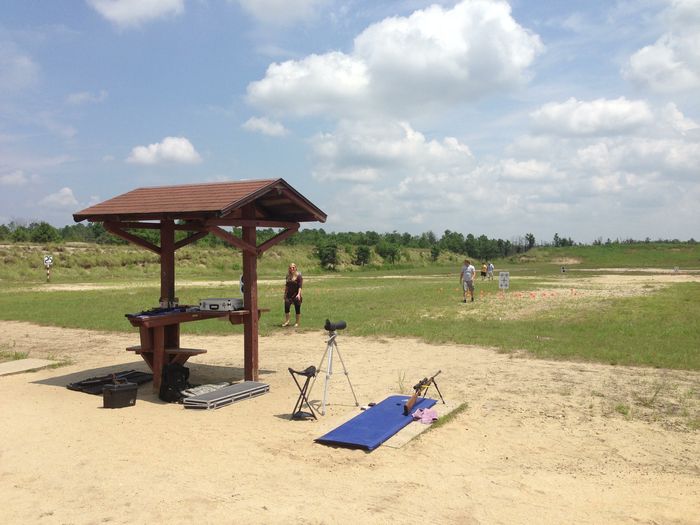 We had a massive heatwave this past week and it broke on Saturday. I got my license back on Friday so decided to celebrate with a trip to the range. I was accompanied by my stunt buddy Bobby and his wife Ewelina (both pictured above). While the heat was only in the 80's there was on occasional cloud cover and as fate would have it this was the first time they assigned me a booth outside of the covered area. I figured it was because I told them I would have 2-3 people accompanying me and there was more room out there. I was tempted to ask them to change it but just sucked it up. You can see how my pad is sitting out there in the sun – and the air inside it gradually got so hot I had to lay a towel down under my bare arms because I thought they would get burnt.
Bobby and Ewelina mainly shot with Bobby's pistols, a .22 Ruger semi-auto and a .22 revolver at clay targets they had set up on the ground 25 yards out. I started with my AR15 at 50 yards with the 1-6x scope, checked to make sure it was still sighted in properly and then proceeded to demolish 5 of 9 clay pigeons I had set up. I left the last 4 for Bobby and Ewelina to take care of. Next firing session I moved the target and clays back to 100 yards and attached the 6-24x scope. Again used the target to make sure I was still sighted in properly and then began taking out clays, leaving the last few for my friends. Ewelina hadn't shot prone with a rifle before through a scope but she still managed to hit clays at both 50 and 100 yards.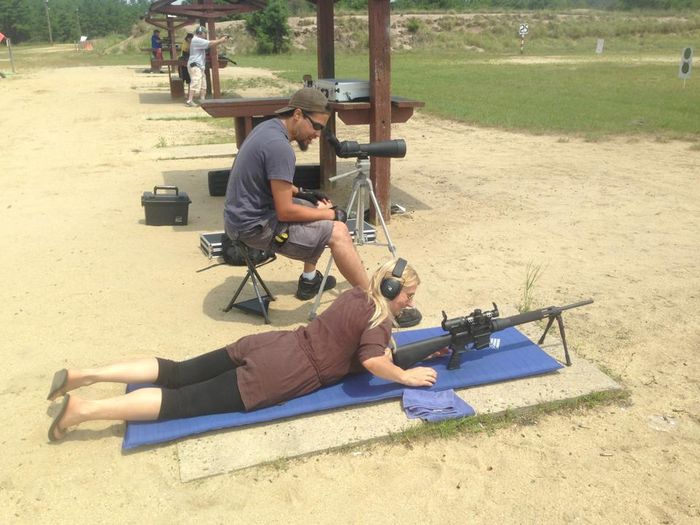 Next I set up the CZ .22, still at 100 yards and used my dope from the last range trip to check my shot grouping on the target. I didn't see any holes after shooting so tried again, aiming higher up on the target board and finally saw some holes way down towards the bottom. I had remembered backwards (I've since gone back and corrected what I wrote in my previous range report to hopefully avoid future confusion). Once I corrected my hold it was easy pickings. I love, love the trigger pull on my .22 and have to add to my AR15 ToDo list getting a trigger like that – the break on my AR trigger is really abrupt while the .22 rifle is a smooth pull all the way back. Once we cleared out the clays at 100 yards the next fire session I had them moved back to 50 yards. This close it's like taking candy from a baby so the challenge I like to set for myself is shooting out just the center of the clay pigeon. You can do this purposefully if you nail one or two shots right in the center, so it's a good test of marksmanship. For two of the clays I put a hole dead center, then had to shoot again to actually pop out the middle. Afterwards you can continue to test your aim by picking away at the outer clay ring.
Hopefully a better trigger will help my aim with the AR – I really don't like how it breaks I feel like I'm jerking it almost every single time. Below are the targets for my 3-shot groupings at 50 yards and then 100 yards. I wouldn't really call them groupings tho, heh heh. You can see both times I nailed a good shot, had an okay shot and had a bad shot. That's about how it is for me in general, 1 out of 3 shots is dead-on. At 50 yards I would have hit a clay pigeon all three times, at 100 yards I would have missed once. Not too bad, but I know I can do better.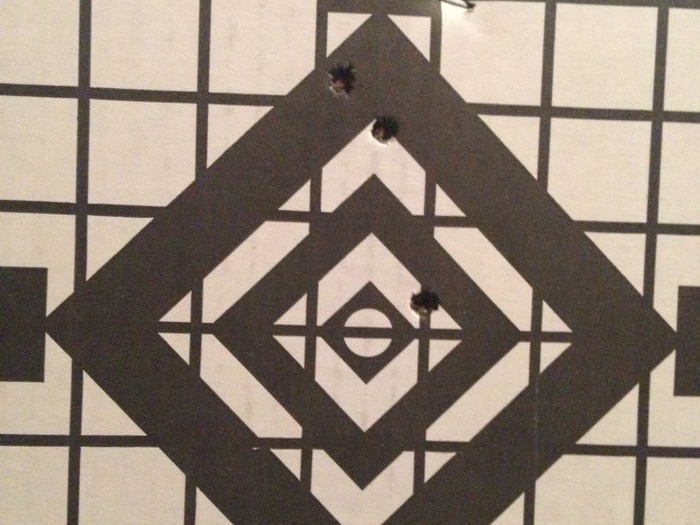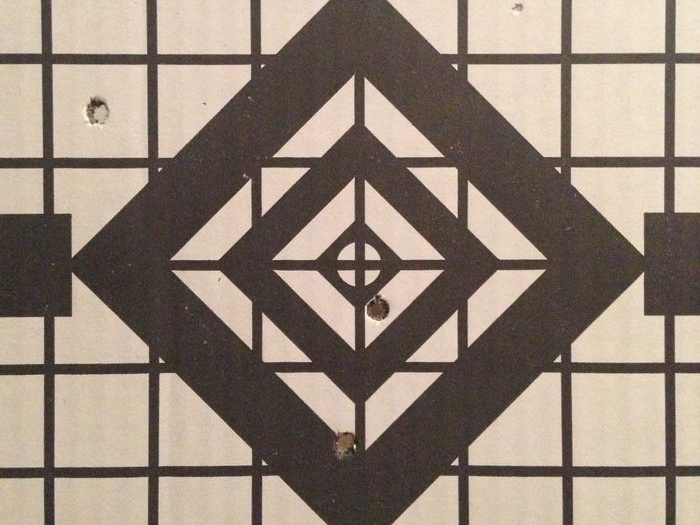 Going 50 to 100 on the AR and 100 to 50 on the CZ worked perfect for the two hours that we had to spend at the range that day, something to keep in mind for future group trips or trips where I only have two hours to spend myself. I still have a box of .22, and around 200 rounds of 5.56 and just over 100 of .223 – Dick's made their ammo purchase policy even stricter by allowing you to only walk out with a single box of .22, .223, 9mm or 5.56 (more calibers too, but in this case the only ones I care about). The upside is that if you wanted to you could buy one for all 4 calibers, so in a sense the policy is a bit more lenient than just allowing you to walk out with three boxes of anything, period. Luckily since my rifle can shoot both 5.56 and .223 that means I can get twice the ammo for it at once, and Dick's had some 100-round boxes of American Eagle .223. Booyah.
Still have a lot of work to do with the weapons. Haven't got around yet to having my P22 checked out at the gunsmith. I need to get a new end-piece so I can fit the longer barrel on without it sticking out looking dumb. Also still have to look into a strap for the AR and now a lighter trigger.