June was coming around soon and I was expecting a call from Grucci at some point for the annual Music at Moorland show they do up in Far Hills, NJ, which I worked on last year. I hadn't done any more shows since then so I was a little rusty on my technique and procedures for many things, but at least it was a show I was familiar with so I didn't expect any real issues – the crew on the show is real great. Surprisingly, when Grucci called they told me they had 3 shows for me practically back-to-back-to-back and that they wanted me operating the firing computers. They mentioned training and I was like "please!" since it's been a year since I sat at backup fire control, but they never called to set up anything before my first show began. But then I realized that the shows themselves would be my training as I was on crews with very experienced computer operators and the 3 shows actually had a perfect progression for me to get re-acquainted with the system – the first show I was primary (and backup!) with show command sitting right next to me watching and guiding. The second show I was remote from command and talking on the radio with an experienced operator looking over my shoulder. The third show I was again remote but also one of four separate sites, so I was on the radio and waiting for my turn to talk to command – again with an experienced tech to watch over me.
It was a great three weeks, and fire control operations are now well-ingrained into my brain. From here on out I'm going to try and hustle a show every 2-3 months (roughly once a quarter) to maintain my current level of proficiency and add experience on top of it. Doing this many shows this close was necessary this time but it's really thrown a wrench into all the other things I have going on (coaching, GameDev.net, airport design, etc) so I need to keep it spaced out more moving forward, even if that means saying "no" to some shows they call me for.
Anyways, I've been waiting until all three were over to write about them, so here they are.
Hagley Museum (Wilmington, DE) – 6/19 to 6/22
This was a 4-day show roughly 2.5 hours drive from my house, so it was down for all 4 days and then back up rather than commuting back and forth like I do with Far Hills. The show actually spans 2 weeks, with two firings and I was on the second one so all the mortars and set piece scaffolding and everything was already in place, we just had to re-load the product and put up the new set pieces. Temperature-wise we lucked out a bit since the mercury had just fallen a bit from the high 80's and was only climbing to about 80°F each day we were there, with partly cloudy skies that sometimes covered up the sun, but never for long. What really helped though was this huge tree (oak?) we parked under that kept our cars and equipment in the shade pretty much all day until the sun was too low to really matter.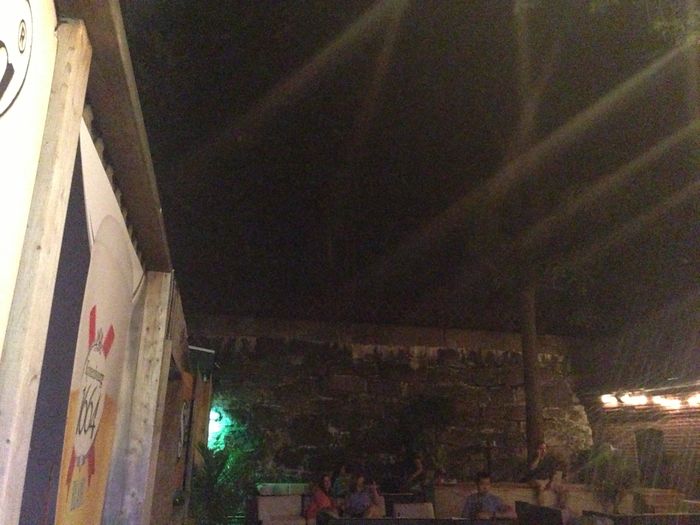 No freight train when I took the picture
I went out to a bar one night with some of the crew, we found a cool place in town that had a back patio area with some live music and couches and a bar and all that, but what was really cool was the back wall of the place actually had train tracks running on top of it. At one point that night I looked up and there was a frickin freight train chugging along right past us. I kinda felt like I was in Disney World with the railroad running right through an attraction or something.
Anyways we focused on one main thing each day for the 3 days leading up to the show – first day we dropped shells into mortars and wired them up, second day we worked on boxes and cakes – matching them up and placing them out in the field, and the last day we worked on getting the set pieces rigged up and wiring the whole shebang together and hooking it up to the fire control system for testing and in preparation for showtime later that evening. It was a good schedule that gave us plenty of time to do everything so there was never any hectic rush to get things done.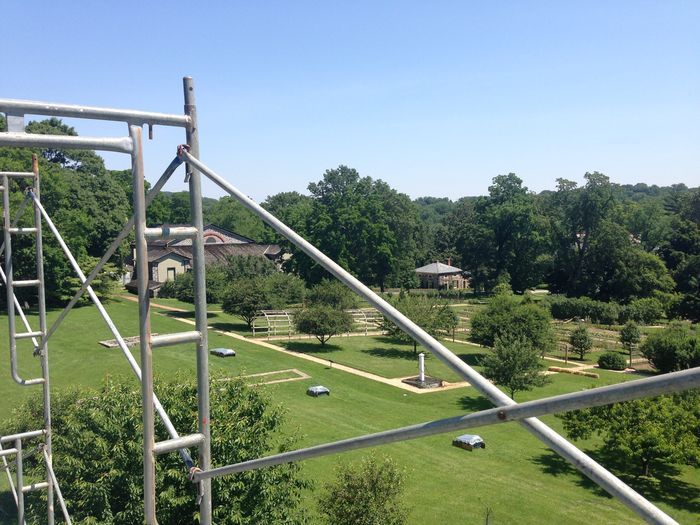 Of course I needed a shot from the top of the highest scaffolding 🙂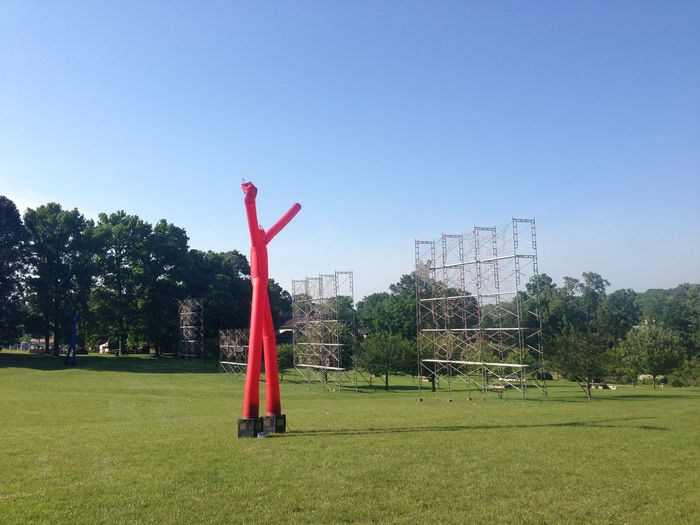 The set pieces all assembled with Intergalactic Proton-Powered Electrical-Tentacled Advertising Droids!!
Working on the tall set pieces was new for me, since the last one I had dealt with was barely as big as the one just to the left of the red "droid" in the photo above. There were also moving parts to two of these set pieces that we had to rig up so someone could stand behind it with a rope to make them function.
I also found it quite humorous that we shot on June 21st, which is the Summer Solstice and thus the longest day of the year. So we had to wait until around 9:30pm to shoot the show. We were able to situate fire control/command in front of the display so we didn't need our usual "hut" of plywood boards covering us up and were able to see the whole show while it was shooting – that was nice. I was watching both the primary and backup systems although an experienced tech was looking over my shoulder in case I needed a hand switching anything over. Our show's chief was also sitting right next to me running the audio and giving me pointers/advice. So if something got screwed up during the show I would have had to have done something really stupid! But the show went off without a hitch on my end, although there was some kind of interference in the audio a few minutes in – we still don't know what that was all about but it didn't impact the show in any major way.
[working on getting show pics]
Great show and great crew, as usual. It's one of those recurring shows Grucci has been on for several years (I forgot to mention Hagley is an estate they used to process black powder on, hence the fireworks connection) so maybe I will be back for it again next year, although it does happen in the middle of the last week of gymnastics classes so I probably won't. We'll see.
Music at Moorland (Far Hills, NJ) – 6/26 to 6/29
My return to Far Hills this year was accompanied by the start of a heat wave, just like last year and according to home air quality testing Montreal expert Jeb Southe, this trend of heat waves is going to affect a lot of people. However whereas last year was straight-up heat and humidity, this year the weather threw us a few curve balls. The first day was actually not so bad, although it climbed to near 90°F there was total cloud cover pretty much all day which kept the sun from adding to the heat and making things miserable. The next day we finalized setup for the show that night under partly-cloudy skies so there was some relief from the sun but not as much as the day before. Then the dark clouds started rolling in and we began keeping an increasingly close eye on an incoming weather system that was looking like a rather large storm. We could see rain moving around us on all sides throughout the late afternoon and it finally started to begin raining around 8:30pm. It was light at first but then the real downpour began along with lightning off in the distance but no thunder. Just after 9pm we got the go-ahead for show, and all the crew but me ran out in the downpour to pull the heavy tarps off the mortars (we would shoot through the lighter plastic underneath). I remained in the back of our box truck, where we had set up our fire control, to warm up the system and get everything connected and ready to go. But then the call came in over the radio to pull back as lightning had started becoming more frequent and static discharge isn't a good thing when you're around fireworks. Unfortunately no one who went out had carried a radio so I had to then run out and yell at everyone to pull back. After that all we could do was sit around and wait for the rain to subside.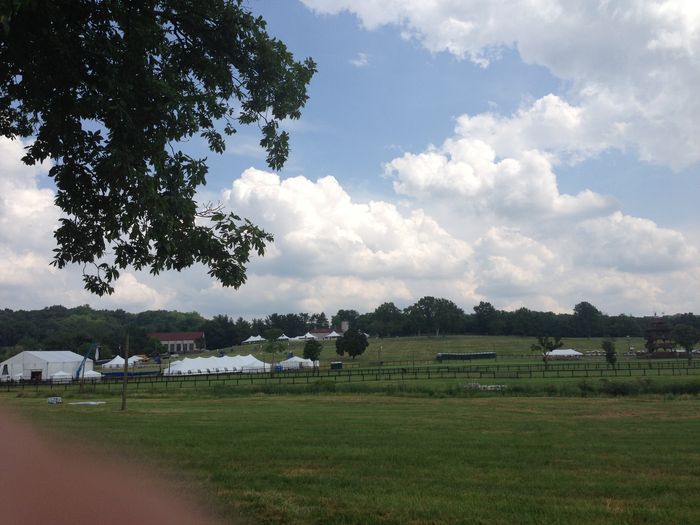 Afternoon of the show (yea that's my finger shut up)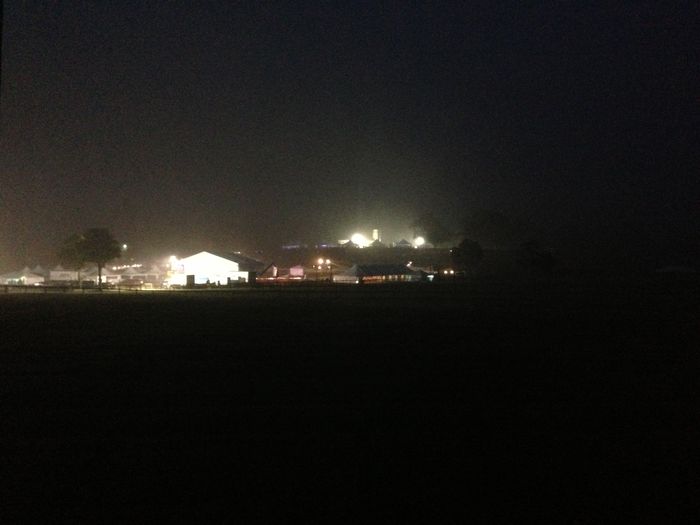 During the downpour that night
It wasn't until around 11pm that we were able to go out and assess the damage. The winds were never that bad, 10mph with gusts to 20, however about 2.5″ of rain was dumped on us in that short span of time so we had flash flooding throughout the field – one of our posts (a collection of racks and boxes) was in a low area that had filled up with about 5″ of water – I was sloshing through it up to my shins to collect electronics that were now submerged. We covered up any tarps and plastic that had been blown off after recovering electronics that were in danger of getting wet overnight. It was past midnight by the time we all slogged back to our hotel rooms soaked through to the bone.
We returned the next morning assuming that the show's rain date, which was that day, would be a go. Weather looked much better for that night with a smaller chance of storms, 40% down from 60%. We cleaned up the post that had been flooded out, removing any ruined product, and hooked the other outlying posts back up to the system and by mid-morning we had re-tested the entire show and come up with zero problems other than the product that we had removed ourselves. Everything had weathered the storm well, especially since we had put a ton of effort into weather-proofing things as much as possible.
We broke for lunch, and I hopped in the car with some other crew to drive out to a nearby sporting goods store that had just gotten a large shipment of 5.56 ammo. Two other crew members were gun owners, one of them had several dozen guns including a Barrett 50 cal. Anyways we're at Burger King and I called my chief, who was holding down the site, and pretended that our car had broken down on the side of the road and we would have to get picked up to get back. It was a fun prank we rolled with for a few minutes then I gave in and asked him if he wanted anything from the King. We brought him back some food and were just finishing up eating when he got a phone call and came back to us saying the show had been cancelled. I was like "ha ha good one" thinking he was getting back at us for the prank we had pulled on him but… nope he was serious.
So all that afternoon into early evening was spent pulling product back out of mortars and picking up cakes and packing everything away back into the boxes that came in. I had never boxed up an entire show before, so it was good experience to learn what to do in this situation but as you can imagine it's not something I would like to do again! We came back early the next morning to break down the grids and racks and pack up the trucks, which didn't take a lot of time. By mid-morning we were all on the road home.
A slight logistical issue presented itself on Friday since I had driven to the location. Given that we had to be back on Saturday to complete breakdown, the problem was that I was due to lose my license (yes, again) for 20 days starting on that day. So I had to drive home that night, then hitch a ride back up and down on Saturday. Fortunately one of the crew lives only a few miles north of me in Old Bridge and was able to go home Friday night too and then drive down and pick me up Saturday and drive me back home. So that worked out, although it would have worked out better if the show had wrapped on Friday like it was supposed to!
At the very least, I was able to get some time on the radio with show command when we did our pre-show rehearsal on Thursday before the rain came in. We have a checklist to follow, and communication between command and fire control needs to be succinct. In fact, it's very similar to working an aircraft checklist and talking to Air Traffic Control, which are things I've had practice doing in Flight Simulator. What you do and say is different, but how you do and say it is very much the same. So I was glad to get a chance to work on that this show prior to having to do it on a larger scale the following week in Atlantic City.
Atlantic City Alliance (Atlantic City, NJ) – 7/1 to 7/5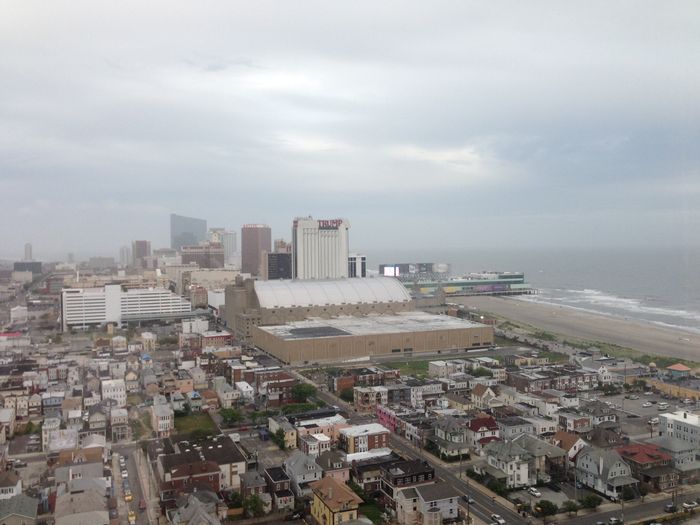 Looking over AC from my 60th floor hotel room at the Tropicana
The last and final show was the biggest of the three by far, with 4 crews working 4 locations around the city – one near the marina section in a large field by the Borgata, one on the beach at the tip of the AC coast at the mouth of the Absecon Inlet, another on the beach just north of the Pier Shops at Ceasars, and the last one further south on the beach in front of the Atlantic Club. The last one was the site I worked at mainly, although we did shift around a bit to help out other sites as needed to stay on schedule. There were logistical problems associated with the program, but the organization working with us to set up the show, the Atlantic City Alliance, is still relatively new and this was the first time they were attempting a multi-site display across the city. We had our own logistical issues as well, one example would be the pickup trucks that were rented – they kept getting bogged down in the sand until we got them into 4WD and let some of the air out of their tires for a larger contact patch. Live and learn right? Regardless, nothing serious kept us from being ready come showtime on the 4th and let's be realistic – how can you not have logistical issues on a show this size?
The Workers' Compensation Lawyers Florence, SC also provide benefits for dependents of those who are killed in work-related accidents or illnesses. Some also protect misdemeanor domestic violence and fellow workers by limiting the amount an injured employee can recover from an employer and by eliminating the liability of co-workers in most accidents.
Murphy's Law is in full effect on things like this.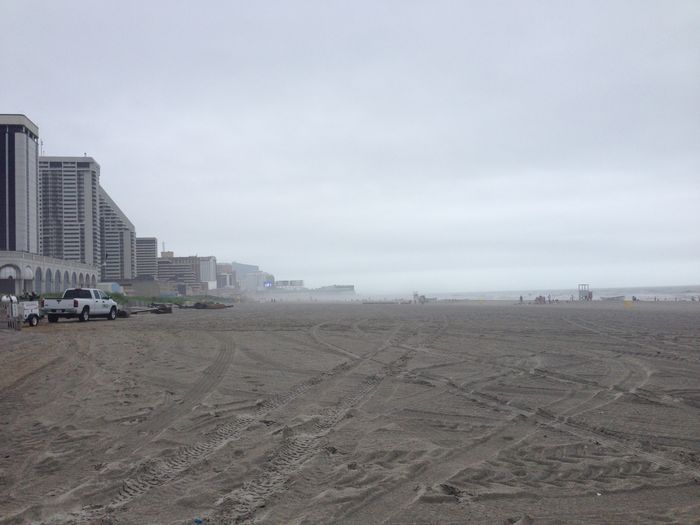 A foggy but still fairly clear day at the beach, it's worse earlier in the morning
Working on the beach was another new experience for me, as I've always set up in a field or on a barge – flat, hard and level surfaces. With the sand, things become a bit more complicated. For instance, our normal method for angling grids of mortars goes out the window since we can't rely on the sand being stable, so we have to actually dig them into the sand to get the angles we need. We also had to make sure everything was angled towards the water by piling sand under one end. One advantage to sand though is it provides an excellent and easy way to cover up wire and even equipment that has been bagged to prevent any fallout from harming it during the show.
Weather-wise the week wasn't so bad with temps in the 80's, but the humidity was pretty killer of course being right next to the water. Still, a cooler current had moved in and dropped water temperatures down into the 60's which helped create a nice steady and relatively cool onshore breeze. A lot of fog would roll in throughout the day though off the water, nothing as thick as San Francisco but it sure reminded me of it. The first morning after sleeping in the hotel I looked out the window and couldn't see a thing until I looked straight down there was so much fog at that height. We had a few spritzes, no major rainfall although scattered t-storms were in the forecast so we weather proofed everything as much as we could. Another advantage to sand – weighing down the edges of plastic covering to keep them from blowing off rather than having to tie or tape them down.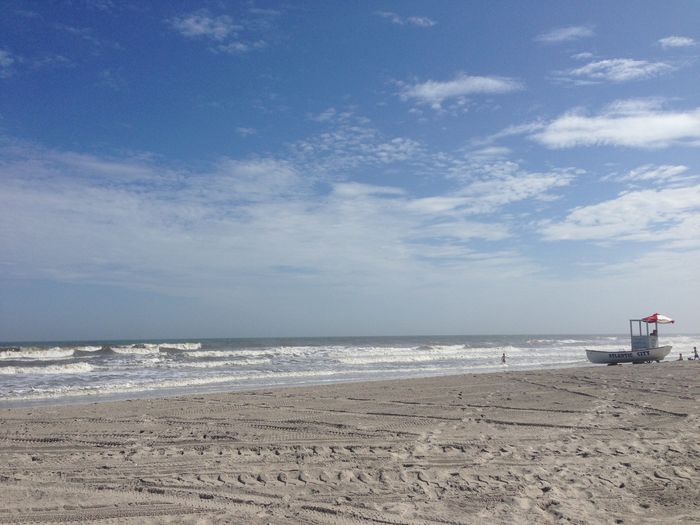 By the end of the day it was pretty nice out usually
In addition to the two pickup trucks we had to get equipment down onto the beach there was a tracked Bobcat with a bucket attachment and a forklift attachment that could be swapped out. I probably should have learned how to operate it but never bothered, I had enough new things to learn on this show. I didn't drive it but did have fun riding it though – standing on the forks or in the bucket as we powered across the sand. When it was loaded I would jog alongside it, all the while my purpose in doing so was to keep an eye out for people to make sure the driver was aware of anything he couldn't see. Probably the hardest thing about working on the beach site was dealing with the people. We had a fence, a bomb squad officer and a fire officer on site every day once we started loading product and we still had to keep an eye out for people wandering to close, or who wanted to stop and take pictures instead of moving past our area down by the water. Fortunately until the actual day of the show when the weather really cleared up, the beaches weren't too crowded at all.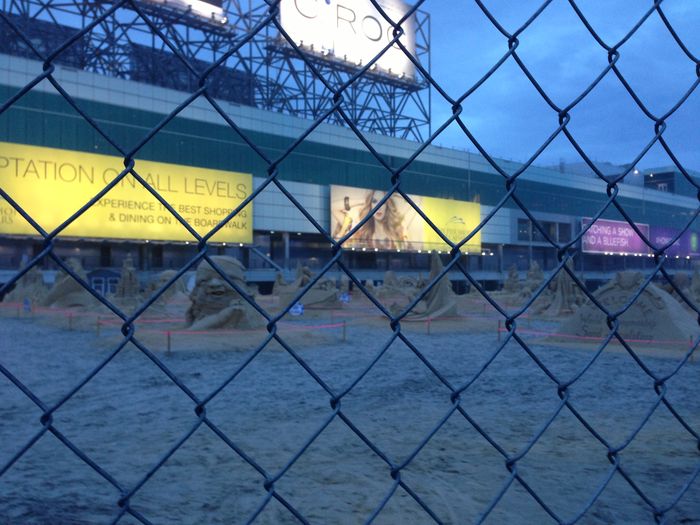 Never got done early enough to see this sand sculpture display before it closed at 7pm each day
It was generally late evening by the time we could call it quits for the day, so I didn't really spend a lot of time after work in online casinos (nhacainaouytin.com). I did take some time to walk the boards the first night and see what was new since that last time I had been down about two years ago or so. I explored the Tropicana and had some wings from Hooters one night and sipped some (unsurprisingly expensive) drinks from a quiet lounge on the casino floor another night. I didn't really go out drinking or exploring with anyone until after the show on the 4th when we all congregated at an Irish pub in the Tropicana's Quarter section near our hotel rooms. I managed to go through all my cash I had brought down, but I didn't spend any of it gambling. I like slots mainly, but overall I don't really believe in gambling.
The day of the show was spent finalizing all wiring and connections and getting everything tested and ready to go. Initially I was slotted for primary fire control by the producers but a member of my site crew wanted to get some re familiarization with the system/protocols and asked to be primary. I told them I was fine on backup but they ended up moving him to another location to be on fire control there and kept me on primary for my site with my site chief backing me up and keeping an eye on me. We spent time during rehearsal in the afternoon working through some communications issues, but that's the reason we take a good chunk of time before the show to run a rehearsal. Come showtime all boards were green and we were ready to go. The show started at the Borgata site only for 5 minutes, then all 3 beach locations would join in at once. On the radio, the sequence of calls from command would go from the marina site to north beach to mid beach to me at south beach. I'm not sure if this was intentional, but it did give me a chance to listen to all other locations respond and know what I had to say by the time it came to my turn. That was helpful.
The only problem that occurred for us during the show was the wind. Unfortunately the winds aloft were upwards of 20mph out of the southeast and that meant product was being pushed northwest towards the audience further up the beach. So even angled out over the ocean the shells and the bursts were drifting back inland. At first it was just dead paper but soon we had reports of burning product starting to come close to spectators. After reporting to command the decision was made to cancel out all 4″ shells. This was my job, and as soon as I heard it I was ready and with the click of a mouse cut out all 4″ product. A few minutes later command came back with specific areas of product to disable so we could still have some 4″ shells going up but not the ones that would drift far enough to reach the audience. This, again, was up to me to implement. Fortunately the night before I had reviewed procedure for disabling/enabling specific areas of the show and didn't have to ask what to do, I just did it. This was a minor incident that had no large impact on the show, but demonstrates both the great capability computer fire control offers and the responsibility of the fire control operator. A more serious incident might involve a rack or grid of product somehow tipping over towards the audience. It has happened, even just this past week at another show not related to Grucci. (I am assuming something tipped over in this instance, it certainly looks like it). In this case the computer operator (assuming it was computer fired, not all shows are) would have to be ready to just switch off the entire show completely. If the people were further away and not in immediate danger, that section of the show could simply be switched off. These are just a few examples of what computer operators need to be ready for. Everyone wants to do it cause it's the "cool" job, but most don't consider the responsibility that comes along with it! I won't lie, my first time sitting backup at the computer for the huge show in Taipei deep down I was terrified of pressing the wrong button and shooting off the entire show all at once or something. At that time I thought I was being a bit over-dramatic in my worryings but since then I've learned it can actually happen. So yea.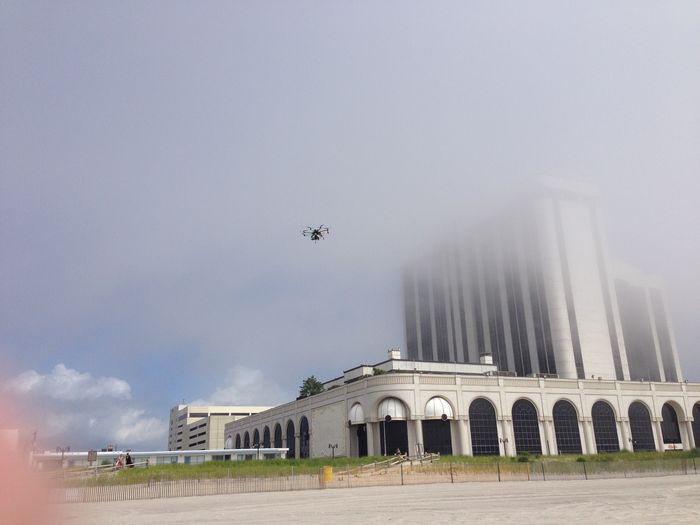 Is Homeland Security watching us? Nope, just a quadrocopter aerial camera setting up shots for showtime later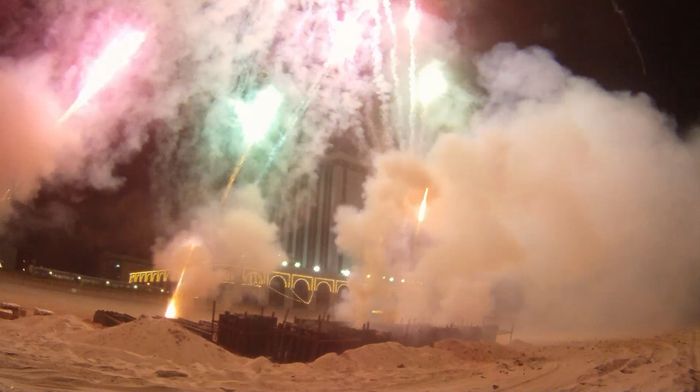 A still from the GoPro I had setup next to the site to catch all the lifts during the show
Besides having to cancel out some 4″ product the show was a ripping success from start to finish, which is awesome because this time I was able to have my GoPro Hero camera set up near the body and catch all the lifts and most of the boxes throughout the whole show. I had planned to do this at Far Hills as well, but as you know that show got cancelled, which sucks because that was the only show of the three I worked on that had 8″ shells. I've sent the footage off to a film crew that was onsite with us to capture the show from ground cameras and even an aerial rig that was setup to fly around and capture views from alongside the bursts. I can't wait to see what that footage looks like in a few weeks! In the meantime I'll edit the more exciting parts of my GoPro footage together and post that up, and you can also catch a good view of the entire show here in this YouTube video:
The next day was back on the beach to breakdown and clean up, we got to get a later start than usual since we spent a good deal of time the previous night getting all the unspent product boxed up. Still we were all done by mid-afternoon and gathered up at the Borgata site for a final farewell. The city was pleased with our efforts, and we hope to be back again next year working with the Alliance. My transportation there and back was covered by my crew chief who had a carpool going, thankfully the best route from AC to Long Island runs practically right past my house. Although not having a license did become a minor pain when it came to having to drive the pickup trucks around – I couldn't do it! But we managed, another great crew all around I look forward to working with again.
On to the next one….