I finally made it back out to the Fort Dix rifle range for the first time since last month, in some part because I've been rather busy but largely due to the trouble I've had finding .223 or 5.56 ammo to shoot out of my AR15. Not even kidding, it's practically impossible to find a lot of the more common rifle/pistol ammunition thanks to all the craziness that's been going on with gun advocacy and gun control since the Sandy Hook Elementary shooting. People are buying up ammo and weapons like there's going to be no tomorrow. This is what I have seen every single week at the closest Dick's sporting goods store to me since the last time I was at the range: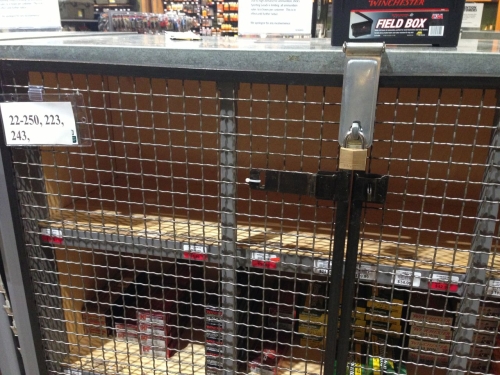 Completely empty shelves of .223/5.56 ammo. And calling around didn't help much either. In fact the last trip to the range I didn't even buy my ammo from Dick's – instead I drove 45 minutes north to a smaller sporting store to buy 2 boxes of 100 5.56 rounds and it looked like they were pretty well stocked. When I called last week they told me not only were they still out of .223/5.56 but 9mm and even had trouble keeping .22LR in stock. Madness! However I caught a break just this past Thursday when I called the Dick's up in Woodbridge to learn they had just got a shipment of 5.56 in that morning. I rushed up and was able to buy 6 boxes of 20 rounds for $8.99 each. You can only buy 6 boxes per ammo type per day so I called the next morning, found out they still had some and asked the guy to set aside 6 more for the hour it would take me to get up there. Once I picked up those six I called the Dick's in East Brunswick and found out they had the cheap Remington 9mm in stock – I had been hunting around for those too! $14.99 for a box of 50 and I picked up three of those (the others they always had were $34.99 for a box of 50!). Finally I was stocked up and ready to go! But really, all this running around to find ammo is just exhausting and frustrating. I hope this doesn't last much longer.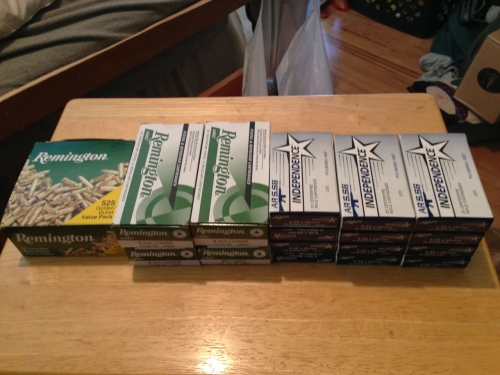 While today was supposed to be nice and sunny with a high of 50°F I was worried about the wind, which was forecast to be up to 17mph by early afternoon. I got to the range a little after 8am and just before they started their first firing session, and the wind already felt like it was around 8-10mph gusting up towards the teens. Plenty of friends said they wanted to join me this time out but almost all of them ended up sick. Stupid flu season. So I had no spotter and I knew that was going to be trouble. Sure enough after I post my target at 100yds and start sending rounds down range I check my spotting scope and don't see any holes on the paper after a full clip. I can't see the trace through my rifle scope and I have no idea where these rounds are going. My windage was set from my previous dope so I wasn't zero'd and able to just shoot off-center. I had to aim to all sides of the target and see if I could make a hole in the paper to find out how I needed to adjust. It took me 20 rounds to get an idea of where I was shooting and 20 more before I was consistently on paper and around the center.
I was swapping back and forth between two targets. The one on the left has my best single shots, with one breaking into the center bulls eye. The one on the right has my best grouping, which are the three on paper far to the left (the one clipping the edge isn't part of that group). I was purposefully aiming off-center to try and account for wind and ended up over compensating a lot. Despite the nasty wind, which ended up at close to 20mph by the time I decided to pack up, I'll take a bulls eye shot and 1-inch grouping as a win for the day. I also managed to hole one of the clays on the ground at 100yds in only two shots. Still, I need to get a better zero on my scope so I can deal with wind properly next time. Hopefully I can find a day soon that has no wind or just a light breeze and rent one of the range's rifle benches to get a proper zero at 100yds.
I took a couple of shots with my P22 and P99 at some clays on the ground at 20yds but the damn wind kept blowing them over!
Also this time out I remembered to bring a flag to stick over the target and help me get an idea of the wind down range. I noticed a hole in the center of a tab you could bend back at the top of my target. I don't know if this it what it was meant for and the flag is just a Medieval Times banner I got years ago but it worked out really well!