Transposed from Gaiiden's Scroll
So ok, I mocked up the Messaging displays. I came up with 4 views:
Total Sent
This is a vertical bar graph that shows the total number of messages sent by each object throughout the entire run time. The graph scrolls horizontally. I'm still deciding whether to allow them to be sorted by name or totals, but I probably will, since that would be cool. You can select any object's bar graph to see a listing of all sent messages in the Immediate Window.
Total Received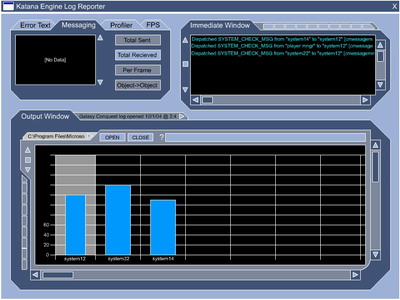 Same deal as Total Sent, except (obviously) the displayed data is for messages received from other objects
Per Frame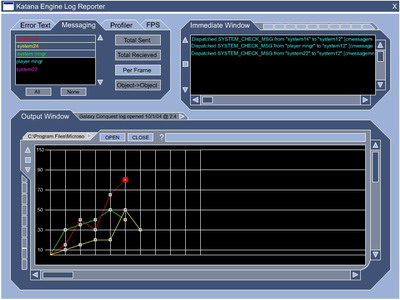 This is a cool line graph that charts the number of messages each object sent per frame. Each object will sport a different color. Obviously a graph like this can become quite cluttered, so you can only overlay a certain number of objects at once (4-6, not sure of the exact number yet). You can select and deselect them from the list box (I'm going to take out those two buttons). You can also select a node on the graph to see the messages that were sent that frame by that object in the Immediate Window
Object->Object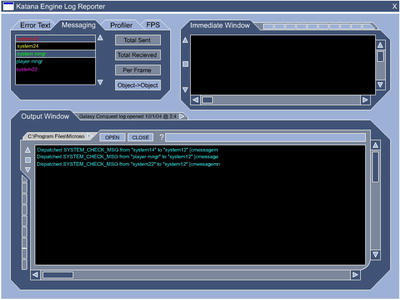 This lets you select two (and only two) objects from the list and the Output Window will display all the messages that were sent between the two objects
And that sums up that. The Profiler will be similar to the Per Frame graph of the Messaging section, so I'll mock that up quick tomorrow. I have a bit more thought to put into the FPS section tho.