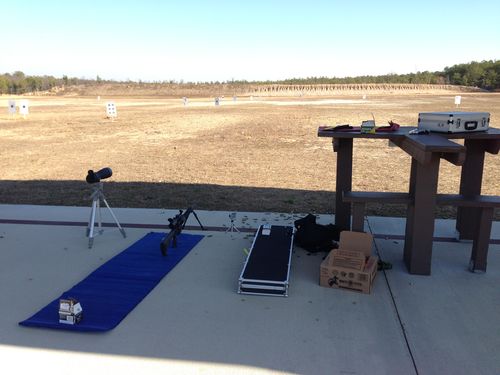 Spent all day at the Rod & Gun range this past Sunday to get some serious time behind my new AR-15 I picked up last month. It is a Mossberg MMR Hunter – I know, when I saw it at the range while perusing their selection of assault rifles and they told me it was a Mossberg my first thought was "it doesn't look like a shotgun…" But it did look like the perfect rifle for me. It has a 20″ barrel, which is 4″ longer than your standard assault rifle, which means better accuracy. It also has a single flat-top rail for mounting a scope, which was all the accessorizing I planned to do. And it was only $795.
Why an assault rifle? Well the AR15 platform is highly customizable. There are tons of weapon makers that have various stocks, triggers, barrels, etc. So while I'm firing .223/5.56 right now, I can get a whole new upper assembly (chamber and barrel) to fire cheaper .22 ammo for less than buying a whole new rifle. I can go in the other direction too, as they make even 50 caliber uppers!
Today at the range I brought with me 200 rounds of American Eagle 5.56 55 grain ammo, which I got up at Efinger for $100 in two 100 round packs. Ammo is getting really hard to find these days.
I started at 25 yards, which didn't take too long to dial in. I used paper targets to track my shots and once I was hitting where I was aiming I dropped my sights to the ground where I had 6 clay pigeons lined up and blasted them all to oblivion. Here is my best target grouping from 25 yards: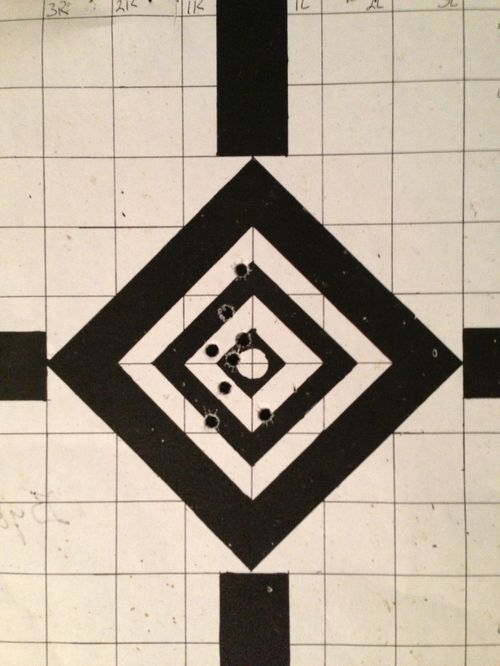 At the next cease fire I took the target back to 50 yards with 6 clays but also left 6 clays at 25. I did the same thing with my rifle at 50 then used my P22 and P99 to take out the clays at 25 yards. With my P22 I was fairly accurate, but I still suck with my 9mm. I really need to take time to get that dialed in. The P22 took me about 4 clips to take out all six clays, which I didn't think was too bad since there was a 10-14mph breeze coming over my right shoulder. Here's my best target from 50 yards: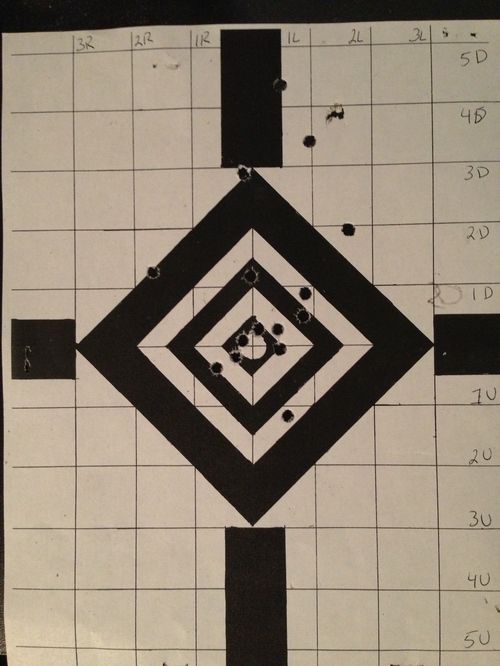 I finally pushed out to 100 yards next, which was the first time shooting this far with anything for me. Now the winds really started messing around with my shots. On my second box of ammo, I started taking the first few minutes of the firing session to dial in my sights on a paper target. Then at the 10min remaining call out I switched over to the P22 to take out clays at 25 yards. Then when they called out 2 minutes remaining I gave my self 10 rounds and those two minutes to take out the 6 clay pigeons at 100 yards. My best run was 4 out of 6, which I was pleased with. Here is my best 100 yard target: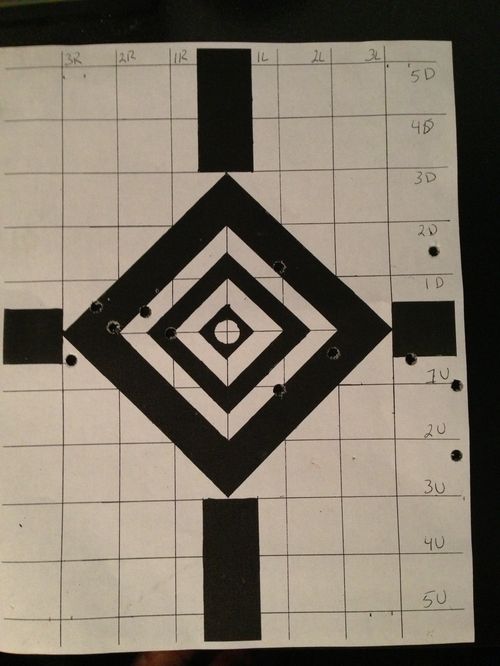 You can see how my elevation was on but the wind was really messing me up. Also here's a shot of the clays at 100 yards:
I love how I completely tore the center out of one and left it standing. I look forward to my next trip!