Plan-G flight plan (right-click Save As)
Today I finally managed to get everything together for a flight. It's been hard lately with so much work I've been doing between coaching, GameDev.net, MSE Airports and most recently airport design for FranceVFR. Not to mention occasional stunt jobs and pyrotechnical work. Another thing keeping me back was taking the time to update several things including the latest release of REX, the Essential+ with Overdrive, and a new version of GEX as well. I also added a new hardware item – I bought the latest iPad (my first iPad) at the start of this month and have been aching to try out my new RemoteFlight radio stack purchase. I was also going to connect Plan-G to FSX to check out its ability to track my flight.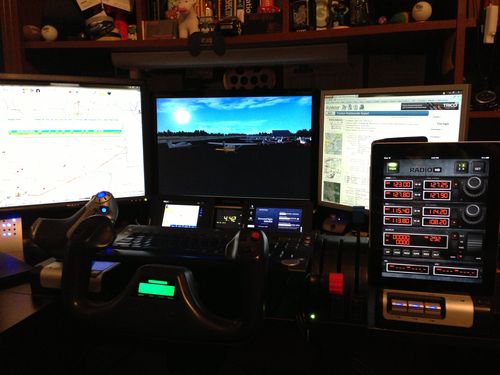 the iPad at work
The flight itself was uneventful. I screwed up climbing out of KLDJ – although I maintained runway heading until 800′ as required for departures from Runway 27, I continued to climb up through 1500′, which put me above the floor of the NYC bravo airspace. Whoopsie, I was only supposed to climb to 1200′ – it was even in my flight plan! But besides that the rest of the flight was routine. I really didn't get to use my iPad radio stack much since I only had to set the navigation stations before takeoff but even then it was handy. Can't wait to use it with my helicopter setup – tuning radios on that is always a pain. I departed Linden at 3:56 and arrived at Trenton-Robbinsville (N87) at 4:32 – data which is unfortunately not saved when I close Plan-G after it is recorded during flight when connected to FSX. The connection between Plan-G and FSX worked well, although I still navigated by what I saw in the sim and my instruments rather than trying to get my airplane to line up with the black route line in Plan-G.
I'm waiting to see if any Black Friday/Cyber Monday deals come about this weekend to buy up some new FSX aircraft/scenery. I'm looking to get a new helicopter, as well as some new scenery up in Buffalo and Niagara Falls to fly to and spend some time exploring. Those are regardless of a sale. I'll also snap up whatever else looks good.