Just got off a 3-day show that took place about an hour away in Far Hills, NJ. It was a benefit event for the Somerset Medical Center Foundation that featured dinner with an orchestra performance followed by a fireworks display. For other entertainment article on how to increase viewers for your videos online you can go to this blog. Unfortunately for us, the show coincided with the start of a heat wave that was sweeping the eastern seaboard as the summer equinox arrived. The entire week before was pleasantly cool in the high 60's and 70's but on 6/20 when we showed up to begin putting the show together the mercury spiked up into the high 90's with a heat index of over 100°F! Over the next two days the temperature remained that high and humidity rose steadily as well, so that by the time we were breaking down the show on Fri you were sweating at 9am and a bit of light rain was falling from the hazy sky as if it was just too saturated to hold it anymore. The first day I thought it was pretty rough, but then as we were ending the day I remembered it was way, way worse back in 2010 when I was on a show in Leonia around 4th of July. Same temperature/heat index but there was no breeze, no shade and no clouds – the only thing was the humidity was relatively low. I remember we finished early and I got in my car and just drove around so I could use the A/C without overheating the engine. Here, at least, we had a fairly steady breeze of about 5-7mph that wasn't cool but stirred up the air like a fan on a hot day and the occasional cloud would block out the sun for a bit. There was also a large tree just far enough from the main body of the display for us to park under and use for shade. We would move our cars throughout the day to follow the shadow.
Given the heat and sun exposure it was important to stay sun-screened and hydrated. Fortunately a lot of the crew brings large coolers that everyone shares and the event people would come by every now and again with their own water coolers to make sure we had some H20 – which was nice because when you're out in the field away from the cars and the coolers it's tough to break from what you're doing and take the time to trek 100 yards or more back up for some more liquidation. I mainly chugged Gatorade but always tried to keep a bottle of water holstered in my tool belt to pour out some over my head. I would have to do this about every 30-60 minutes since by then I would be dry and feeling a bit of heat exhaustion. I forgot to bring a small towel to keep around my neck/shoulders on the first day but since I was only an hour away I went home the first night instead of staying in the hotel so I was able to grab one and a few more stuff (like full-fingered work gloves for moving equipment. I use lighter gloves with the pointer/middle fingers cut out for wiring).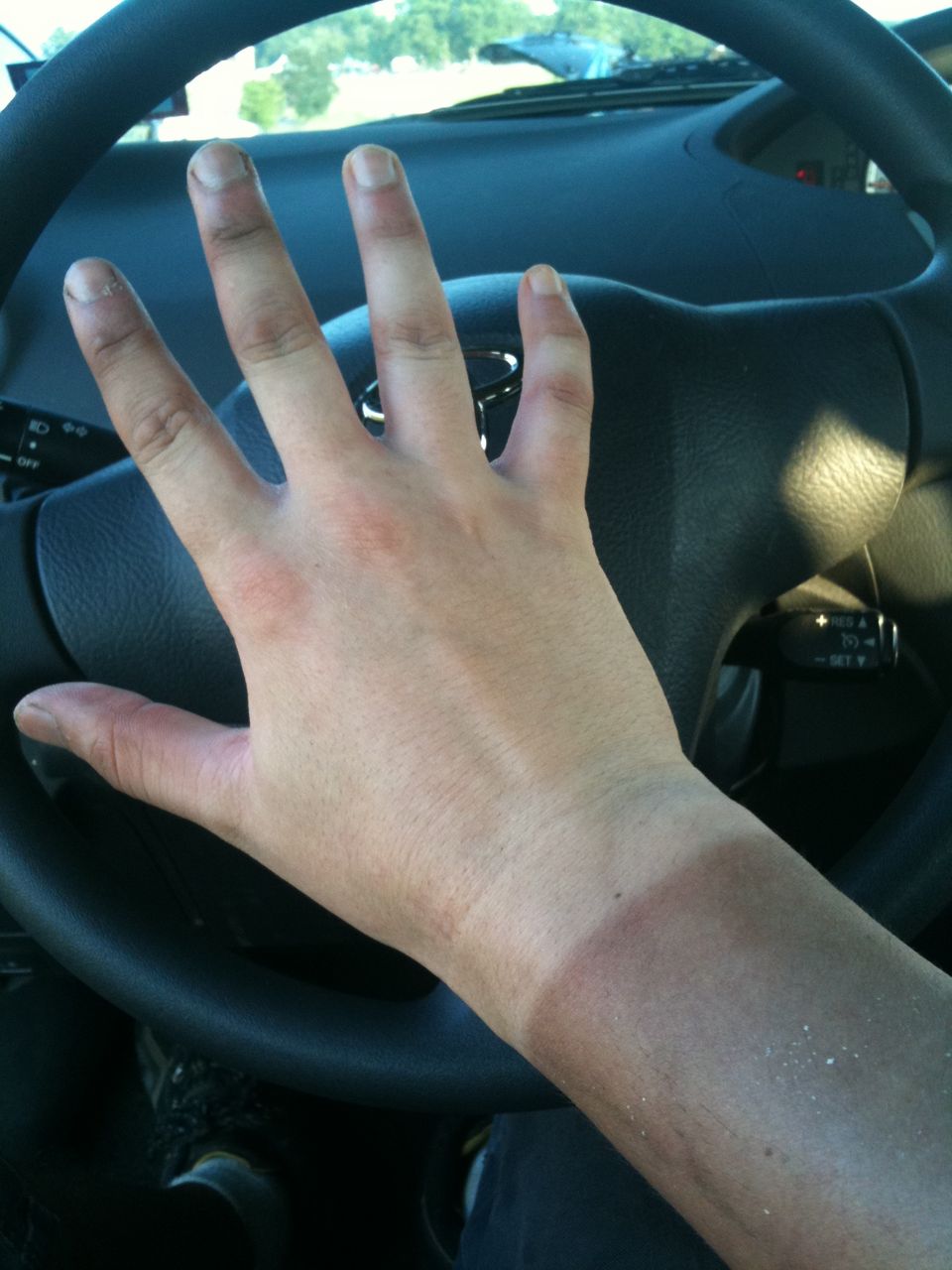 Rockin the glove tan
As the sun dipped lower in the sky on show day we completed loading/wiring and spent a little while troubleshooting a few issues before getting a clear board and settling in to wait for the sun to set and the sponsor to give us the go for show. Being a software engineer at heart, I enjoy the "debugging process" of figuring out why we're not getting a good signal from some product. Sometimes the answer is more obvious than you thought. Keeps you on your toes. Anyway, the show itself was a little over 19 minutes and large enough to warrant computer control. As in Taipei, I sat on backup fire control in case we had a failure on the primary, but show rehearsal went smooth as butter and when showtime finally came around at 9:30pm we were primed and ready. Although it's cool to be at the computer during the show it's also a bit of a bummer that you need to be paying very close attention to it and the systems so you can't really watch the show itself. I stole glances up and to the side every now and again to watch a burst overhead or check out the ground cake displays shooting off, but that's about it. I hope someone posts a YouTube video of it. We had the 4″ shells wired to double-fire so we had two lifting at once – some of them made larger thumps than the 8 inchers! I was sitting on an empty plastic container and the WHUMPS of the lifting shells vibrated from the ground up my body for 19+ minutes – eat your heart out, subwoofers. At one point early in the show we had all 20 outlying posts shoot off product in succession down the line – boom boom boom boom boom boom boom boom boom… didn't miss a hit that was awesome. We wrapped with a concussive finale followed by the sounds of cheering and applause drifting towards us on the miniscule breeze that had thankfully kicked back up after dying just before show to move the smoke away.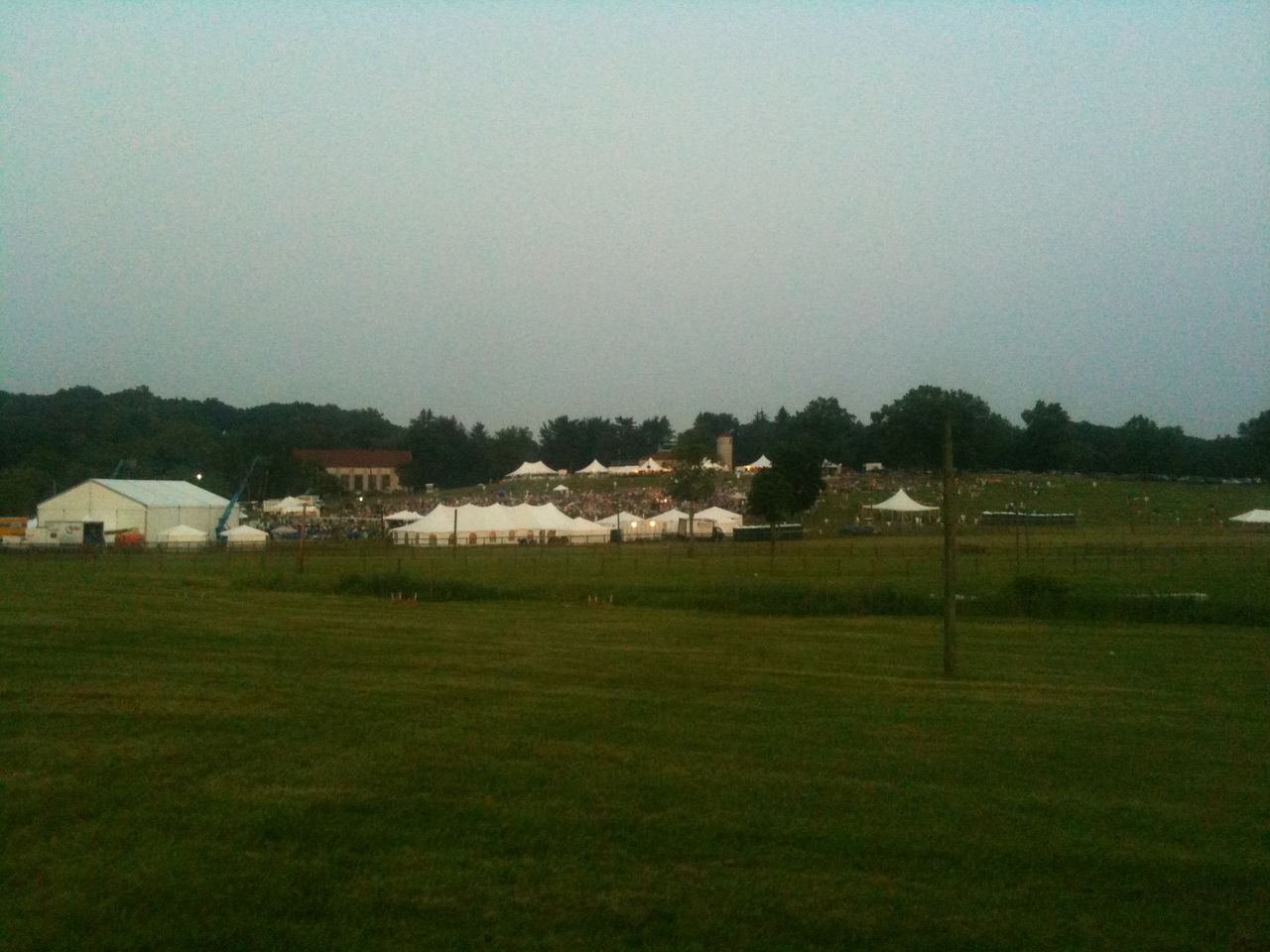 Photo of our audience just before nightfall

The next morning it was back out into the oppressive heat and humidity to break the show down. We had a portion of the crew stripping the main body while myself and others took apart the 20 outlying posts and stacked everything to be loaded into the trucks as they came by to pick them up. The sun hadn't even risen all the way up into the sky before we were all packed up and ready to depart. Thankfully we still had the park ground crew around to lend extra hands – those guys were excellent workers when we had to move stuff around – and the event people were still there to make sure we had water out in the field, they took great care of us and I'm glad we were able to give them a great show, as the sponsor praised us over the radio the previous night after the display. Despite the heat we all made it out okay – I'm sure some are more burnt than others but thankfully I only feel a minor burn on my shoulders and upper arms. FIREWORKS!!