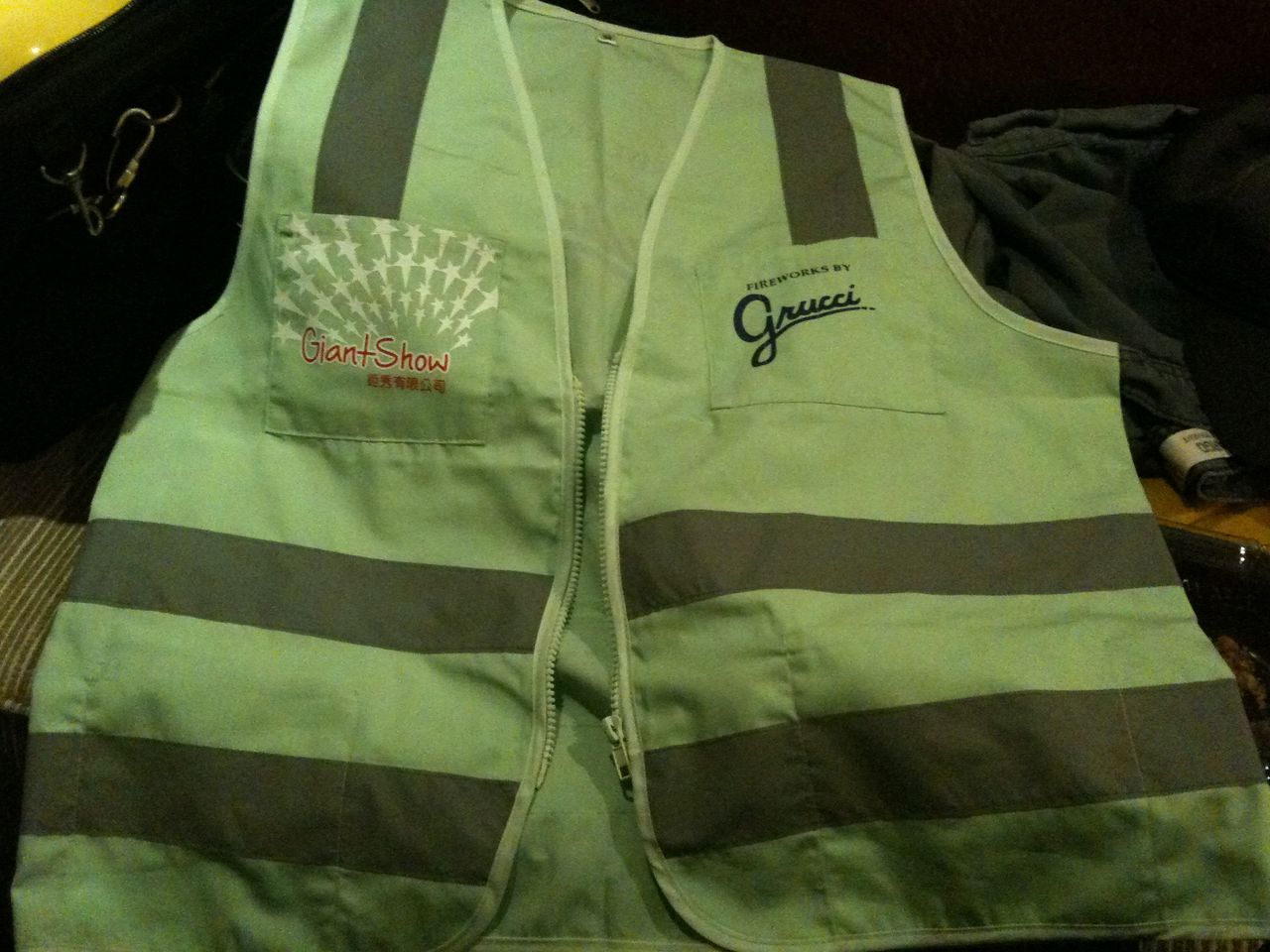 The lovely "green tea green" (as Ian puts it) safety vests they have outfitted us to wear. When did orange go out of style??

Holy crap I've been in Taipei a week already? Time just seems to be flying right on by. After last night's shenanigans, I don't even remember hitting the snooze on my iPhone alarm for half an hour this morning. I had set it last night for 6:45am and finally I remember slapping it and sitting up in bed thinking it's way too bright outside and finding it is 7:15. So it was just throw on clothes, run downstairs to shovel some (not nearly enough) food into my mouth, then catch the bus to Dajia. Several people were being pulled to go to 101, but not me. To be fair, none of these people going had been there yet, and since eventually we're all go to be over there they had to get indoctrinated at some point.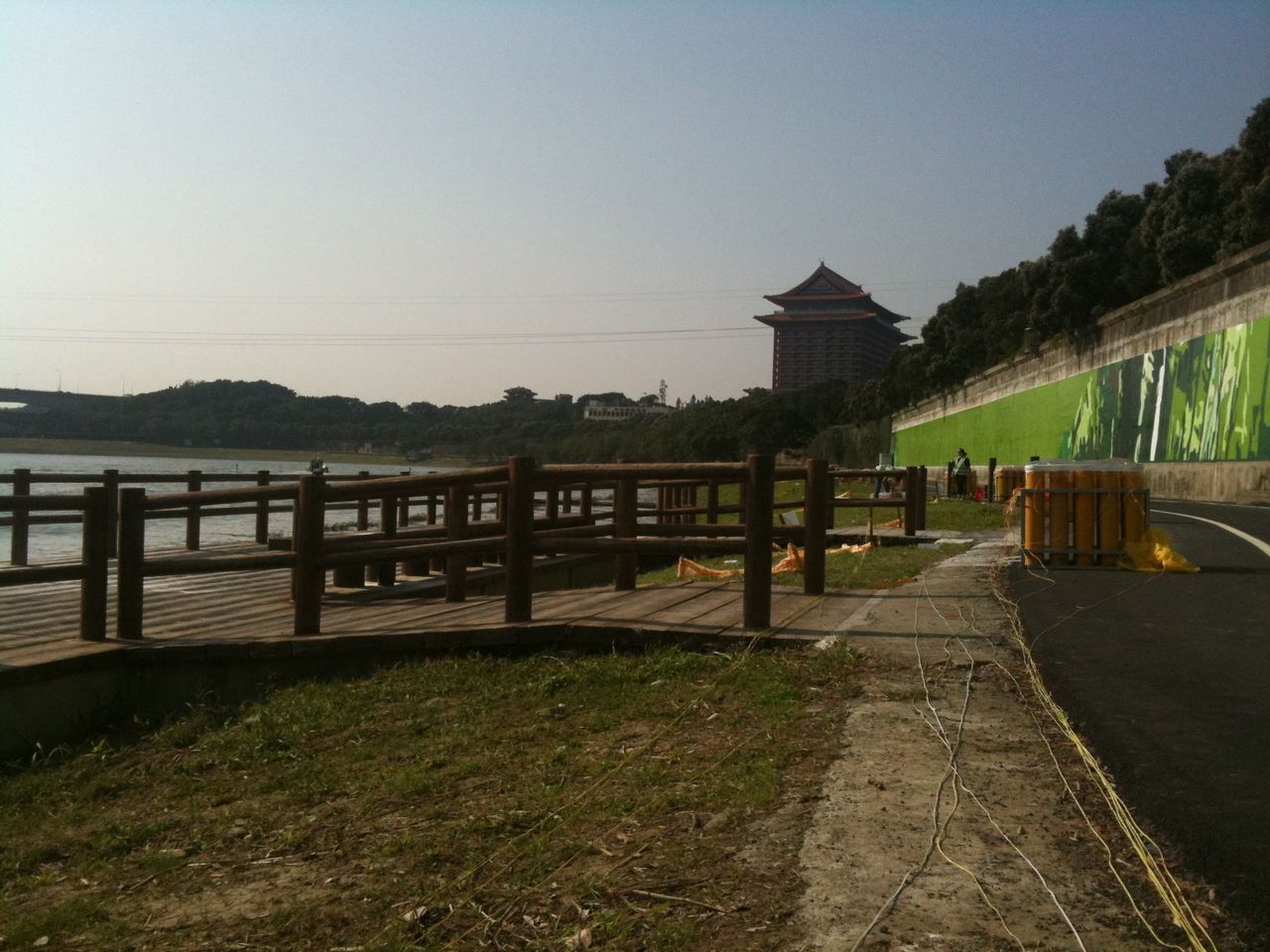 looking downriver past some product and towards the Grand Hotel, the huge pagoda sitting atop a hill
Today's weather was the best yet – around 70F with clear skies turning partly cloudy later in the day and a nice 8-10mph breeze that kept you cool in the sun (it must have been windy as hell up on 101 though!). I have tan lines on my wrist from just today from wearing my work gloves 😛 The wind was preceding an incoming weather front though, so we're expecting the rain to finally arrive once again (it was raining the night we flew in) starting tomorrow.
I spent the day out in the field wiring cakes into the firing panels rather than sorting them – which was a blessing because as I mentioned the weather was great (it gets hot and stuffy under the tent) and thanks to lack of sleep and breakfast I was really dragging – so instead of having to haul 15-40lb cake boxes around, I got to sit next to them and just plug in wires. Plugging in wires to a firing panel is just like attaching speaker wires to a receiver/stereo. A rough estimate as to the number of wires I attached today? Around 550! And I was only doing half the work – another team of techs was wiring as well. So around 1000 wires got plugged in today. Probably more.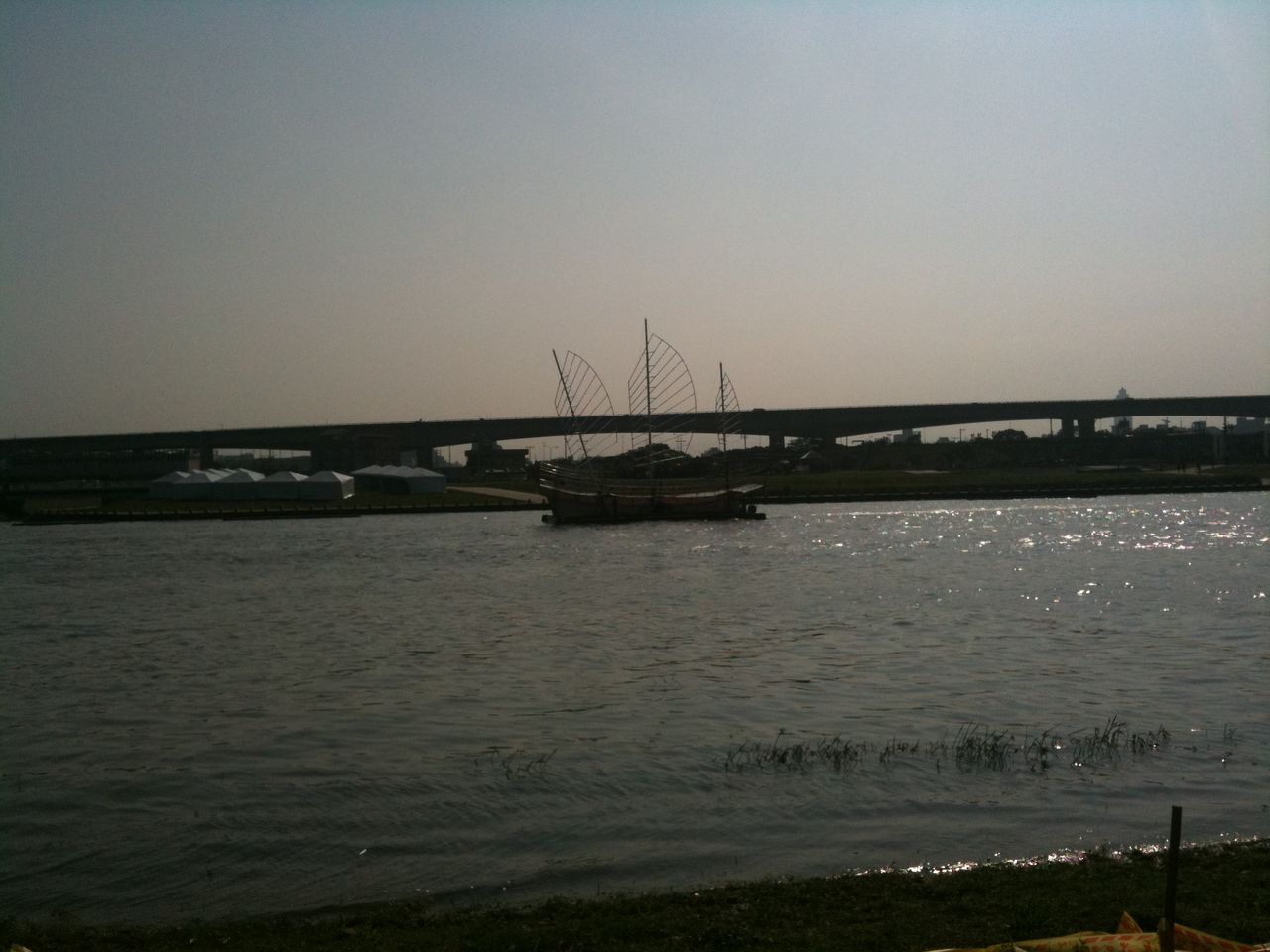 One of our 3 Chinese Junk set pieces makes a test run up the river. There will be fireworks attached to it for the show
Today we worked until 6pm, which is something that will continue to happen now that show date is approaching and we still need to get caught up to late shipments finally arriving for us to take action on. We might even start the day earlier even, at some point. I'll drop another number I've been saving for later – there are 1,600 individual set pieces that we need to install on Taipei 101's building face – all four of them and all 8 individual building segments. One thousand six hundred. They're not all even made yet. Day off on Christmas? I don't think so!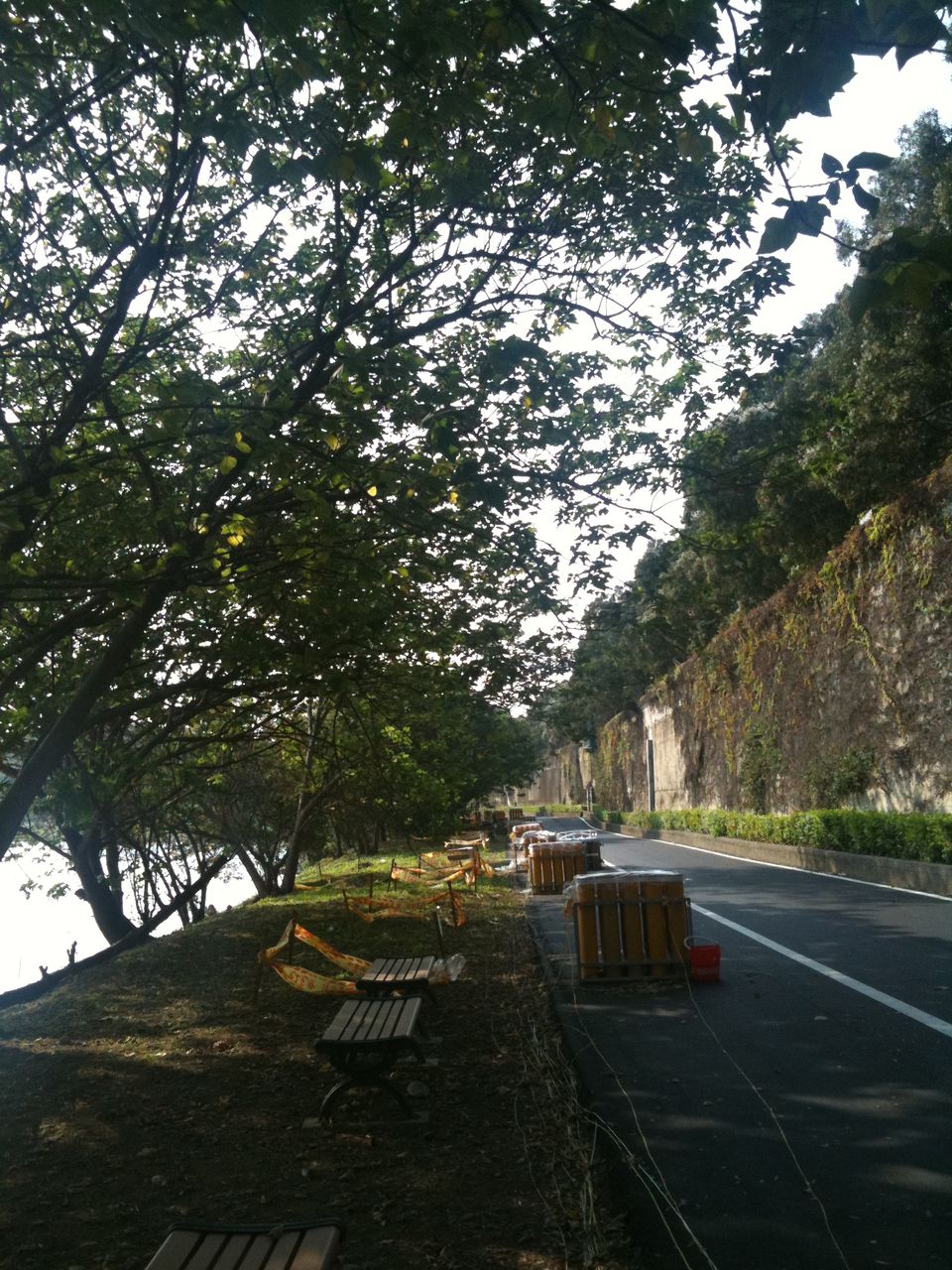 A lesser-known service of Fireworks by Grucci – tree trimming! 🙂
After the day was over, I was pretty damn hungry. Generally I eat a big breakfast and lunch and can skip having to find my own dinner, but since I missed breakfast today I came home hungry and decided to walk over to a KFC nearby. Yea, I know – I'm such a wuss when it comes to eating out in foreign countries. I have to admit though, their popcorn chicken was way better than in the states. I wonder if it was even chicken 😛 Tomorrow night though, assuming I get home in time, I'll be heading out to try some hot pot, which is where you take meat and place it in a pot in the center of the table to cook it – like fondue.
Crap it's 10:15 and I have sleep to catch up on!!