The Morning Loot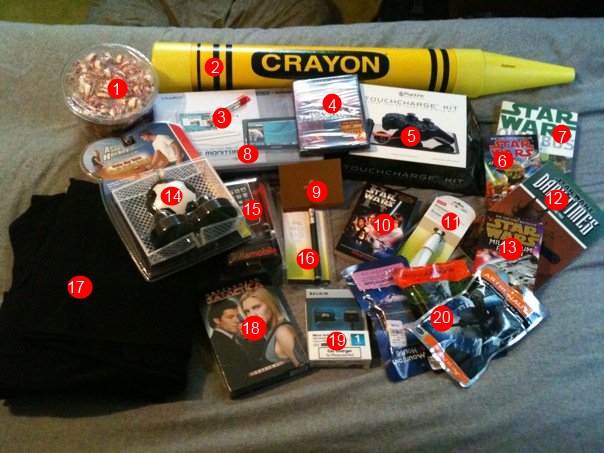 Christmas morning is presents with my immediate family: my parents and two younger sisters. Here's the rundown:
Soft mints. Yum
Crayola coin bank. We've had a pink one since we were kids that I took over for use as my own personal bank back when I had my first girlfriend – she dug the addition of pink to my room.
Hard to see, but resting atop this box is an eyeglass kit – mainly what I need is the screwdriver it contains.
National Treasure 2 DVD
Touchcharge Kit for my PS3. It lets me charge my controller when it's resting on a charge pad and not in use.
Star Wars: The Clone Wars paperback
Star Wars: Droids omnibus graphic novel
Lilliput 7″ LCD monitor – runs off USB only and is a nifty little display
Godiva chocolate gift card
Star Wars: A New Hope
Keyboard brush
Star Wars: Dark Times TPB Volume 2
Star Wars: Millennium Falcon
Air hockey game
Gorillapod mobile – will let me grip my iPhone to my steering wheel for GPS navigation
Laser pointer – getting the dogs to chase the red dot provides way more entertainment than it should
New cargo pants – all mine are getting holes in them from being old and kneeling so much to spot tumbling
BSG Season 4.0 DVD
USB car charger adapter with iPhone charge cable
Frozen astronaut food!
The Afternoon loot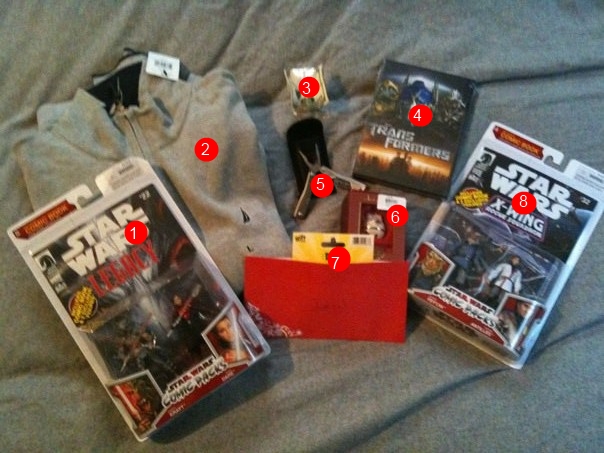 After presents with the immediate family, it's breakfast over at my grandmother's house and then back home with the entire family for another round of presents:
Star Wars collectible action figures and comic – Legacy Era
EMS sweater
$100 bill Origami butterfly (traditional gift from my grandmother)
Transformers DVD
Multi-tool with belt pouch
Lennox ornament (another yearly gift tradition)
Best Buy gift card + cash
Star Wars collectible action figures and comic – Empire Era
Setting up the loot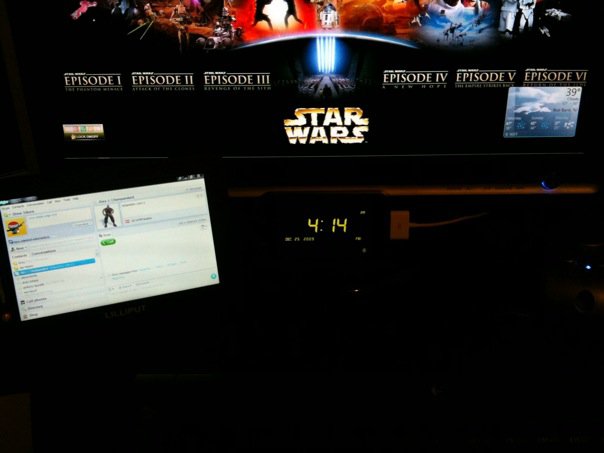 I was wondering where to put the Lilliput – at first I considered using the make-shift tablet stand to place it to the side and lay the tablet flat where my mousepad is. Then I would devise a cover to go over the tablet so I could use the mouse on it when I wasn't drawing/gesturing. But the little monitor has a great stand built into it and I found that, laying horizontal, it doesn't occlude the lower part of my main monitors, so it rests easily underneath. Of course, now I need another one to go on the right. Symmetry and all that you know? As you can see, right now I'm using the mini-monitor to display my Skype client. The monitor plays a bit of havoc with UltraMon's multiple taskbar ability – UltraMon doesn't really understand how to handle the monitor (neither does the ATI control panel, besides being able to move it about on the monitor layout). Also when you turn it off you're effectively disconnecting it from the system, and it doesn't remember the brightness setting, so I'm always dimming the screen when I turn it on (it's bright!). But Windows 7 re-detects it right away when it comes back on and puts it in the spot it had previously in the monitor layout so overall a good piece of kit.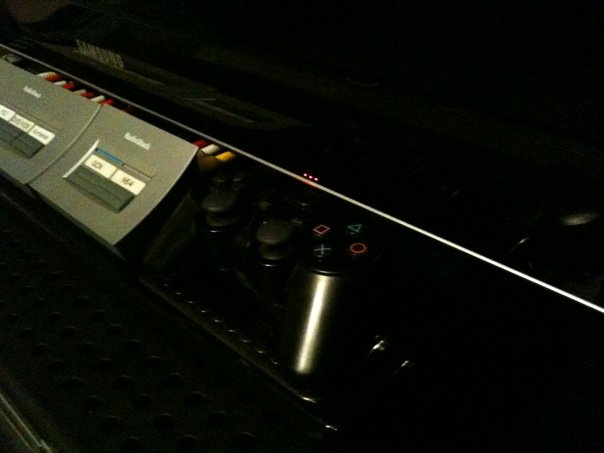 What's cool about the Touchcharge Kit for my PS3 controller is that it lets me charge the controller without having to connect any cables and do so while the PS3 is off (no need for an external USB hub/power source). It also occupies the exact spot my controller sits when it's not in use anyways. The kit comes with two chargers that snap onto the controller – so if you use an add-on like the controller keyboard, you'll have to detach it. But I don't (I have a Bluetooth keyboard) so unless I need to charge the controller while playing, the charger can just stay attached and when I'm done playing I just plop the controller down to re-charge. Awesome.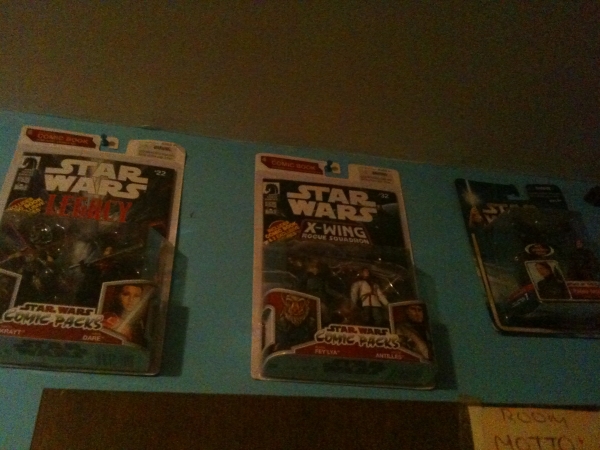 The Star Wars collectibles hanging up next to Padme Amidala – off to the left (unseen) is a Zerg figure from StarCraft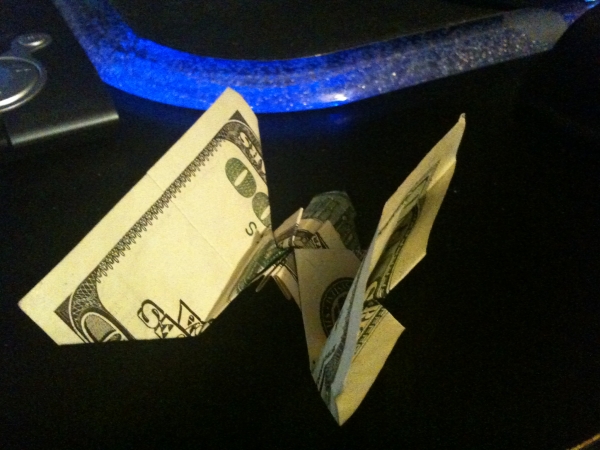 Here's a close-up look at the origami butterfly made from a $100 bill. It has a very, very short lifespan 😉