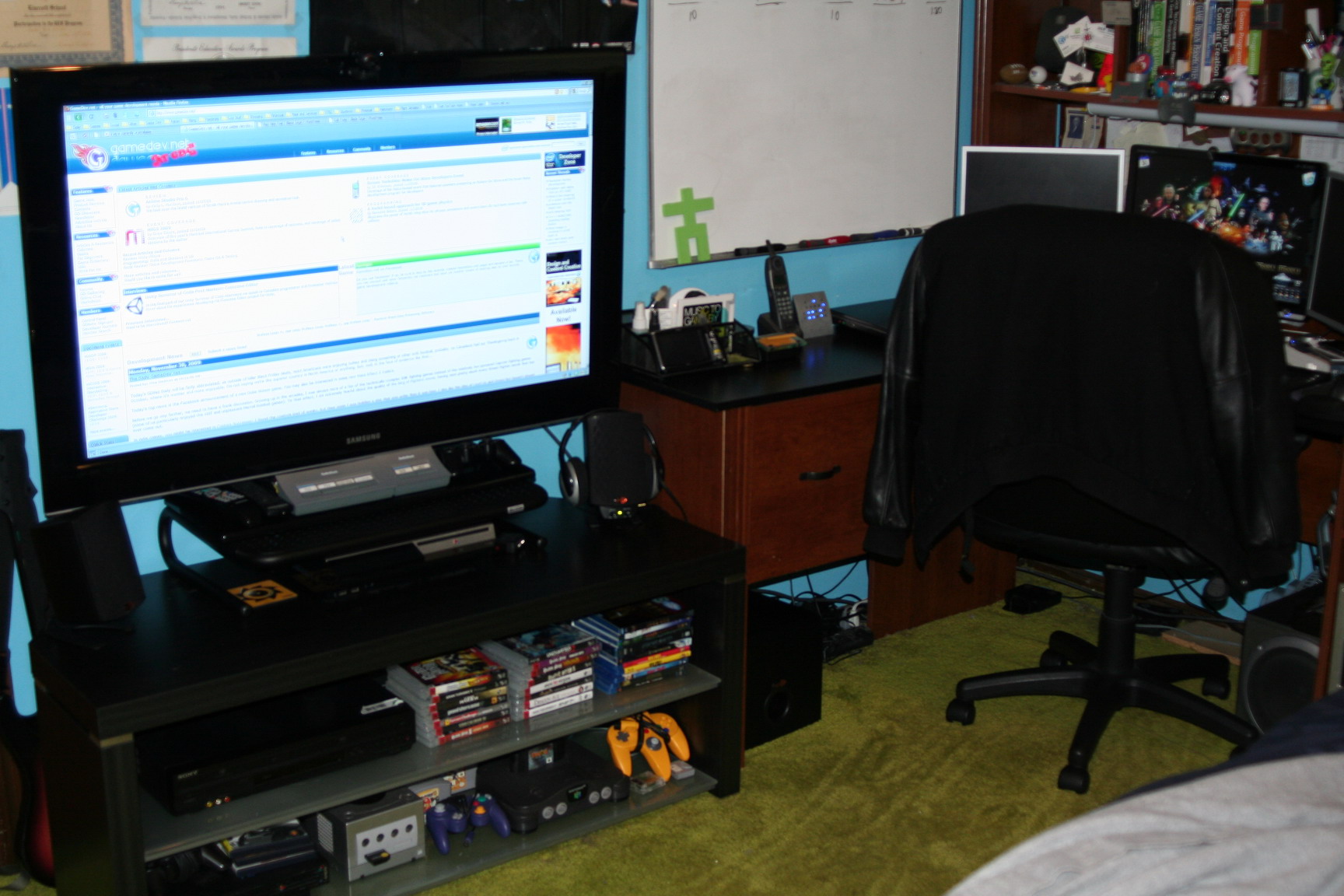 Forgive me, but I'm still totally geeking out over my new HDTV, especially since it's now finally completely setup the way I always imagined it. Details follow!
The only real problem that arose was the fact that the TV only has optical out for audio, which isn't something I considered when purchasing the set, I even got a corner mount installation to set up the TV. I had planned to buy some PC speakers to use for external audio, but optical output requires a digital signal processor in a receiver to decode, and those cost like $300 and included a ton of shit that I just didn't need. So I was stressing out for a good 3 hours over the problem. First I searched for a simple receiver or other option for conversion from digital audio to stereo. Then I considered buying a new sound card for my PC that had digital audio processing, and running the TV output into that and then splitting my speaker output between my PC and TV speakers. I figured well, if I'm going to do that I might as well build a small multimedia PC for my TV right? Yea… too much money again.
So the real problem was that I was using HDMI for my audio and video from my PS3, while everything else I had hooked up to the TV was already composite stereo. Once I realized that, I remembered that you can specify how to send out audio and video from the PS3, over separate cables if you want. So I plugged in the composite cables to the PS3 and set it to send out audio through that while keeping video through the HDMI. Problem solved! Well, almost. Adding a fifth composite connection to the mix (in addition to my DVD/VCR, PS2, Gamecube and N64) meant I needed a bigger switch box. Luckily I still had a dual composite switch laying around, so I plugged that into the quad composite switch and ended up with this: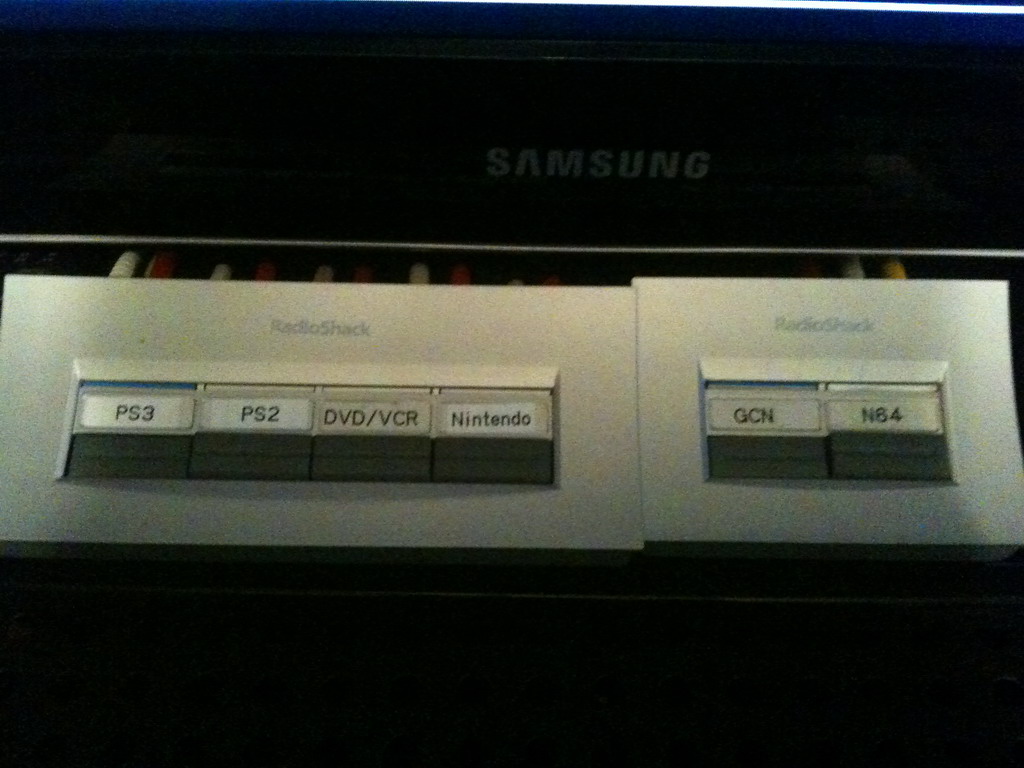 So the quad switch holds the PS3 (audio only), DVD/VCR and PS2, while the fourth connector is actually a pass-through to the second switch that connects to the N64 and Gamecube.
Another change I made was to find a stand for the TV to sit a few inches higher so that I could watch movies and such from my bed without my feet getting in the way of the bottom of the picture, and also so any external speakers I place on the main stand don't get in the way either. I found a nice black stand at Staples for about $30 that is wide enough to almost fit my entire TV stand upon and rated up to 80lbs – my TV weighs in at around 56lbs with its stand. The stand was also high enough to allow me to place my PS3 underneath, putting it front and center and properly enshrined, haha.
Next was to get proper external speakers, which I snagged from Best Buy (I now <3 in-store pickup!). The Klipsch Pro Media speakers deliver 200 watts of amazing sound, and an interesting footnote is that these speakers were once part of MaximumPC's Dream Machine back in 2001 – which is the year I first wanted them for my own computer rig. I didn't actually build a computer for myself until 2006, and the Klipsch's weren't being produced any longer so I settled on Logitech's version, the z-2200. Then Klipsch brought the Pro Media's back in 2007. So it's nice to finally have these speakers after all these years!
After the speakers were set up, I needed to figure out how best to run audio to them from my PC. I put a splitter cable into my PC's sound card out and attached both my PC speakers and the headset I use for voice chat. Then I ran an extended audio cable around to my Klipsch speakers, which have an audio input jack. Now all I have to do is plug that cable into the headphone jack on the PC speaker's audio remote and it passes sound straight to my external TV speakers.
Why do I need to send PC audio to my external TV speakers? Glad you asked! The reason of course is because I also have an HDMI cable running from my PC to the TV to use as a fourth monitor, so if I want to watch video that's on my computer, I'd like the sound to come from in front of me, not to the side of me where my computer is located relative to the TV. Not only multimedia, but games as well! For example: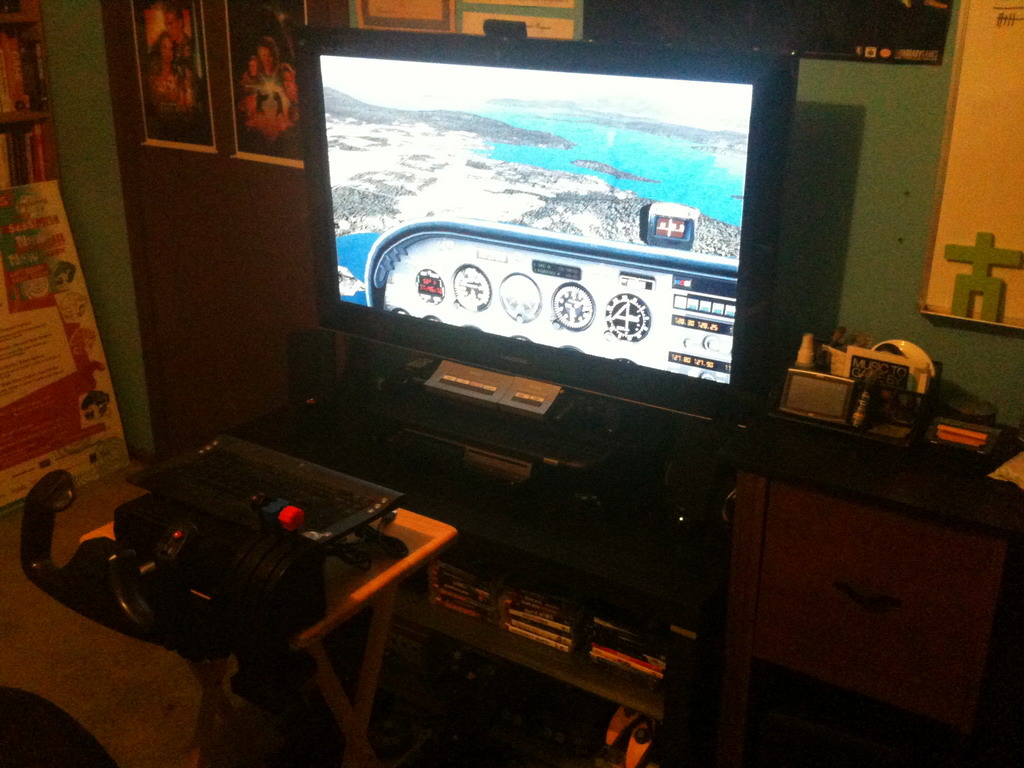 I could even, if I felt so inclined, hook my laptop up to the TV as well since it has an RGB input, and plug the audio pass-through cable into the laptop's headphone jack instead of the PC speaker's headphone jack to bring the audio over to the TV as well.
Finally, I split the cable running to my PC's capture card so I could plug it into my TV as well to get HD channels I can't get via my capture card, which does not sport an HDTV tuner. However, since I'm running the cable directly into the TV, I have to use the TV speakers. But for television I can stand that.
One last minor thing I have to add that I will when I need it is a third composite switch to run composite from the DVD/VCR combo to my capture card.
To sum it all up, I have this semi-confusing wiring diagram for you.

Black wires are RGB/DVI video cables.
Red wires are audio cables.
Yellow wires are composite video cables.
Blue wires are HDMI cables.
Green wires are coaxial cables
I am a happy person 🙂