I've really enjoyed the iPhone version of SimCity, they did a great job of simplifying the gameplay for a much easier experience in building and managing your city. The touch controls are also well done, making placing buildings, roads, zones, etc. very easy to do without lots of cursing and bulldozing. Obviously there's not a lot of computing power at the hands of the game, so the mechanics are very simplified compared to its latest PC counterpart, SimCity 4. There's much less budgeting that needs to be done, roads and pipes, for example, don't incur a monthly maintenance charge – which is nice because you can lay them with abandon. Especially nice for pipes because they're a bit of a nuisance to delete, having to switch to underground view and then bulldoze.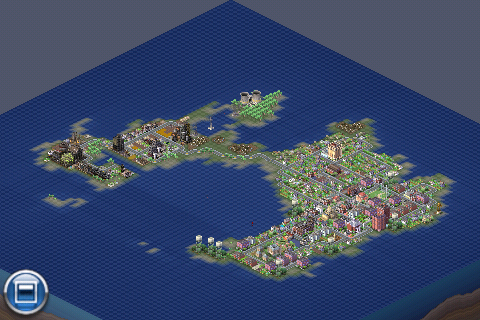 As in SimCity proper, the best way to get the hang of it is to build small, and that doesn't just mean a small map, but an island. Both my cities built so far have been done on islands to keep me from just sprawling all over a map. My first city, Awesometopia (above), currently has a population of 55,784, with a surplus of §98,269 in my coffers. It was founded in 1900 and is now 85 years old. The main mistake I made with this city was the landfills. I placed them too close to roads so that when I was ready to get rid of them in favor of other means of disposal, they would not decompose. That left an eyesore in areas I was hoping to develop further, as you can see below and to the right of the power plant across the bay. While it won't be growing much from here on out, it's still a bustling, positive income city with plenty of RCI demand.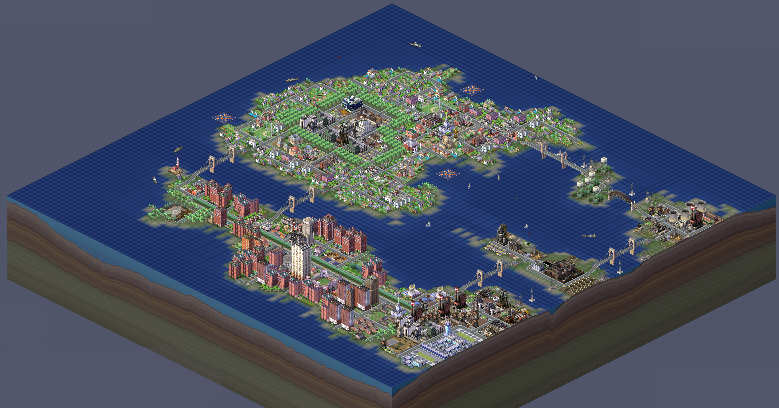 My second city, creatively named New Awesometopia, was a slightly bigger endeavor. I specifically created separate distinct island landmasses (not easy to do since you can only auto-generate terrain) so that I could separate various elements, like industry and residential. To get an idea of what I did, here's a very early shot of the city, which was also founded in 1900 and is 82 years old: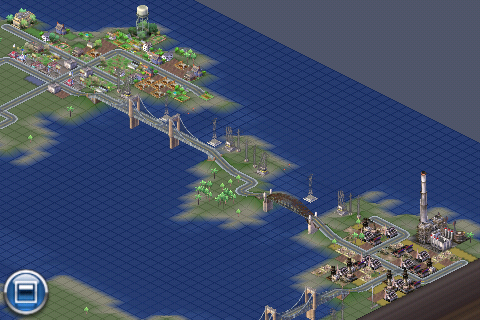 This was 1904, and the horribly polluting oil power plant was far away to the edge of the map (another old SimCity tactic). The island in the lower left was ceded for garbage disposal. Over the years the town grew out from this point – it's now 82 years old with a population of 243,812 sims and a large surplus of §186,269 and lots of RCI demand. However, it's the large surplus that's most interesting about this city. See, it's actually in budget deficit to the tune of almost §1,000 – yet it still takes in ~§2,000 per month. Why? I have no idea! I simply accepted to build a Defense Contractor in my city and, although I didn't build it, I started getting money I assumed was for having one in my city. When I finally constructed it, my budget showed no increase from Monthly Contracts, and yet the money kept pouring in! I'll have to see if I can recreate this bug. Why did I leave it this way? Well it didn't make things totally easier – having money to spend all the time made me, at times, expand New Awesometopia faster than its rate of growth, tanking demand. It was very hard to be patient and wait until the demand was ready for me to expand – normally this waiting would be easier because I would also be waiting to build up money for the expansion.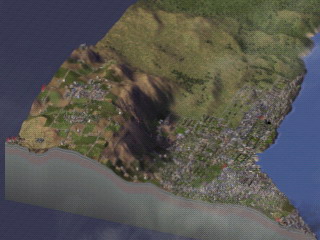 This isn't the only time I've blabbed about some SimCity game – I've also blogged a bit about my SimCity region Timbuktu. I'm thinking about getting back into SimCity4 again, and starting up a city journal here. It's something I've always wanted to really get into – it's a bit like gardening or landscaping. You mend and tend a little bit at a time and slowly grow things out. My city journal would capture the growth and evolution of not only a city, but the entire region. Some great examples of city journals are here – truly stunning stuff!! But in the meantime, at least I have a great option for city building when I'm on the go 🙂