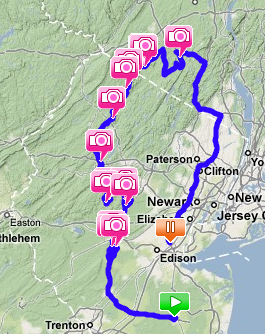 So as I mentioned yesterday, my buddy Sasha end I embarked on a journey in my new car to see how well we could get ourselves lost in Northern Jersey, what kind of cool places we could find, and what kind of cool roads we could find. It was a raging success and a very eventful day! Click the image above to load up the tracking information from our drive so you can follow along. Even better, if you have Google Earth installed you can download the KML path file to display in Earth, and you can do cool things like have Earth follow the path or look at the Street View to see what we saw along the way. Or you can just check out the picture highlights 🙂
It begins with a race…
My car is still being broken in, which means that until 1200 miles I can't maintain a constant speed over long distances and can't go past 4k RPMs. This effectively limits my top speed to 100MPh (4k RPM in 6th gear) and gives me barely any power to play with (it kicks in around 3k RPM). Thus I have been very careful while out on the roads to not start anything I can't finish – like racing another car. However on the drive to Sasha's house on the parkway an SUV saw fit to try and run me over by shoving its way into my lane, forcing me towards the shoulder (and guardrail). Before I could pass it, a black BMW M5 flew by. I passed the SUV and the M5 had gotten stuck in traffic so I whizzed by him too. Whoops. The M5 took offense and caught up and passed me. Well, it was on at that point. Traffic was fairly heavy since it was southbound and this was beach weather, so while the M5 got himself bogged down here and there, I slipped in and out smoothly and left him in the dust. This tok place over a stretch of roughly 5 miles. That's a win for me!
Quick stop before the adventure
Before we set out, Sash and I visited the Best Buy across from his neighborhood so that I could buy some PS3 games that were on sale for $10 and a car charger for my phone, since the GPS tracking was going to suck the battery. I got Guitar Hero: Aerosmith, Soul Calibur IV, and Ferrari Challenge. For $10 each. Boo ya.
Some technical issues
Now, although the tracking info will show we started at Freehold Mall, I actually began tracking us when we left Best Buy (not built yet in satellite/street views).  However when we pit-stopped a few miles up Rt. 9 at a 7-11 so Sash could get a drink I checked and saw that the GPS tracker had only logged one checkpoint and then froze. So I ended the track, restarted the app and waited until it got a fix again, and then began a new track. We continued to drive up Rt. 9 until reaching the Freehold Mall and when I checked again the tracking had stopped once more after a single location fix. So I pulled into the parking lot and powered off my entire phone, rebooted and started the app again. I began a new track and we hit the road once more. 5 minutes in and it was still working like a charm. Awesome!
Getting out there

The first step of the journey was to get suitably lost, which took a bit longer than expected since a lot of the ground we initially covered was familiar to Sasha, whose family owns a farm in NorthEaster PA, and their way of travel up there took them along many of the same roads we used. So Rt. 33 to Rt. 206 was our initial route, taking us out west and north, through Princeton University, which I had never seen before. Really cool buildings – if you want to Street View it just start from the bridge and go from there. Note that all these Lat/Long coordinates can be pasted into the Google Earth Fly To box to see where they are on the track.
So up 206 we went, and it was getting on around 1pm or so and we were both feeling a bit hungry and Sash wanted Chinese and I'm always ready for Chinese so we kept our eyes peeled for any resteraunts while we were driving. I spotted one in a strip mall, but we decided to keep on going. A few miles up the road and Sash recognized a turnoff he recognized that led down a road with some cool stonework and bridges and stuff – so we checked it out and it was pretty sweet. Taking a few turns we ended up going in a circle and ended up back at 206, so we retraced our steps North and this time decided to stop off for Chinese.
However upon entering the restaurant, which didn't look all that special from the outside, we saw that inside was pretty formal and upon sitting down and looking at the rather expensive menu we started having second thoughts. Then Sash fond the lunch specials in the back and we both sighed with relief… until the waitress came back to tell us that there were no lunch specials today. Which left us with, like, $8 orders of fried rice. Uhm, no… if I spend $8 at a Chinese restaurant it's for a meal. So we both decided to order a soda, soup and spring roll appetizer that would hit around the $5 mark and hold us over until later. Sweet. Well, almost – cause then when we tried to order the waitress politely informed us that there was an $8 minimum… per person. Well, that got us all flustered so we told her we'd look at entrees and I was like to Sash – "how to we get out of here?" and he was like "I don't know!" because we were both too chicken to just get up and walk out. So Sash just up and pretended to have a phone call and rushed out, then called me so I could pretend to have an emergency and rush out.
Yes, we're pretty pathetic. But we escaped and drove off in search of a better restaurant.
The search for food

So after skipping out on the Chinese food for the time being, we started back up 206 and I decided to take the turnoff again so we could take some pictures. I also turned off rather than let myself loop back around South to 206, and we ended up gaining some ground Northward instead before hooking up with 206 again. Along the way I spotted this neat-looking castle-like building as we stopped to get out and take some more pictures before continuing on with our random wanderings. For the most part I decided which roads we would take, although Sash threw out suggestions here and there, many not in time for me to react to. I find I'm very slow at deciding to turn off a road – if you follow the track closely you'll see along the entire way several switchbacks because we pass the road, look at it and decide it looks worth traveling, and then have to turn around to go back to it.
I actually lost a bit of ground on this leg, traveling back South a ways before finding another road that led North. That's another thing – many times they would post the route number on the side of the road but fail to tell you which direction you were heading in. I like to think I have a good internal compass but to be honest I had a pretty tough time determining which direction I was heading in as the roads twisted and turned, so I relied on route signs at intersections to point me in the right direction.
About an hour and half later we were almost ready to call defeat and do a fast food joint instead of Chinese. I said that maybe we could do Burger King or something if Chinese could not be located (remember, we can't use GPS or maps or anything to find things) and Sash reminded me that the last Burger King we had seen was way back on 206. So we kept driving, heading North because the roads continued to be a bit too urban for our liking – straight and wide. When we hit Rt. 202 I decided to follow it North since it was a major road and would have some food along it. About a mile down and we spot a Chinese resteraunt… right across from a Burger King. Of course. Fortunately though this Chinese restaurant was more to our expectations, with lunch specials that were $8 but had so much food I couldn't even finish mine.
If you're following the track closely, you'll see a lot of squiggles in it at locations like these. This would be because I kept tracking even when I was out of the car – so you're seeing my foot travels as well 😛
More technical problems

Tummies bursting, we continued North on 202 just for a bit till I spotted a road I liked – again the turning around ensued though I had to do it twice this time because I turned too early and ended up in a parking lot. Some cool houses, nice and hilly but not a real mountain road, so we headed back South to the junction we originally hit 202 at and turned North again. Over the next two hours we drove around randomly – always trying to head either West or North. Took some roads through developments, which were closest to mountain roads at this stage. Ended up doing a rather big loop around at one point but picked up some nice views of big houses nestled in the hills along the way.
It's also at this point that, if you look at the track, we appear to fly about 10 miles to WalMart. Well obviously we didn't fly, but what did happen was the GPS tracker crapped out on us again. In the space between we re-traced a bit of our route and then ended up running into Rt. 206 once again. After making another quick 7-11 pit stop (the same one we stop at on the way up to Sash's farm), Sash knew there was a WalMart further up 206 so that was to be our next destination (Sash loves WalMart to death and will visit one given any excuse). So we hit up WalMart and GameStop – I bought another $10 game, this time a used copy of Gran Tursimo 4. After about 20 minutes we piled back into the car.
This time, the GPS tracker had completely frozen up. I could exit to do other things on the phone like make calls or send texts, but if I tried to get back into it or shut it down completely, the phone would lock up until I hit the red cancel button. So I had no choice but to completely restart the phone and pray that the data was written to the file as the tracker fixed our position every few seconds or so. When I restarted the app and went to begin tracking it asked me if I wanted to continue the track I hadn't closed. Yes! That was a relief!
Dodging the Po-Po
So after leaving WalMart we were back on 206 until I found a decent-looking more rural road to turn off onto. Here's where we really started to hit up the mountains, finally. Here's also where we had a slight altercation with the local law enforcement. The road was suitably twisty and windey and we were zooming along when we passed a police jeep heading in the opposite direction. A police jeep that then proceeded to brake and turn on his turn signal, before we dissapeared around the next bend. Well, no point in sticking around for that – so it was the next road on the left that we took, which actually turned out to be our first true mountain road of the day – up, down and all around it went. Obviously he never caught us.
Topping the peaks
The next 3-4 hours was spent successfully heading in a generally Northwards direction, and along the way we were treated to many nice expanses of view from the road, I had to stop a couple of times and simply just pull over to the side and take pictures between cars passing by. A few minor turn arounds here and there as well. One spot we hit was so hilly we actually thought at one point we were going off a cliff because we couldn't sit up high enough in our seats to see over the edge of the dip until we were already heading down. A few corners were like that as well – of course the roads were in a development so no real traffic.
New York??

We honestly had no idea we had made it as far as New York. None. I didn't even see enough cars to notice they all had NY license plates. Yet we did a fair amount of driving around up there – for the beginning it was rather flat farmland and we had a bit of trouble working our way back towards the hilly areas. We also had another slight run in with the cops that forced us to lay low for a few minutes to make sure he wasn't interested in us at all. There was a decent amount of Southward back-tracking travel – we could have possibly made it even farther upstate into NY otherwise. As it was, we found a few more cool roads to drive along before finally needing to stop again for a bathroom break and some more sustenance.
It wasn't until we finally checked the GPS for directions and a time estimation back home that we realized just how far North we had gotten. Personally, I thought we had managed to get ourselves stuck in the lower portion of Northern Jersey and were just spinning around in circles. Neither of us expected to make it this far North. Ironically, the distance we covered in around 8-9 hours of driving was only about 1.5 hours along the freeways to get back home. However this was nice, as it let us get back in time for the last showing of Crank 2 at our movie theater.
Technical issues once more
On the Parkway coming home, we pulled into a rest stop for gas. I had let the tank run so empty my computer couldn't even accurately tell me how many miles I had left before I ran out of fuel. This was the first time I had run from a full tank to empty and I managed to rack up a respectable 351.9 miles. No too shabby for all that low-gear high-RPM mountain driving I was doing today. If I were just cruising on the freeway I would expect to get around 400 miles a fill up. I'll find that out in a few weeks when I drive up to Boston for a games conference.
Anyways if you're following the track you'll notice it end on the parkway after the rest stop. This would be because the GPS tracker froze again. My hypothesis is that it is the car charger being plugged in that screws it up, as it was done right after we left the rest stop. Luckily since I can continue tracks, I can simply exit out of the program, plug in the charger and then reload the tracker, picking up where I left off. That's the theory at least, I'll have to test it out.
Drive to Nowhere 2
The plan for the next D2N trip is one of either two things. One is to reverse the idea we did today, and take a highway up into the mountains and pick a jumping-off point. From there we're restricted to back roads and county roads to work our way back home. If we do that it will most likely be from Sasha's farm in NorthEastern PA. The second option is to do a ride on the motorcycles to nowhere. In that case we might to lower NY state. Either way I can plot the course.
Today was a lot of fun. I'd definitely reccomend it to anyone. Just get out and drive – who knows what'll happen?