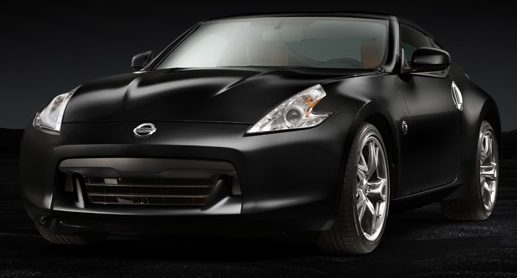 Sorry for the poor-contrast photo – but it was the best I could find that accurately represented my new car – which is to say that it is the proper color. I suppose I should have taken a few pics myself this past weekend seeing as it was beautiful outside (while now it's dreary cold and rainy the first half of this week) – but I can honestly say I wasn't outside of this car long enough to take a picture, nor did I want to spend the time doing so. Therefore you get to look at the picture above. But you can click on it to see Google image search results for "370Z" if you want more eye candy.
So what's the deal?? I've only had my 350Z for about 2 1/2 years and I'm ready for a new car? Well it was mainly the fact that 1) I believed that This Site, due to the economy and the state of the auto industry in general, I could get a good deal on one and 2) my loan on the motorcycle was due to run out this June, allowing for me to take on greater car payments — you can still get a loan even if you have a low credit. I have to drive past a Nissan dealer on the way to and from the gym where I work almost everyday, so I got to see the 370Zs sitting outside, beckoning to me. As the days and months wore on since the release of the car late last year, I kept hearing more and more good things about it around the Webs. I had been flipping back and forth between wanting and not wanting to get one, until I finally decided last Wednesday to just stop into the dealer on my way home and see what happened.
Well what happened was I ended up trading in my 350Z on the spot and signing the paperwork for the new Z right then and there. It took until Friday to actually close on the deal and deliver the car from NY, but they practically threw it at me. No one is buying manual-transmission sports cars these days, and they upgraded me to the premium package (leather, bluetooth, power seats, CD changer, etc) for no additional cost. A couple of small hiccups came up during the process, like the fact that I didn't have $5k of the $6k down payment to give them immediately – but they were like "no problem – get it to us within a reasonable amount of time." (it's sitting in an investment account that would take some time to clear). Anything that they thought would be a deal-breaker for me was quickly removed from my path so that they could close on the sale.
The final result is that prior to the purchase I was paying $460.90/mo for the 350Z and $165.69/mo for my motorcycle. My new car payments are $658.38/mo, which is only $31.79/mo more than I'm paying right now (and have been for the past 3 years). That's very reasonable to me. My first payment is the end of May so I have two months of overlapping bike/car payments which will total $824.07 – but I have money saved up for that.
So I'm happy. This is my first real new car – that is to say it's never been owned by someone else. The tech in an '09 compared to an '03 is just awesome. I have a remote key that lets me unlock my doors and push-button start the car without having to remove it from my pocket. Bluetooth connection to the stereo lets me ditch the earpiece and dial with my voice. I now have traction and stability control, which will be really nice when winter hits again (I can also turn it off thankfully). The leather seats aren't full leather – the middle parts where your butt and back go are a suede-like material – this is nice because it doesn't get absurdly hot in the sun (and the seats are an off-white color as well, not black). And let's not forget the zoom-a-licious 3.7L V6 with 332HP and 270 lb-ft of torque. Yummy. The only thing it really, really needs (besides getting the rear windows tinted and the calipers painted yellow) is the Nismo wing. But I'll be saving up for that for uhm… quite some time as of right now.
The car already has over 300 miles on it – but that's only because I'm desperately trying to get the engine broken in as quickly as possible. 1200 miles can't come soon enough – do you have any idea how hard it is to drive under 4k RPM? 😛