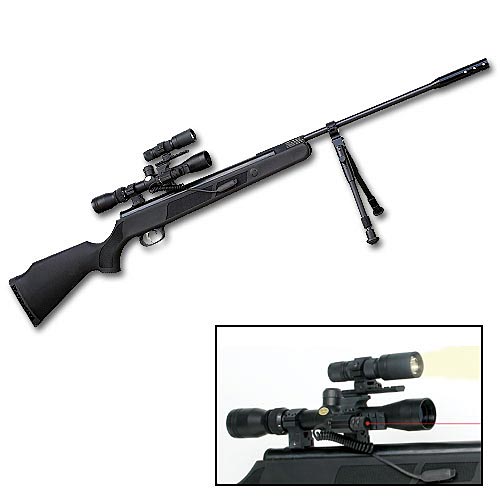 So for the past two weeks I've been playing with a new toy of mine, my first rifle. Just like my pistols, I started out with an air gun to get a hang of the basics. One of the best airgun deals I could find was for a Beeman Savage Enforcer Tactical, which I original spied on BudK but ended up purchasing from Amazon.com for the same price since a friend was also ordering a sword via Amazon.com at the same time. For $220 (not including shipping) I got a rifle that fires .177 pellets at 1000 fps (681.8 mph), comes with a 3-9x32mm scope and two attachments: a laser sight and flashlight. Better yet, both of these extras are made for standard gun rails, which meant I was able to attach them to my pistols. Muahahaah.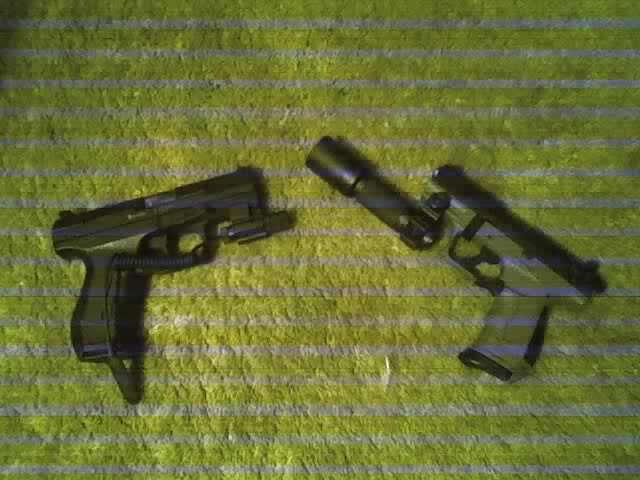 I could attach the scope too, but to do that I'd need a seperate bridge mount that would attach to the lower rails of the handguns and provide a mount above the slide for the scope.
Anyways tonight I was practicing with my friends and we were using airguns, both pistols and rifles, to hit some targets we had set up down range. After a few rounds (my rifle is single-shot by the way since it's a crack-barrel piston powered rifle) I got tired of shooting at paper targets so I cut a notch in the top of the foam-stuffed box we were shooting at and propped up a penny I had found lying on the ground. I sighted in and three shots later I was rolling around laughing maniacally (I'm using that word a lot lately) and my friend Sasha looks down at me and says "that sounds like someone who just shot a penny." It took us a few minutes of searching but we finally recovered both the penny and the pellet: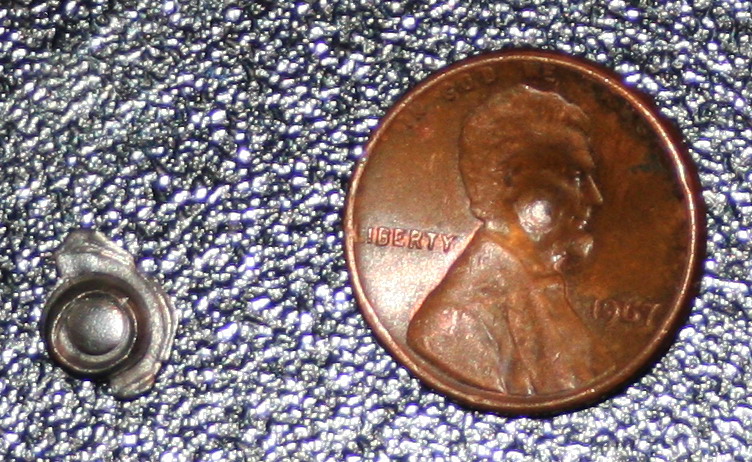 It was at this point that I realized I had placed the penny face-side up towards me 😛 Poor Abe!! Let me just say that I have no ill-feelings towards Abe Lincoln whatsoever, and I wish I had thought to turn the penny the other way, hahaha. It's hard to get a sense of depth in the image, but the penny is in fact cone-shaped now. The penny traveled about half the distance back towards me and the pellet traveled about 3/4 of the distance back towards me, which is why it took us so long to find them both because we were looking down-range and to the sides. I didn't have a tape measure on hand so I paced it out, and then when I got home I measured my shoe sole, which comes in to just over a foot at 13in. I counted out 55 1/2 paces from my rifle muzzle to the target, which means I shot a penny from roughly 60 feet. And it's not like I just nicked it either. If it were a bullet that penny would have a hole in it.
Awesome. (for a beginner)
I tried to then nail a dime, but after ten shots we had to pack it in for the night. I came within centimeters of striking the dime though. Next time. 🙂