Transposed from Gaiiden's Scroll
But First….
AGDC coverage is still in the works. Whatever I can wring from people by this weekend. It's getting posted this Monday no matter what (it's back on the schedule even). There may be updates after the fact, but if that's the case I'll notify you here of course.
---
Okay, that out of the way, let's talk triple-monitor setup. Well obviously the first place to start is the "Why??". Why do I want three monitors? The answer: cause I want three monitors! Well okay, for one thing it'd be nice to have a gaming monitor running off a single graphics card while having two more monitors that can stay on and not cut into my performance at all. Secondly, I've never really had my two 17″ monitors side by side so I'm tired of looking left and then right. I'd like one main screen right smack in front of me. But whatever, my reasons are my own really, so enough harping on this, if you are still trying to figure out what monitor to but I suggest reading this
aming monitor buying guide
.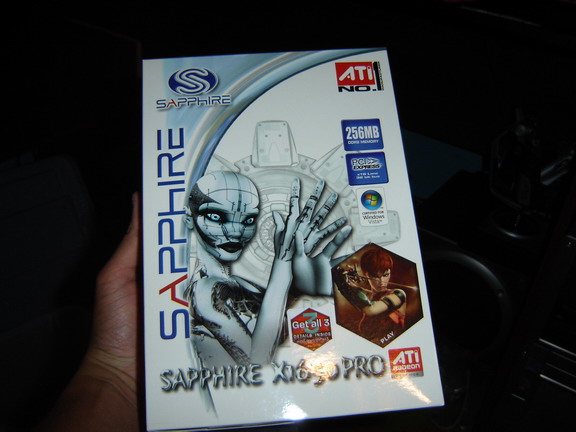 Here's the card as it arrived today. Yea, don't ask me about the scary female adorning it – I got nothing. For more on this card, check out the post I made a few months ago when I first dreamed up this setup.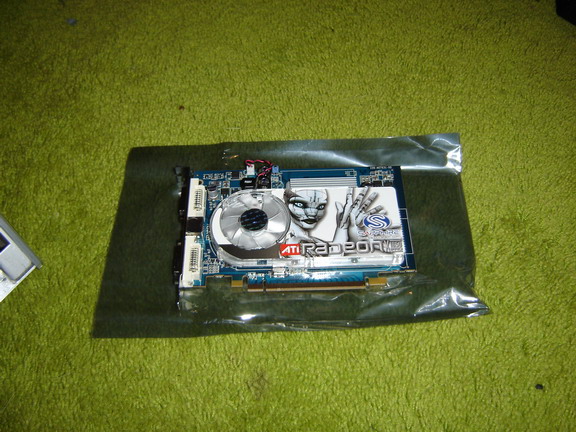 Mmmmmm… all unboxed and ready for installation. I feel like I should put it in quick – that… thing on it is starting to scare me. Oh it's also at this time that I notice that the heatsink fan is blowing out the back of the card, towards the case. How retarded is that?? I have a Sapphire X1900GT and its heatsink fan blows out the front, towards the I/O shields, so I dunno what Sapphire was thinking. True, this card won't be cranking out as much heat as its bigger brother, but it's still annoying.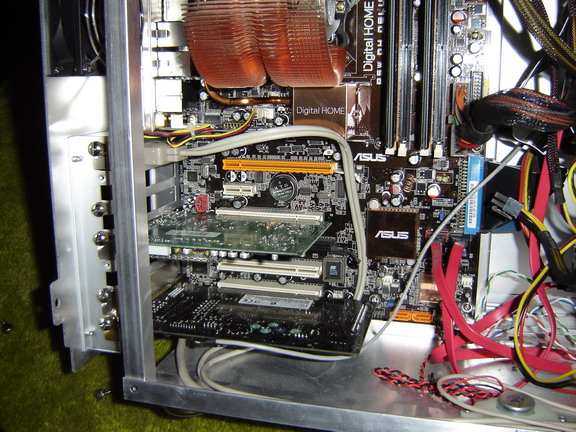 Before I can install the card tho, I have to do a bit of re-wiring. I needed to move my extra USB ports up to the top of the stack, where one of my 1x PCIx slots is (prob never going to use that anyways). I do this so I can leave open the slot beneath the graphics card to help air flow past it and out the case.
Okay, got everything back in with no problems. SuhWEET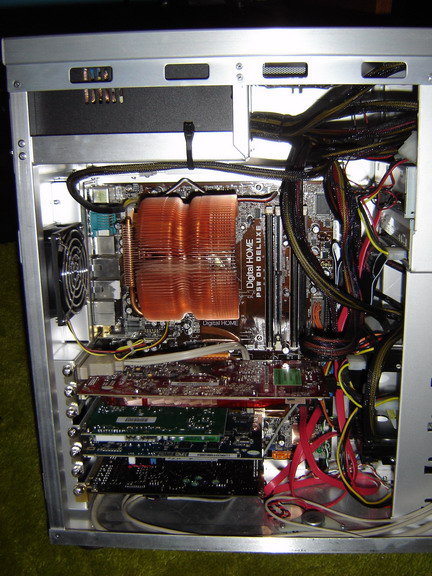 Glamor shot of the inside with the motherboard tray back in place
The end result. Got my USBs on top, then my X1900GT, then an open slot for cooling, then my Hauppage TV tuner, then the X1650, another open slot for cooling, and then my SoundBlaster Live. Speaking of cooling – seeing how my case temp does in the summer (SpeedFan reports my temps in normal ranges for now) I may pick up two of these to fill in those empty slots.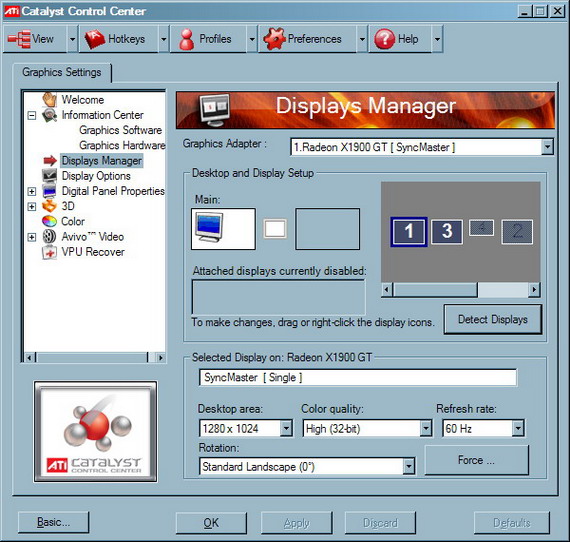 And presto! After starting up the comp, having XP automatically load the drivers, restarting, and opening up Catalyst Control Center, I am now presented with 4 possible monitors. Mwahahahaha.
---
That was way easier than I thought – thank god. I was having nightmares of having nothing but trouble getting this second card to work, but it was up and running in no time flat. *phew*! If you haven't guessed, this is the first time I've ever run more than one graphics card in the same system. Glad I got it right the first time.
Tomorrow my 20″ widescreen monitor is scheduled to arrive. I'll have some more eye candy then. Well… maybe not since it could take more than a day to clean off my desk and make it presentable enough to take pictures.